My Times in Black and White – Two Upcoming Presentations Will Highlight Black Economic Empowerment as Noted by Gerald M. Boyd, BJ '73, in His Memoirs
Columbia, Mo. (Feb. 9, 2010) — Named managing editor of The New York Times in 2001, Gerald M. Boyd, BJ '73, became the first African American to hold that lofty position in its 150-year history. But when his career fell apart in June 2003 in the wake of the Jayson Blair plagiarism scandal, Boyd was left to pick up the pieces and attempt to make sense of a life and career spent shattering racial barriers in his climb to the top.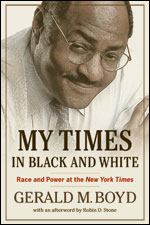 Boyd's widow, Robin D. Stone, will share lessons from his just-published memoirs, "My Times in Black and White: Race and Power at the New York Times," during her Feb. 17 and 18 visit to the Missouri School of Journalism. Two public presentations will highlight this year's theme for Black History Month, "The History of Black Economic Empowerment." The lectures are free and open to the public.
"A Trailblazer's Lessons on Empowerment" will be presented at 7 p.m., Wednesday, Feb. 17, at the Gaines/Oldham Black Culture Center on the University of Missouri campus. "Life is choices, and nothing's more powerful than having options" was a frequent sentiment expressed by Boyd. Stone will share how he followed his passion for journalism from Mizzou to the top ranks of journalism, and made a life rich with options.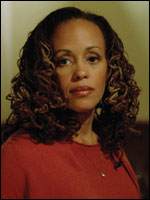 "The Story Behind the Story: Gerald Boyd's 'My Times'" will be presented from 2-3 p.m., Thursday, Feb. 18, in 100-A in the Donald W. Reynolds Journalism Institute. Stone will explore the journey of how Boyd's memoir came to be, from the perspectives of Gerald, herself and son Zachary (who helped come up with title), highlighting his years growing up in St. Louis and at Mizzou. In the course of the discussion, Stone will share Boyd's voice by reading excerpts from "My Times in Black and White" that show his growth and development as a journalist.
At both presentations Stone will sign copies of the book. It has received critical acclaim from George H. W. Bush, forty-first president of the United States: "Gerald Boyd…was a passionate spokesman for diversity in journalism, and his life story is an inspiration for all." Kirkus Reviews calls it "a comprehensive, noteworthy memoir." Notes Publishers Weekly, "Boyd's perspective is crucial to understanding the crisis that unfolded at the Times in 2003." Lawrence Hill Books, an imprint of Chicago Review Press, is the publisher.
While on campus, Stone will attend a ceremony at which a floor in the College Avenue Hall will be named after Gerald M. Boyd. The Gerald M. Boyd Politics and Press Responsibility Endowment Fund also will be announced, and she will speak to several journalism classes.
Stone is an independent journalist whose newspaper work has included The New York Times, Boston Globe and Detroit Free Press. She is the author of "No Secrets, No Lies: How Black Families Can Heal from Sexual Abuse."
About Gerald M. Boyd, BJ '73
Coming of age in the 1960s and 1970s against the backdrop of the civil rights and Black Power movements, Gerald M. Boyd grew up in St. Louis as an ambitious, hard-working and dedicated young man. After attending an Upward Bound program his junior year of high school, Boyd became enamored with journalism and received a full scholarship to the University of Missouri in 1969. After graduation, he rose steadily in his career, from copyboy at the St. Louis Post-Dispatch to managing editor at the New York Times. Throughout much of his career, he was a constant voice on issues of leadership, ethics and diversity. Boyd died in November 2006 at the age of 56.
Updated: May 6, 2020
Related Stories
Expand All
Collapse All
---