MU Awards Honorary Degree to Ron Powers, BJ '63, During May Commencement Ceremonies
Columbia, Mo. (May 17, 2012) — The University of Missouri awarded celebrated critic, Mark Twain historian and Pulitzer Prize winner Ron Powers the Degree of Humane Letters during the May 2012 commencement ceremonies.
A native of Hannibal, Mo., Powers received his bachelor's degree from the Missouri School of Journalism in 1963.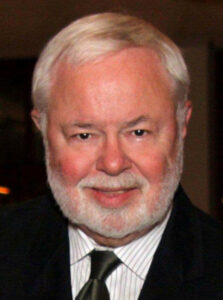 Powers' accomplishments throughout a long career as a journalist, novelist and non-fiction writer are well known. His interest in American culture and communities has resulted in 14 books on topics including journalism, World War II, Mark Twain, small town America and the plight of American adolescents.
Following graduation, Powers became a television reviewer and critic. In 1973, Powers was the first television critic to receive the Pulitzer Prize for his critical writing as a Chicago Sun-Times TV-radio columnist. He won an Emmy Award for his work on CBS News Sunday Morning program in 1985, where he was the media commentator from 1983-1988.
In 1986, Powers wrote the first of his three books focused on one of his hometown heroes, Mark Twain. The most recent, "Mark Twain: A Life," was a finalist for the 2006 National Book Critics Circle Award.
From 1981 to 1994, Powers was a senior staff member at the Bread Loaf Writers Conference, where he lectured on the craft of writing. In July 1991, Random House published "Far From Home: Life and Loss in Two American Towns," which further examined, in narrative form, the many forces that lead to the atrophy of small-town America.
With James Bradley, he wrote The New York Times best seller "Flags of Our Fathers," which was No. 1 on The New York Times nonfiction list for five weeks and remained on the best seller list for 46 weeks. It was made into a movie of the same title, produced by Steven Spielberg and directed by Clint Eastwood, which premiered in 2006.
Powers also collaborated with the late Senator Edward M. Kennedy on his memoir, "True Compass," published in 2009. The book spent 17 weeks on the The New York Times best seller list, including a week as No. 1.
In 2011, the Mizzou Alumni Association awarded Powers with a Faculty-Alumni Award. Powers lives in Vermont, where he serves as a writer-in-residence at Castleton College.
Also receiving an honorary degree was educator Euclid Williamson. In 1994, he founded Target Hope with a three-prong mission for students in Chicago: to ensure high school completion, to advance college admission and retention, and to promote graduate and professional school preparation.
Honorary degrees are awarded to graduates or former students who have achieved distinction. Degrees also are awarded to people who have rendered distinctive service to the state or the university, as well as people of high distinction from around the world.
Updated: August 5, 2020
Related Stories
Expand All
Collapse All
---