Linda Bell Blue Returns to Missouri School of Journalism as a Professional in Residence
Columbia, Mo. (Sept. 23, 2003) — Linda Bell Blue will share tips and insights from her 20-plus years in television production with students, faculty and staff of the Missouri School of Journalism as part of the school's Professionals-in-Residence program. She will present numerous lectures and information-sharing sessions on the University of Missouri campus on Sept. 29-30.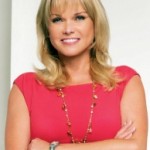 Bell Blue, a graduate of the Missouri School of Journalism, is in her eighth year as executive producer of Entertainment Tonight, the #1 syndicated entertainment newsmagazine in the world. An Emmy award-winning producer, she served as executive producer of "Hard Copy" before joining ET. During her tenure, the show received accolades from Time magazine and the Los Angeles Press Club. Prior to "Hard Copy," Bell Blue served as supervising producer of the newsmagazine show, "This Evening," and producer of "Hour Magazine" for Group W Productions in Los Angeles.
In 2000 Bell Blue received a STAR Award from American Women in Radio and Television, Inc. for her outstanding individual achievement in television and commitment to the issues and concerns of women in radio, television, cable and allied fields. During the 2000-01 season, she was recognized in The Hollywood Reporter's special "Salute to Women in Entertainment" issue for her work in television production.
The Professionals-in-Residence program brings outstanding alumni to the Missouri School of Journalism to engage with students, faculty and staff. Former Professionals-in-Residence have included: Linda Eatherton, executive vice president/director of Global Food and Nutrition Practice for Ketchum Public Relations; Jose Azel, photo-journalist and president of Aurora & Quanta Productions; Pam Johnson, Poynter Institute faculty and former executive editor and vice president of the Arizona Republic; Robert Horner, president, NBC News Channel; Jeanne Von Essen of NBC News; and Bryan Burrough, correspondent, Vanity Fair.
Updated: April 28, 2020
Related Stories
Expand All
Collapse All
---