Alumni Profile: Elizabeth Solomon
Columbia, Mo. (June 3, 2016) — Persistence can get you anywhere.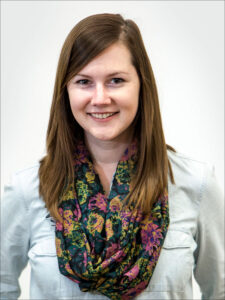 For Elizabeth Solomon, BA '14, that mantra led her to the fast track to Barkley, the largest employee-owned advertising agency in the United States. It also helped her get her start on her undergraduate career when as a freshman she snuck into a career fair that was intended for upperclassmen.
That move led Elizabeth to her first internship building and selling ads for Mizzou Weekly. By the end of her undergraduate career, she had nine internships under her belt, all teaching her something different and preparing her for the real world.
A love of storytelling brought Elizabeth to Mizzou where she began as a broadcast major. She worked for KOMU her freshman year and soon found out that she could not go as in-depth with the stories that she was telling. After doing some research, she found an interest in strategic communication but decided to major in interdisciplinary studies, combining psychology, communications and digital media together while minoring in journalism. This gave her the flexibility to with her coursework to focus on her internships and jobs.
Elizabeth is a firm believer that any experience is great experience. It helps you grow and, sometimes, it even helps you to learn what you don't like.
"I think any opportunity within the field you want to enter is worthwhile, no matter how big or how small," Elizabeth said. "Get [a lot of] internships. You learn different things during each one."
Working at Barkley has been a whirlwind for Elizabeth. Every day holds something new, and she feels that she has learned a lot from the agency atmosphere.
"You're never without something to do," Elizabeth said. "It's exhilarating. Everyone here is so passionate about what they do. I've learned more here than I have anywhere else. That's my favorite part, I'm always learning."
Now a senior community manager at Barkley, Elizabeth has no plans to slow down. Although her days of sneaking into career fairs are behind her, she plans to keep breaking down doors until she reaches all of her dreams.
Updated: September 29, 2020
Related Stories
Expand All
Collapse All
---