Recent Journalism School Graduate goes above and beyond in the professional world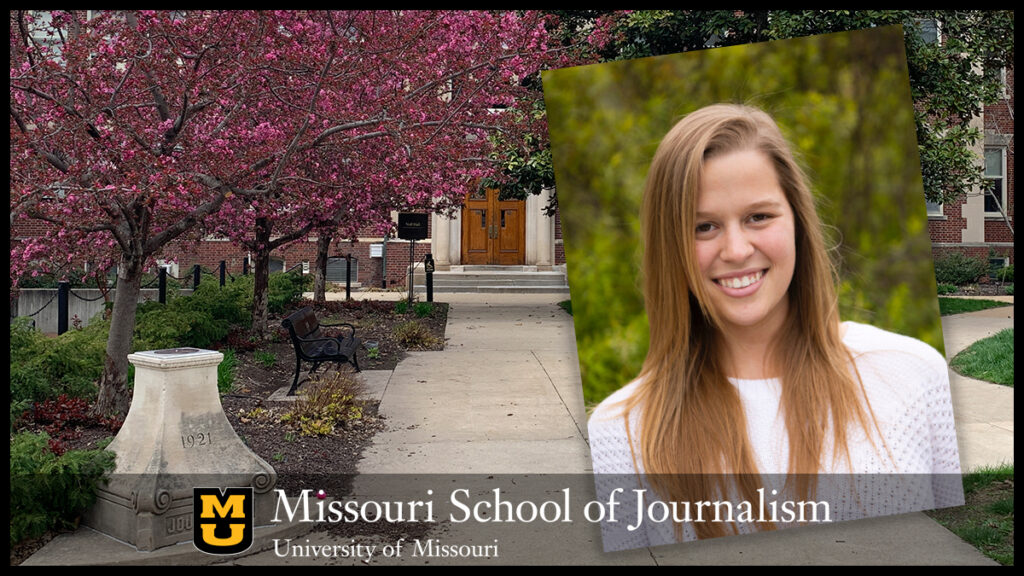 By Zach Taylor
Columbia, Mo. (April 6, 2021) — For those of us that like to share our opinions about brands on social media, sometimes it feels like we are speaking into the void. One Mizzou strategic communication graduate wants you to know that isn't the case.
Jordan Helterbrand (BJ '19, MA '20) hears you. As a communications specialist for Dyson, a leading manufacturer of household appliances like vacuums, bladeless fans and hair dryers, one of Helterbrand's responsibilities is social listening. She analyzes online sentiment to help Dyson find intriguing ways to tell its story of innovation and leverage influencers to promote Dyson's brand during key moments like spring cleaning or a heatwave.
"I always loved the idea of working for one brand as long as it was one that I wholeheartedly believed in," she said. "Dyson is a fun and exciting place to work, full of talented engineers designing top-of-the-line products that consumers love. In a short amount of time, I've learned a lot about public relations, communications, influencer marketing and even a bit about the marketing and retail side of the business. It's a great place to begin my career."
Before she worked for Dyson full-time, Helterbrand was an intern in its Communications department doing much of the same work she does now. While her primary responsibility was to lead influencer and external communications campaigns, some day-to-day tasks included tracking daily media mentions, contributing to the weekly internal newsletter, creating media lists, drafting pitches and executing internal communications activities. But, it's what she did above and beyond Dyson's expectations that led to her being hired full-time. 
"Dyson's mantra is about finding solutions to problems others ignore," she said. "So I took it upon myself to do just that." For instance, she created a new media list system for the Dyson Americas team which provided more context than the old system and ensured the correct media outlets were getting relevant information about the company.
While Helterbrand was an intern, she was also completing a project for her master's program at Mizzou. The project's focus was fitness influencer credibility on Instagram. She interviewed consumers about their perceptions of credibility, and this gave her insights she found useful in the work she does for Dyson.
"My niche expertise in influencer credibility made me an asset to my team," she said. "I was able to set credibility standards for us to consider when selecting influencers for campaigns and helped develop best practices for working with influencers to produce authentic, impactful content."
Helterbrand feels gratitude for the experiences she had and what she learned at the Missouri School of Journalism. "Strategic communication provided me with a set of peers who challenged me and the resources I needed to grow professionally while building my resume with hands-on, real-world experiences," she said. "I was able to make mistakes, learn from them, and now I can avoid making those same mistakes as a professional." 
While at Mizzou, she was heavily involved in the campus community. She was president of Mizzou Collegiate Scholars, secretary and national liaison for the American Advertising Federation, an active member of the Mid-MO Public Relations Society of America, a volunteer event coordinator for the Mid-Missouri Chapter of Girls on the Run and a volunteer for The International House through Mizzou Alternative Breaks. But that's not all.
In addition to volunteering much of her time to causes she believed in, Helterbrand held a variety of official positions with the university, in the community and with private companies. She was a marketing and social media intern for Wilson's Fitness Center, a public relations intern for Columbia Public Schools, a project manager for the MU Department of Student Affairs, a global communications intern for VMLY&R and the social media coordinator for MU Strategic Communication.
"Being able to speak a little bit about a lot goes a long way in the real world," she said. "I'm fortunate to have had many rich experiences at Mizzou to look back on."
Updated: April 6, 2021