Marine. Tiger. Combat correspondent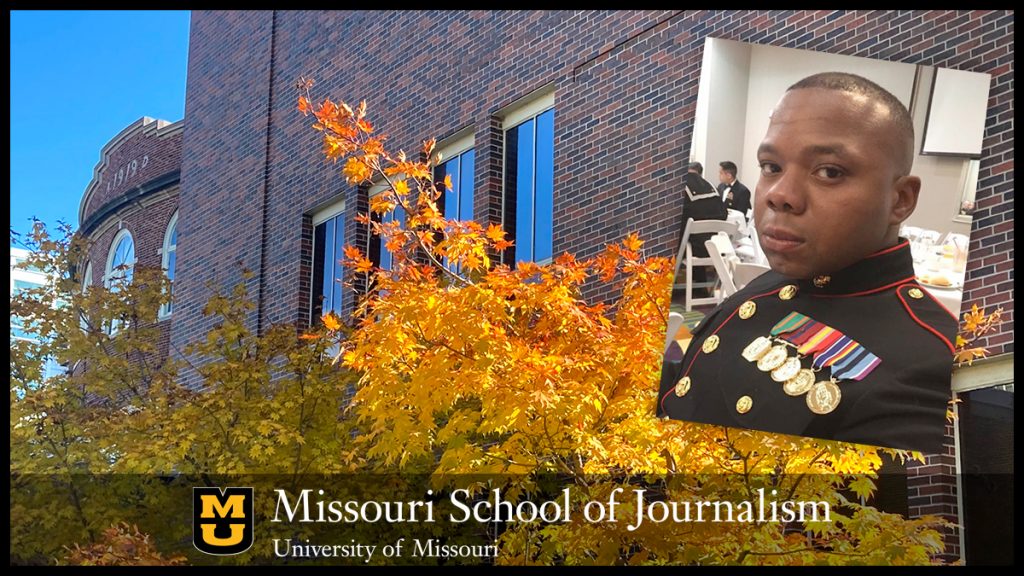 When Kenneth Trotter graduates this weekend, the military veteran hopes to combine his experience as a Marine with his education at the Missouri School of Journalism to work as a public affairs specialist for the United States Department of Veterans Affairs
When 10-year military veteran Kenneth Trotter Jr. was considering colleges, he had two requirements: a topflight journalism school and a place with supportive services for military veterans. The University of Missouri checked both boxes and the 37-year-old Marine Corps veteran didn't hesitate to apply in 2018.
"They worked with me and accepted college credits from the Marine Corps," Trotter said. "I had reached out to other schools and gotten cold responses."
But at Mizzou, Lynda Kraxberger, the dean of undergraduate studies at the Missouri School of Journalism, worked closely with Trotter to get him directly admitted to the journalism school because of his previous education and professional experience. Her assistance, coupled with services from the Student Veterans Resource & Support Center, made all the difference for him.
"She walked me through the whole process of what I needed to do," Trotter said. "Never once did she make me feel like I was unimportant. Throughout the whole process, she worked with me and that was a huge part of my decision to come to Mizzou. I haven't looked back."
At a time when only 2% of media workers are military veterans, Trotter's experience is an example of the Missouri School of Journalism's commitment to providing veterans with the resources and educational experiences they need to succeed. He graduates on Friday, Dec. 17, from the J-School.
Born to serve
Trotter grew up in rural southeast Arkansas, a member of a military family, which influenced his decision to join the Marines. However, he didn't enlist until he was 25 and had already earned an Associate of Arts in English from the University of Arkansas at Monticello. He said being in the military and from a military family taught him resilience.
"The Marines Corps prides itself on making things challenging and testing you to see if you want to be better," he said. "That is something that will always drive me."
While in the military, Trotter served as a combat correspondent while stationed in Japan. Later he became the marketing and public affairs representative for Marine Corps recruitment in Kansas City, Missouri. Those experience eventually inspired him to seek a career in strategic communications.
Making connections at Mizzou
Once he arrived at Mizzou, Trotter discovered that the Student Veterans Resource and Support Center, located in the basement of the Memorial Union, was not only a great place to meet fellow Marines, but a trusted source for navigating services.
"The veterans center helped me through the process of applying for my G.I. Bill, which is something that is not regularly taught within the military," he said.
Robert Ross, director of the Student Veterans Resource & Support Center, said he and Trotter connected as fellow Marines and professionally as a veterans who has worked in public affairs.
"Kenneth is a person who is willing ot help in any capacity he can and exhibits great leadership skills," Ross said.
Trotter said Mizzou has been instrumental in helping him transition from military life to civilian life.
"Outside of my family, the people I interacted with for 10 years — blood, sweat, tears and all — were Marines," he said. "I've learned to engage and communicate better with my classmakes. In that regard, I think that is what MU helped me with the most in my transition ouf the military and into civilian life – communication with my peers."
Military veterans as journalists
Brian Brooks, professor emeritus at the School of Journalism, is also a military veteran and served as an information officer — for which he won a Bronze Star — in the Vietnam War.
Brooks said journalists with military experience have an advantage over those who don't when covering wars because they understand the military culture.
"For the past 20 to 30 years, America has constantly been at war somewhere, and we need people like Kenneth who are able to explain what we're doing and why we're doing it and to criticize the military when we're doing it wrong," he said. "That's a huge part of it."
To help cover the field, the School of Journalism sponsors programs and speakers to highlight experiences of veterans in journalism. Recent events included the Veterans' Showcase — part of the Military Veterans in Journalism annual convention — and bringing in the publisher and editor of the daily military newspaper The Stars and Stripes to speak with journalism students this fall about their experiences.
Trotter attended the Veterans' Showcase, which inspired him to continue advocating for himself.
"We veterans cannot sit on our laurels," he said. "Yes, we have so much experience from our time in the military, but we can't be satisfied with where we are. We need to take what we know and hit the ground running in order for us to have success after our military service."
The next chapter
After he graduates from Mizzou, Trotter hopes to work as a public affairs specialist for the United States Department of Veterans Affairs.
"I want to keep telling the story of my brothers and sisters in arms, especially on the civilian side when they get out and need help, whether it's physical help, mental help or just trying to acclimate back into civilian life," Trotter said. "I want to tell their stories."
Trotter said he is grateful for his time at Mizzou and for the chance to strengthen his communications skills and reconnect with life as a civilian.
"Working with so many world-class professors who have real-world experience in so many different industries cannot be overstated," he said. "Picking their brains about the best practices within strategic communications and public relations is something that has helped me tremendously as I search for jobs."
Updated: December 15, 2021
Related Stories
Expand All
Collapse All
---