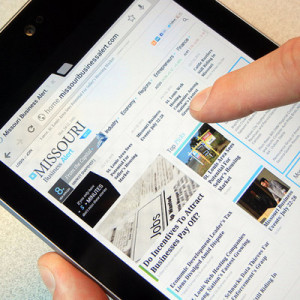 Missouri Business Alert
Missouri Business Alert is a digital newsroom that publishes the top business news from across the state.
MBA is managed by professionals and staffed by Missouri School of Journalism students. The site regularly features hard-hitting and timely articles and video presentations from a statewide perspective. For more information, visit the Missouri Business Alert website.
Missouri Business Alert keeps business decision makers and entrepreneurs informed about the stories important to them, from corporate boardrooms to the state Capitol.
Students from the Missouri School of Journalism and the Trulaske College of Business can enroll in the Missouri Business Alert class for credit. News students work in the publication's professional newsroom as part of their coursework. Strategic communication students get hands-on experience through advertising, marketing and event planning responsibilities.
Bloomberg News and other major news organizations specializing in the growing field of business news have recruited Missouri Business Alert student staff members. The startup publication launched in January 2012 and continues to evolve with an entrepreneurial spirit.