Amy Brachmann
General Editor at ESPN.com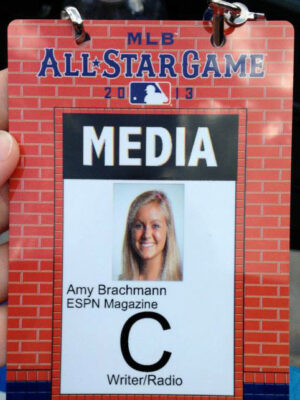 Degree(s): BJ '10, MA '11
Whereabouts: United States, California, Los Angeles
Amy Brachmann, BJ '10, MA '11, was a week away from deadline when she realized that the story she was working on needed to change direction.
As an associate editor at ESPN The Magazine, lots of stories came across Brachmann's desk. But this one, a feature on Detroit Tigers second baseman Ian Kinsler, posed a different challenge. The story was originally slated as a tale of an underdog, and the writer had crafted the story as such. But in her review of the interview notes, Brachmann noticed Kinsler had a made a lot of negative comments about his former team, the Texas Rangers. Those comments were the story – and so Brachmann worked with the writer to re-cast the piece in a different light.
As a student at the Missouri School of Journalism, Brachmann had encountered this kind of situation before. Though she had only been working at ESPN The Magazine for about three years at the time, Brachmann's education had taught her how to not only identify the best story, but also how to make that story happen on even the shortest notice.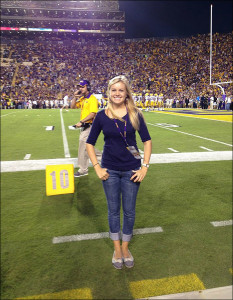 Brachmann is now a general editor at ESPN.com, and she continues to apply the lessons she learned at the School of Journalism in her day-to-day editing.
Growing Up with a Passion for Journalism
Brachmann had been interested in journalism for as long as she could remember, but it wasn't until she started working at Wolf Prints, her high school's newspaper, that she realized just how much she liked editing.
After working as a reporter her sophomore year and a section editor her junior year, Brachmann became editor-in-chief of the newspaper her senior year. It was in this position that she realized she enjoyed editing more than writing.
"I loved managing and working with other people," Brachmann says. "Seeing it all come together was my favorite part."
Though she knew she wanted to study journalism, Brachmann wasn't sure where she wanted to go to college. She had always imagined herself at nearby Northwestern University. Brachmann was an outstanding student with a perfect ACT score of 36 and a high school GPA of 4.7, and the prestige of Northwestern appealed to her.
But that exceptional academic record gave Brachmann far more options than just the university in her backyard. Other colleges wanted her to attend their school, too.
The summer before her senior year of high school, Brachmann got a pamphlet in the mail from the Missouri School of Journalism. After reading about the high-quality journalism education offered, Brachmann and her mom decided to make what would become the first of many trips to Columbia.
As high school graduation grew closer and closer, Brachmann was still torn between Northwestern and the Missouri School of Journalism. Her mom suggested that they make one more visit during her spring break, when the university would be in session.
Seeing the students in action sealed the deal. As she watched students work side-by-side with professionals in the Columbia Missourian newsroom and use professional equipment at KOMU-TV, Brachmann knew the Missouri School of Journalism was where she wanted to be.
"This school was different," Brachmann says. "I just had this gut feeling that it was the right school for me."
As an incoming freshman, Brachmann was named to the School's selective Walter Williams Scholars program, an invitation-only program for high-achieving incoming journalism students. Armed with the confidence that comes with being named to a group of high-achievers and the support of her assigned faculty mentor, Brachmann made the move to Columbia and began her studies.
Gaining Hands-On Experience
While reporting on a basketball league for underprivileged fourth and fifth graders for the Missourian, Brachmann learned an important lesson that sticks with her today.
"The best sports stories aren't about sports; they're about people," Brachmann says.
Although Brachmann was still a student and was covering the story for the required reporting course, she made it an opportunity to do in-depth reporting and talked to the players, parents, coaches and organizers who gave the at-risk children in the program the opportunity to participate in team sports.
The reporting class wasn't the only one that taught her valuable, real-world lessons. Her favorite class, magazine editing taught by Associate Professor Jen Rowe, made Brachmann realize that, without a doubt, editing was the career path she wanted to take.
"That class was my 'aha' moment," Brachmann says. "I realized, absolutely, yes, this is what I want to do when I go into the field. Editing is what I want to do."
Brachmann later took the editing capstone course, which required she work as a staff editor for Vox, Columbia's art and culture magazine. She says that while it was the hardest course she took, it provided a lot of insight into what being a working editor would look like.
"That class is the closest thing to the real industry," Brachmann says. "It was the most intense experience because you are juggling so many different things. You're a fact checker. You're a department editor. And you're working on multiple issues at the same time."
In addition to the skills she gained at the School of Journalism, Brachmann got work experience during college through summer internships. She interned at publications such as the Chicago Athlete; Newcity, an entertainment and culture magazine based in Chicago; and Shape Magazine in New York. As an intern at these publications, Brachmann did everything from report on the Chicago marathon to book celebrities for cover appearances.
Brachmann says that Shape Magazine was one of the most rewarding internship experiences she had because of the one-on-one relationship she developed with her editor.
"I was my boss' only intern," Brachmann says. "You get so much more out of the experience when it's just you."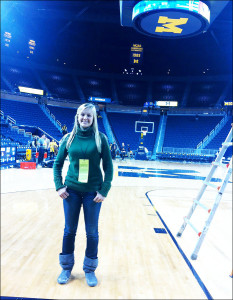 Though Brachmann achieved a great deal during the three years it took her to finish her undergraduate degree – she was a TigerX instructor, a peer adviser, a University Singer and a member of Mizzou 39 – she wanted to learn more. There were still professors and classes she wanted to take.
"I didn't want to leave without getting absolutely everything I could from the J-School," Brachmann says.
So Brachmann stayed. She decided she would stick around one more year to earn her master's degree through a program commonly referred to as "plus one;" those students who complete their bachelor's degree at the School of Journalism can complete a master's degree at the School in one additional year. Since Brachmann was slated to graduate early, she would earn a bachelor's degree and a master's degree in four years, a process that usually takes five years.
Brachmann worked on the J-School Magazine, the online journalism alumni magazine, as a graduate assistant. Under the guidance of Suzette Heiman, director of planning and communications and a strategic communication professor, Brachmann worked with students to develop Web content, edited stories and coordinated the magazine's Web layout.
This was Brachmann's first experience with an entirely online publication, and she said learning about the differences and similarities between print and digital in such a hands-on way was valuable.
"I saw that many of the things I loved about print and magazine storytelling applied to the website," Brachmann says. "That awareness of how seamless print and online can be was a big learning experience."
Armed with many important and valuable learning experiences from the School of Journalism, Brachmann finished her master's degree in June 2011. She then moved to Connecticut, where she had accepted her first job at ESPN The Magazine.
Entering the Work World
At the ESPN campus, athletes are often put through a process known as "the car wash." For example, when athletes arrive at the offices, they have a jam-packed schedule. Every moment of the day is devoted to an interview for a television show, a radio show or the website.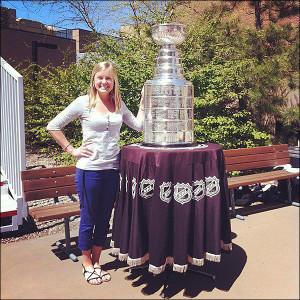 On occasion, Brachmann would become a part of the car wash, literally running around the campus of ESPN doing 15-minute interviews with athletes like Houston Texans defensive end J.J. Watt, Miami Heat guard Dwayne Wade, Seattle Seahawks quarterback Russell Wilson and Olympic skater Michelle Kwan.
"I was, of course, at ESPN because I wanted to be an editor there, but the interviews with athletes were exciting," Brachmann says. "I often got thrown into the interviews really randomly, and it added some really fun variety and spice to the job."
Brachmann loved working for the magazine, but after three years she was ready to get more hands-on experience in editing in a more fast-paced environment. She was ready for a change.
In May 2014, she was offered an associate editor position at ESPN.com in Los Angeles, and, soon after, she made the move to California, where ESPN has a smaller operation. It's the job she still holds today.
While Brachmann uses many of the same skills at ESPN.com as she did at ESPN The Magazine, she says working online brings exciting new challenges and opportunities for growth. The pace is faster, the technical capabilities are different, and there are more variables to consider.
"I had all the journalistic skills, like editing and news judgment, and all those fundamental journalism skills translated," Brachmann says. "But for the medium, I had to learn new things, like how to manage a website."
Though her job often requires high-pressure decision-making and long hours, Brachmann doesn't mind.
"Getting paid to read and talk about sports is my dream," Brachmann says. "It doesn't feel like work when it's something you love."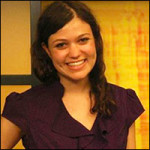 Rebecca Gale graduated in May 2015 with an emphasis in strategic communication from the Missouri School of Journalism. She has had public relations internships at the Blue Note, the Performing Arts for Children's Education as well as the student-run organization STRIPES. This past summer, she interned at an entertainment promotions company called Premier PR in London. She plans to pursue a career in public relations for film, theater and music.
Graduate assistant Caroline Murray helped Rebecca Gale develop this Profile in Success.
Updated: January 4, 2021