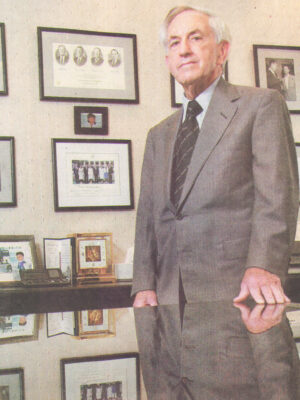 Degree(s): BJ '49
Whereabouts: United States, Fort Myers, Florida
Planting a Seed
As a child of the Great Depression, Bernard Waterman has worked for everything in his lifetime.
Waterman was born in a small town in the Shenandoah Valley to a father with two disparate careers: He managed a limestone company and performed as a concert violinist at the Philadelphia Symphony Hall. After his father passed away when he was 13, Waterman's mother raised him and his three siblings.
Journalism first entered Waterman's life when he joined the Navy during World War II. He walked into a naval office in the Pacific that read "newspaper" on the door and asked if he could work for them. They asked him to write up an article about an obstacle course, which was a new invention in those days.
"I had never written a story in my life," he said. "I found someone who knew what an obstacle course was and went out and did this thing on my own." One month later, Waterman returned to the island and saw his story on the front page.
All throughout his naval career, Waterman took correspondence courses supervised by professors in the States. After the war ended, he knew he wanted to attend college and was accepted to several universities.
"I had read enough about Missouri to know that was the place to go," he said.
Hard Work Pays Off
After making the decision to attend the School, Waterman and his wife, Edith, jumped on a train with $1,200 in their pockets-all the money they had in the world.
In Columbia, the two lived in a one-room house until Edith got a job at Stephens Publishing Company. The two were then able to "move up."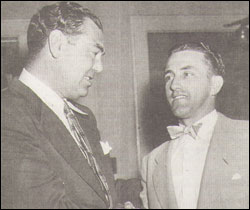 Waterman credits the Navy with allowing him to attend college, but he credits God, his wife and the Missouri School of Journalism with his success in life.
"I owe the University of Missouri and Ed Lambert whatever I have in the world today," he said.
Waterman took 22 hours of coursework all year long to earn his bachelor's degree in three years.
"I spent hours and hours studying at the University," he said. "This knowledge gave me the opportunity to participate in Missouri's media opportunities."
As a junior, he walked into the Columbia Missourian and asked if he could write for the sports section.
"I walked in and said, 'I'm a student. Could I work in the newspaper? I'm very up-to-date on sports,'" he said. "A wonderful city editor there knew I was new and said, 'Okay, we'll see what we can do.'"
Waterman took every opportunity he had at the School. While in Columbia, he pursued work as a correspondent for the Kansas City Star and the St. Louis Star-Times. He also broadcast play-by-play for the Big Ten and worked for KFRU, hosting a sports show with Don Faurot.
"I had to walk across Stephens at 11:30 at night and would get whistles from the ladies," he remembered.
Broadcast: A New Path
After completing his undergraduate degree, Waterman decided to enter the broadcasting sequence as a master's student. Television was in its infancy, and the School did not yet have a television station.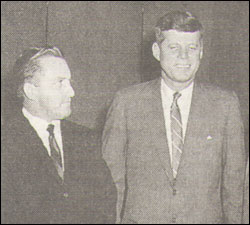 Waterman began teaching classes under Ed Lambert, as Lambert's first teaching assistant.
"The first time I started to teach the whole thing was in the fall. There were so many students there-about 100, I think-we had to meet in an auditorium," he said. "I'll never forget the first question I asked them: 'Why are you in this class?' Very few said that were there because they wanted to become a journalist. I said to myself, 'These people will be successful,' and they were always the best in class."
Waterman and his wife became good friends with Lambert and his wife. After a recent dedication for the Edward C. Lambert Innovation Endowment at the Donald W. Reynolds Journalism Institute, Waterman received a surprise letter from his mentor's daughter, saying that she remembered Waterman from when her father talked about him when she was a little girl.
"Dr. Lambert is a major contributor to my success," Waterman said. "He's in my prayers."
A 'Real Job'
Before he could complete his master's degree, Waterman took a job as a sports editor at the Copley Press in Springfield, Ill., where he wrote and continued announcing play-by-plays.
"I wasn't sure which I would be most entertained with, or if I could do both newspaper and broadcast, so I accepted a position where I could do both," he said.
While at his first job, Waterman's interest in broadcasting continued to grow. He eventually accepted a full-time position at a local NBC station.
"While doing broadcasting, I made the decision that I felt that I had ideas more to the trend in media in those days than the people I was working for," he said. "My ideas were more satisfying to me than ones I was getting from my employer. So I scraped together a few dollars and bought my first radio station."
The Business Side
Although Waterman is first and foremost a journalist, he became a businessman as he began to acquire more radio and television stations around the country.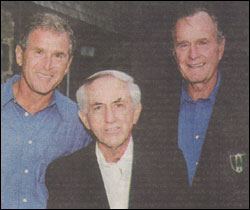 "Once you become involved in journalism, I'm afraid that's always your primary source of what you'd like to do, what you do best," he said. "Once you become involved in ownership or business, then business has to take a preference. You have to be alert to and advance well in what's taking place in the business when you have a number of employees."
Waterman says he currently has around 200 employees working for him, about half of whom work in the news department.
Although he oversees the business aspect of his company, Waterman still keeps his nose in the news. He watches headlines stream in from around the country and world every hour through the Internet.
"I send news stories down to newsroom, about 15 or 20 per day," he said. "That's the old journalist in me that will never give up. I love it."
Brushes with Fame
Throughout his journalistic career Waterman has met scores of celebrities, sports figures and presidents, including track athlete Jesse Owens, and has become friends with former President George W. Bush.
One of his most memorable encounters was with Sen. John Kennedy. Waterman was living in Massachusetts, and along with six other people, decided to invite the senator to discuss whether a Catholic could become president.
The group met with Kennedy for several hours in a little Greek restaurant next to one of Waterman's radio stations.
"He agreed he would entertain the idea of running," Waterman said. "About 30 days later, he was asked if he would run. After his consideration with us, he agreed. That was quite noteworthy for me."
Waterman still has Kennedy's photo in his office.
Thanks to Missouri
Waterman has worked hard his entire life, though he says he owes much of his success to the University of Missouri. But he believes nothing can come without hard work.
"There is generous opportunity at the University, but you have to be active in it," he said. "You have to be active in your desire. It's difficult if you are a passive person, and you accept the theory that I have to wait for somebody to offer you something. Be active and knowledgeable."
Updated: November 15, 2011