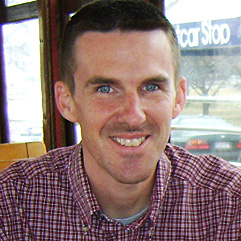 Degree(s): BJ '98 (Magazine: Design Emphasis)
Whereabouts: United States, Dallas/Ft. Worth, Texas
What do you do?
After working in niche sports publishing for 10 years, I started my own company in 2008. I create interactive magazines for Web and tablet devices and also do more traditional graphic design and branding. Some of the organizations I've worked for are USA Baseball and USA Football, Duke University, Texas Christian University, Conference USA, IMG College and Panini Collectibles.
How did you get your job?
I had the opportunity to develop some great relationships in sports media over the course of a decade, and I began doing freelance work for people. When people kept recommending me and I kept adding clients, I realized I could do it full time.
What do you particularly enjoy about your job?
I get to be creative every day, which I love. It's rewarding to see my work make a client successful.
What do you consider your greatest professional achievement so far?
Long-term relationships. I still work for people I met when I was starting out. Hopefully that means I've established a track record of good work, growth and integrity. The way you treat people now will affect your career in 10 years.
Best professional lesson you learned at the J-School?
Most designers went to art school, not journalism school. It's a huge advantage to have real-world experience, learn and understand what writers and editors do, know how to communicate to and understand an audience and be around the world of media.
What would be your best advice to current students?
Enjoy college. There are too many Type-A personalities at the J-School. I was one of them. Journalism (and for me, sports media) is fun.
What are your next career steps?
I don't have a master plan. I try to do my best work every day and make wise decisions about which clients to take on.
What is something about you that might surprise people?
Hate to admit this, but I've worked for the Kansas Jayhawks. Actually, they're great people, just like Missourians.
Updated: November 2, 2011