Bob Donaldson
News Anchor at Fox 59 and CBS 4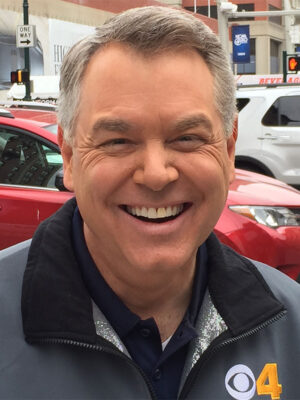 Degree(s): BJ '82
Whereabouts: United States, Indianapolis, Indiana
It was Bob Donaldson's first story for KOMU-TV, and it was an important one. KOMU wanted to be the first to break the story over a strike in Columbia, Missouri. A jittery Donaldson, along with staff photographer Brow Lester, shot video at the scene and pushed through a crowd of angry boisterous citizens.
Back in the newsroom, Donaldson wrote the story at the keyboard, while Lester edit the footage. Upon completion, the package was immediately rushed down to the control room, five minutes later it was aired.
It was the first time Donaldson saw his very own work aired on television. He was now a journalist.
"I thought this was the most exciting thing I had done in my life, and this is what I wanted to do," Donaldson says.
From that point on Donaldson was hooked on the newsroom rush. The hustle and bustle of meeting deadlines made work fun.
"The thing about it is that feeling never really goes away. If you're lucky, it never really does," Donaldson says.
This is the first of many stories that Donaldson would come to tell throughout his career as television news anchor. The Missouri School of Journalism led him to numerous opportunities across the country before accepting the position with Fox 59 in Indianapolis, Indiana, where he has been the past 25 years.
The Early Years
Donaldson's life was shaped by journalism at an early age. Born in Little Silver, New Jersey, population 5,000, he found The New York Times lying in the driveway each morning. Dinner conversation focused around the news in the afternoon New York Post. Donaldson would punctually watch the nightly evening news on TV with his parents. Due to the abundant exposure to news media his whole life, there was little surprise that Donaldson choose the career path of journalism.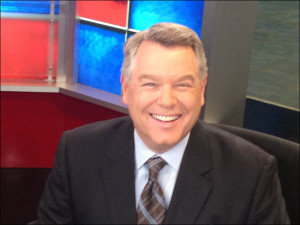 Donaldson gave up playing football and wrestling during his junior year of high school to become the sports-editor for the Red Bank Regional High School newspaper, The Bucaneer. Donaldson achieved his longtime goal of becoming the to editor-in-chief. His newspaper faculty adviser, Jonni Falk, a sports reporter for the local Asbury Park Press, taught Donaldson the ins and outs of copy-editing.
As graduation neared, he and his father visited the top-rated journalism programs. Missouri distinguished itself with its high placement rate for its graduates, coupled with its affordable tuition.
Donaldson liked that the Missouri School of Journalism had a lot of practical knowledge to offer through its Missouri Method. KOMU-TV is the only university-owned commercial TV station in the U.S. that uses its newsroom as a working lab for its students.
"The Missouri I had heard of was when you graduated you got a job if you were in journalism and that was my main concern," Donaldson says.
The Black and Gold Glory Days
During his freshman and sophomore years, Donaldson focused on his liberal art courses and began to get hands-on journalism experience. Donaldson started at KOMU the summer before his junior year.
After the strike story launched, Donaldson quickly learned that he was going to be faced with the pressure of deadlines and obstacles every day, whether it was breaking the latest crime story or staying up to date with the University. KOMU had a very exciting, but competitive, news environment. Donaldson competed against other mid-Missouri professional reporters to break the news first.
"I felt like I was surrounded with lots of talent and wanted to learn what I could, but also achieve in that competitive environment," Donaldson says.
Donaldson covered the city council beat for KOMU, which taught him how to cultivate sources. He learned how to read a teleprompter and be more natural in front of the camera through his weekend anchoring shifts. Professor Mackie Morris taught Donaldson the active voice example of "the boy hit the ball (active) or the ball was hit by the boy (passive)."
"Sounds basic, but active writing is one of the best lessons that I've ever learned," Donaldson says.
Donaldson received job offers in Illinois, Indiana and Texas as college life came to a close. He consulted his journalism professor, Max Utsler, for advice on which offer to take. Utzler told him that he needed to just go out into the workforce and earn it because nothing was going to be handed to him.
"I ended up going to Beaumont, Texas, which ended up being one of the best decisions of my life," Donaldson says. "Not only because it was a great TV station but because that was also where I met my wife."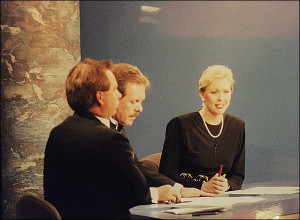 Moving On Up
Skye Winslow, Donaldson's wife, needed a co-anchor for PM Magazine, her 30-minute entertainment TV show, in Beaumont, Texas. She asked Donaldson if he would be interested in applying.
His response, "But I am a journalist."
Winslow chuckled at his response and thought he's a very confident man. However, the confident Donaldson said that Winslow was a much bigger deal at the time than he was. The friendly banter between the two ended up becoming a happy marriage of 32 years and counting. They became a power couple; whoever received the best job offer, the other found a job in that city.
Donaldson had his daily segment, Live at Five, that aired on the five p.m. newscast everyday. He enjoyed the live show; it taught him how to continuously find stories. However, he wanted to broaden his storytelling skills by doing more in-depth reporting.
Donaldson accepted a general assignment reporter position at KTBY in Oklahoma City because he felt that the station valued the storytelling aspects of journalism.
"That's where I was able to learn how to put together a compelling TV news story, both visually and verbally," Donaldson says.
Donaldson traveled to Hawaii to do a story on a Pearl Harbor survivor who had served on the USS Oklahoma when it sank. He captured the emotions of the survivor returning to the area for the first time since the attack. This demonstrated for Donaldson the powerful impact a compelling story has on an audience.
"It was the first story I'd done that made my co-workers emotional," Donaldson says.
Donaldson's wife took the host position for PM Magazine in Salt Lake City, and he found a position at KUTV, covering the environmental beat. Then, Donaldson returned to KTBY in Oklahoma City as the weekend news anchor.
Up until this point, Winslow had also been the anchor in their dynamic duo. However, she never felt that she needed to give her husband any tricks of the trade.
"He came out of Missouri so well-trained that he did not need any advice from me," Winslow says.
Donaldson then took an anchoring position in Little Rock, Arkansas. When his contract expired, Donaldson wanted to find a more permanent position.
Jim Sanders, news director at Fox 59 Indianapolis, was recruiting a whole new staff for the news department. After meeting with him for only 10 minutes, Donaldson knew he was ready to accept this challenge.
"Sanders was an incredible motivator," Donaldson says. "He convinced me that this would be a successful operation."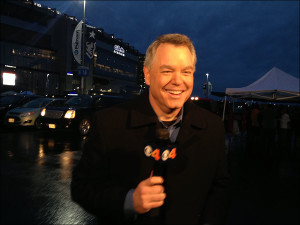 A Place to Call Home
Starting out, Donaldson's main concern was being able to do good work that would help him advance his career. He wanted his next move to be the last one.
"I grew up in the same small town my entire childhood, and I wanted to replicate that for my children," Donaldson says. "I didn't want to disrupt my children's lives by making them move from city to city."
Donaldson began working for Fox 59 in 1991 as a primary news anchor.
One of the first documentaries Donaldson did at Fox 59 was called "A Day in the Night of Indianapolis." He and his crew wanted to get a cross section of both features and hard news angles in order to provide a compelling and accurate view of what happens on any particular night.
Prior to shooting the footage, Donaldson and his crew met several times to organize and plan out the coverage of this documentary. They decided to cover police officers, emergency room doctors and 24-hour diners because those professions are known to be busy during the nighttime.
A well-prepared Donaldson and his crew set out to the different scenes. A baby was born while shooting video of a normal evening in the emergency room. A police shooting also occurred while collecting footage at the police station.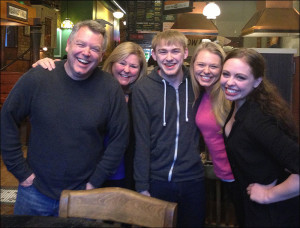 Back in the newsroom, Donaldson edit the footage and compiled it into a half-hour special. This was the first documentary that Donaldson directed himself, and it was a great way for him to start building a relationship with the Indianapolis community.
"All of these things happened, some remarkable, some less, but all very interesting," Donaldson says. "We were lucky, but we also planned it out well."
Donaldson's work played a role in the growth and success of Fox 59, winning "Fox Station of the Year" in 1992 and 1994.
The station started out with a half-hour newscast for the 10 p.m. spot which set a new precedent because all the other stations in their market were doing 11 p.m. news.
As Fox 59 continued to get good ratings and produced Emmy-award winning special reports, the station was able to add more  newscasts. In a relatively brief period of time, Fox 59 went from a small operation to producing the fifth most news in country.
"When we started it was a small operation, and we were the little engine that could," Donaldson says.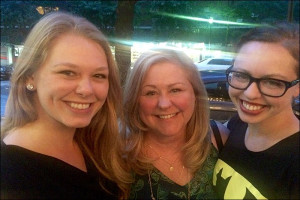 Things have changed even more in 2015 when Tribune Media, owner of Fox 59, bought the CBS affiliation. Now there are two stations in one newsroom sharing resources while competing against each other. Donaldson explained how one day a reporter from both stations went out to cover an a police shooting and then returned to the same newsroom. They competed against each other to break the news first.
Donaldson anchors the 5 p.m. and 6 p.m. news for CBS 4. At 10 p.m. he switches studios and anchors for Fox 59. Then, he literally has two minutes to walk back across the hall to the other studio and change microphones before he begins the 11 p.m. newscast for CBS 4.
"We are all in the same newsroom and everybody is working together, but it couldn't be more different from when we started," says Donaldson. "We started in a station the size of a kitchen and now we are in a massive newsroom. I'm really happy to be apart of it."
Donaldson feels that the key to success is having a passion for what you do. At an early age he knew that his passion was journalism. His time at Missouri prepared him for the real challenge of being able to bring "it" every single day.
Donaldson has never questioned his career path.
"The only thing I wonder is what I would have done if I didn't do journalism because I don't know how good I would be at anything else," Donaldson says.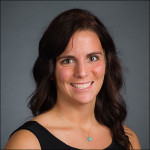 About the author: Shelbie Weaver is a proud citizen of Kansas City, Missouri. She is studying journalism with an emphasis in strategic communication at the Missouri School of Journalism. Weaver is currently the lead marketing intern for Mizzou Athletics. She spent the summer of 2015 interning at Sporting Kansas City. In her spare time, she enjoys doing CrossFit.
Master's student Kiara Ealy contributed to the development of this story.
Updated: December 19, 2015