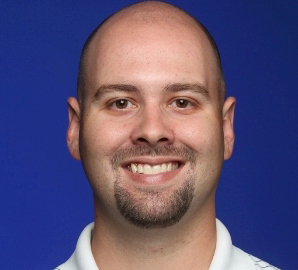 Degree(s): BJ '06 (Newspaper Journalism)
Whereabouts: United States, Lakeland, Florida
What do you do?
I develop and edit content for both print and online publications for Southeastern University, as well as oversee all official social media accounts for the university. The content can vary from a degree program description, to a blurb for a promotional postcard, to a feature story on a faculty member. As for social media, I spend most of my time on Twitter and Facebook interacting with people, as well as developing topics or contests to engage people online.
How did you get your job?
After spending the first five years of my career in sports journalism at The Palm Beach Post and The Ledger (Lakeland, Fla.), I was ready for a new career that was more conducive to a family lifestyle. I had won awards and was doing very well in newspapers, but it was becoming harder to balance my family and community interests with my job. I knew the Director of Marketing at Southeastern through some connections, interviewed in November 2010 and got hired in December 2011. Higher education is an exciting and growing field, and I haven't regretted the move since.
What is the best professional lesson you learned at the J-School?
What I learned mostly by experience was the value of versatility. The more things you can do (write, edit, design, Web stuff) the better off you will be. These days it's not really good enough to just be a good writer. You have to do a lot of things well, and that's what I try to do.
What advice do you have for current students?
Pretty much what I just said. Learn to do a lot of things well. And don't get discouraged if you don't get a great job out of college, or if you aren't at the top of the food chain at your first job. Patience and hard work are still rewarded.
What is your favorite J-School memory?
Being able to design the sports front and work at the Missourian on the night Quin Snyder was fired as men's basketball coach at Mizzou. It was hectic and non-stop, but it was very real and a lot of fun. We covered just about every angle there was to cover.
Updated: November 9, 2011