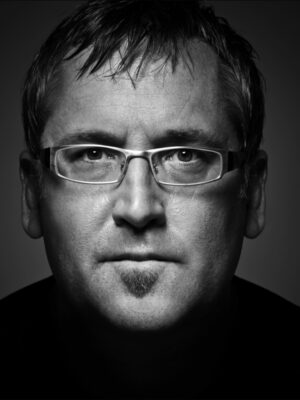 Degree(s): BJ '81
Whereabouts: United States, Florida, Miami
Brian Smith's best-selling book for portrait photographers, Secrets of Great Portrait Photography: Portraits of the Famous and Infamous shares his stories from 30 years photographing portraits of the famous and infamous. His book Art & Soul: Stars Unite to Celebrate and Support the Arts, photographed in partnership with The Creative Coalition and Sony, pairs Smith's iconic portrait photography of celebrities from film, television, stage and music with their personal messages about the importance of arts funding.
What do you do?
I'm a freelance magazine and advertising photographer. My first magazine photograph was published in Life Magazine about a month into my junior year at Mizzou, which was a cool way to start J-School.
How did you get your job?
By giving up my steady paycheck. I spent 10 years as a newspaper photographer, but for the last six I was shooting for magazines on the side until it got to the point where it was too much to do both. The great thing about newspapers is that you learn to work fast and you work a lot. But if you're not careful, you never really grow or evolve in your work. You just get to be really "efficient." I gravitated to magazines because it was a way to gain closer access to the people I was photographing. I shot a lot of sports with telephoto lenses but never enjoyed that as much as spending time one-on-one with the athletes. Also, most of the time when you shoot celebrities for a newspaper, you only get five minutes at the end of the interview. I remember once doing a big set up for John Huston, and he walked in and looked it over rather disapprovingly and said, "None of the other newspaper photographers did this." So I replied, "Mr. Huston, there are little movies and then there are major motion pictures, and this is a John Huston picture." He smiled because he got it, but I also realized if I was going to remain sane, I needed to make a move.
What awards have you won for your photography?
At age 25, I won the Pulitzer Prize for spot news photography for my photographs of the 1984 Los Angeles Olympic Games. I also was a Pulitzer finalist for my photographs of "Haiti in Turmoil." My photograph of Greg Louganis hitting his head on the diving board at the Seoul Olympics won first place in both the World Press Photo and the Pictures of the Year competitions. Twice I've been named as one of American Photo magazine's "New Faces in Photography," and I've been featured on the covers of the Photo District News Portraiture Issue, Communication Arts Photography Annual, Pop Photo and After/Capture magazine.
Where does your work appear?
My work appears in Sports Illustrated, ESPN the Magazine, Time, Forbes, New York Times Magazine, Vanity Fair and Ocean Drive. My corporate clients include the New York Stock Exchange, NASDAQ, Kraft, Nabisco, TNT and NBC.
What is the best professional lesson you learned at the J-School?
Surround yourself with really talented people who inspire you to get better every single day. It can be really humbling at times, but it forces you to constantly raise your game.
What advice do you have for current students?
Hit the ground running. Shoot everything the way that you'd shoot if you were working for your dream client. Too many photographers make the mistake of thinking they can raise their game after they get their dream gig. The truth is that unless you change the way you shoot, you'll never land that gig.
What is your favorite J-School memory?
Angus McDougall loved to use the line "Well some people like painting on velvet" as a put down. To this day I think of Mac every time I see a painting on velvet, and since I live in Miami, that's not exactly a rare occurrence. To tell the truth, "Dogs Playing Poker" is really starting to grow on me.
Updated: February 13, 2013