Charles Choi
Freelance Writer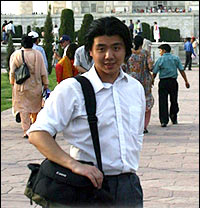 Degree(s): MA '01 (News-Editorial)
Whereabouts: United States, New York, New York
What was your first job? How did you get that job?
I started off as and still am a freelance reporter. I've written for The New York Times, Scientific American, Newsday, The San Diego Union-Tribune, Science magazine and others.
What advantages did a Missouri journalism degree give you?
The most important thing I got from my Mizzou degree was an extremely solid grounding in journalism skills.
What is the most interesting thing you've done since graduation?
I've flown to Russia to report on Siberian mummies in a story that ended up in The New York Times.
What advice would you give to current journalism students?
Start looking for jobs as soon as you can.
What do you do with your free time?
I enjoy traveling to distant parts of the world. Last year I headed to India and Nepal in April, Peking in June, a dinosaur dig in Montana in July for a story running in The New York Times, and Peru in October. This year I headed to Morocco in March and will go mountain climbing in Antarctica in December.
What is the hardest part about your job?
Waiting for contacts to call me back. I can write quickly, but only when I have material to work with.
What, if anything, do you miss about Columbia or MU?
It's a great little town with friendly people.
Updated: November 3, 2011