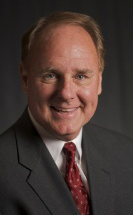 Degree(s): BJ '77
Whereabouts: United States, Dallas/Ft. Worth, Texas
What do you do?
I am a certified financial planner and personal/business growth coach running a company based in Dallas/Ft. Worth, Texas, that helps hundreds every year achieve their financial, fitness, family and business goals. My company both educates and motivates using proven techniques often overlooked as individuals get lost in the mainstream of life.
How did you get your job?
After spending 14 years in broadcast journalism, including several local TV outlets and culminating with reporting duties at CNN, various factors led me to create my own leadership/motivational company. I linked with a proven financial planning firm to help provide the financial leadership part of the company.
What is the best professional lesson you learned at the J-School?
Continuing to strive for excellence and the truth about oneself and others in a world filled with challenges and road blocks.
What advice do you have for current students?
Strive to reach your ultimate goals by continually analyzing what you and those around you value most. Don't get caught up in the everyday road blocks by periodically re-energizing what you are feeling about you and your surroundings and how you can influence that.
What is your favorite J-School memory?
Having fun with all the J-School folks at KBIA and KOMU.
Last thoughts?
GO MIZZOU!
Updated: November 2, 2011