Eve (Silver) McDavid
YouTube for Performance Partner Lead at Google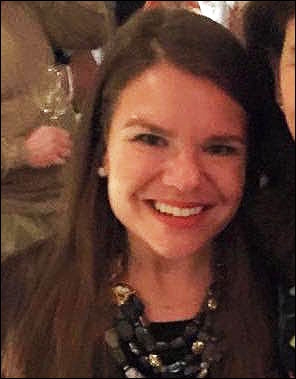 Degree(s): BJ '08
Whereabouts: United States, New York, New York
Eve (Silver) McDavid, BJ '08, felt there was something familiar about one of her Missouri School of Journalism professors on that first day of classes her senior year. A connection of some sort, maybe? It was when Barbara Ifshin introduced herself to the class, everything immediately clicked.
McDavid realized that this had to be the Barbara Ifshin who was related to Jake Ifshin, a friend and former classmate from Hebrew school back in her hometown of Bethesda, Maryland. While McDavid had never met Barbara, she had heard about her and her impressive career. It was rare for McDavid to have such a personal connection from home to someone in Missouri.
"I blurted out, 'I know who you are! I went to Hebrew school with your nephew,'" McDavid laughs, remembering that moment when she put two and two together in the middle of class introductions.
The common ground the two shared was the beginning of a relationship she made with Ifshin, who went on to become one of her most influential professors. McDavid's ability to make those meaningful connections is evident in her career today as a YouTube for Performance Partner Lead at Google. She finds success in creating and maintaining positive relationships with clients as she works with them to create and execute video advertising strategies based on their marketing objectives.
The Path to Missouri
McDavid knew she wanted to pursue journalism in high school, and news stories only confirmed her choice of careers. When New York Times reporter Jayson Blair was found to have fabricated numerous stories, Jim Lehrer, BJ '56, anchored PBS "The News Hour" and discussed what the scandal meant for journalists. Viewers were reminded of the importance of ethics, especially in journalism. Among the viewers was Nathan Silver, McDavid's father.
He encouraged her to consider the Missouri School of Journalism. He knew that many journalism professionals studied there and suggested to his daughter it was worth visiting. After touring the campus, McDavid knew Missouri was the school for her.
She intended to study newswriting but switched to strategic communication during her freshman year. McDavid noticed similarities between traditional journalism and advertising.
"It still had the storytelling aspect that I thought was really incredible in newswriting," she says.
McDavid got a taste of the career she would go on to have in account management when she joined MOJO Ad as a researcher her senior year. MOJO Ad, one of the School's student-staffed agencies, works with national clients to create campaigns targeting the Youth And Young Adult market. During her fall semester, MOJO Ad was charged with designing campaigns to increase Hallmark's awareness and relevance with the YAYA market.
For the spring semester, McDavid took on the account planner role as her team created campaigns for the Television Bureau of Advertising and Yum! Brands.
At the center of her MOJO Ad experience was Ifshin, who oversaw all the research and strategy work done by the students. Like all the MOJO Ad professors, Ifshin pushed students to be the best version of themselves and expected 100 percent.
"Barbara is the kind of person who pushes you beyond what you want to do, think you can do and even sometimes what you think is really necessary," McDavid says. "She's this incredible challenger, who is extremely supportive at the same time."
McDavid cites the Missouri Method approach of MOJO Ad as being instrumental in preparing her for her career because of the extensive amount of work experience she gained. The important teamwork lessons also were not lost on her.
"It gave us this really awesome prototype as to how your team should work together, the different roles and responsibilities that come within a team dynamic, what people's strengths and weaknesses are and how hard people are willing to work," McDavid says.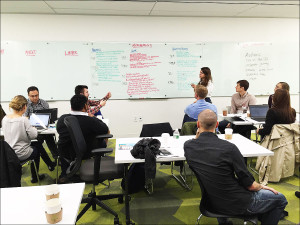 Entering the Workforce
During the spring of her senior year, McDavid surveyed the job landscape and researched different companies. She had always been fascinated with Google and curious about working at a technology company. As she looked into it, she discovered that Google's revenues are largely driven by its advertising platforms. Now understanding that Google was an option, she had a long-term goal.
"It gave me a good goal for the future as to what I could work toward to get to where I wanted to be in the industry," McDavid says.
With this goal in mind, McDavid moved to Chicago and worked as a strategist at OMD Worldwide. The global media communications agency was focused on the digital experience, understanding consumers were beginning to spend more time on digital over other platforms. To eventually get to Google, McDavid knew she had to understand the digital landscape and that working at OMD Worldwide would build her digital knowledge.
"I was able to get a lot more digital exposure, which at the time I realized would be really important for me to have for career advancement and for my own learning curve," McDavid says.
McDavid managed the media buying and planning for McDonald's national advertising campaigns. As a strategist, she built relationships with clients and understood what they needed. She learned about the industry, media planning and the client-side of the media buying process.
Though she was tasked predominately with traditional media strategy, she was determined to learn more about digital and get experience in all platforms. McDavid consistently expressed interest in working on different projects and learning from her superiors to further develop her skill set. She was particularly proactive in learning more about digital.
"If you didn't say that you wanted to be put in a position where you were working on something that you hadn't been tasked with doing before, you didn't necessarily get the option," McDavid says. "People don't know what you want unless you tell them."
After working at OMD Worldwide for three years, a friend working at Google called with an opportunity that fit McDavid's agency and media planning experience.
McDavid now felt ready to begin her chapter at Google. She applied for an account management position and was hired in 2011.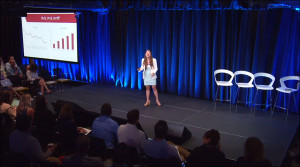 The Google Transition
When she made the switch, McDavid immediately went about learning Google's business. Google's philosophy of hiring people from different professions meant her new colleagues were anyone from engineers to advertisers to analysts. While her coworkers might have come from a variety of backgrounds, she found they had one commonality: They were the best of the best. This diverse skill set among coworkers provided great opportunities for McDavid to learn from others, which is something she immediately valued and continues to value about Google.
"It's really an incredible environment, and I think it makes us all better because we see everyone around us always driving for excellence," McDavid says.
During her first two years, she was an account manager and then advanced to account executive in 2013. For three years, McDavid led a team to provide clients with business solutions to meet their marketing objectives. She was then promoted to YouTube for Performance Partner Lead.
McDavid works with existing Google clients to develop and execute video advertising strategies. Her solutions help her clients meet their goals, such as increasing visits to their websites, improving consumer engagement with a digital site or growing sales. As a specialist, she supports the Google teams and clients themselves.
Google stresses the importance of focusing first on the user. This guiding principle is important to McDavid and is translated into her client meetings, where she works to understand what they need, even if it is not specifically said. A large part of her job is understanding, listening and presenting ideas – even concepts the clients had not previously considered.
Receiving Deserved Recognition
In 2015, her dedication to her clients and her success was recognized when McDavid received the 2015 Interactive Advertising Bureau Sales Person of the Year for the East Coast.
Winners of this award have been identified by their clients as being extremely successful in digital sales. The award shows not only her sales success, but also the respect and admiration her clients feel toward her.
"To receive that kind of recognition from clients and agencies is probably even greater validation than doing well at Google," McDavid says.
While the recognition acknowledges the understanding she has of her clients and the strong bond she has created with them, it also points to the deeper knowledge about the advertising industry that she has intuitively used to build her career since her days of studying strategic communication at the Missouri School of Journalism.
"In advertising, your business is all about customer relationships and building really lasting relationships with clients," McDavid says. "Whether it's developing creative messages, working with them in media strategy or helping them figure out their marketing strategy, it's an always-going conversation."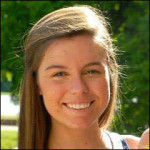 Kathleen Dorr graduated from the Missouri School of Journalism in May 2016 with an emphasis in strategic communication. A St. Louis native, she grew up cheering on the Tigers and always knew she would attend MU. Dorr had four internships before graduation. She is passionate about digital and social media content and hopes to explore these areas within her career.
Updated: May 25, 2016