Fortuna Calvo-Roth
President at Coral Communications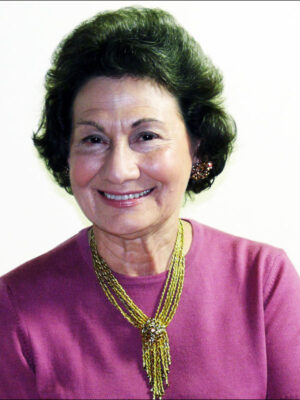 Degree(s): BJ '54
Whereabouts: United States, New York, New York
As a young girl in Peru, Fortuna Calvo-Roth, BJ '54, followed World War II through headlines in the local paper. One day she saw "USS Iowa" displayed in imposing type across the front page. Frightened, she wondered if it meant an enemy Japanese ship had won a battle in the Pacific. Her mother reassured her, "No, they are our Allies and are giving the Japanese a hard time."
Calvo-Roth got a greater sense of the world at large through reading newspapers and envisioned a future for herself. At a young age, she decided to be a journalist. Her father, who thought there were nobler professions, wasn't convinced. Why not be a teacher, he posed. Laughingly, Calvo-Roth remembers replying, "I don't think I'm cut out for that."
Ultimately, Calvo-Roth's dream of becoming a journalist led her to the Missouri School of Journalism. A degree in journalism served as a springboard to much more. In her lifetime, she has had the titles of journalist, professor, author, producer, actress and philanthropist. Calvo-Roth has met world leaders and famous actors, is a world traveler and indulges in her love of theatre. Through it all, she keeps the same spirit of curiosity that led her into journalism.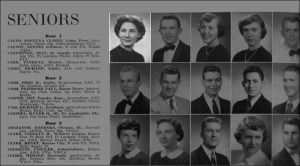 The Early Years
Born in Paris in 1934 and raised in Lima, Peru, Calvo-Roth's life touched different cultures. She attended an all-girls grade school and high school. Words came easily to her. Her high school magazine published her essays and short stories, which won her awards. These early successes fuelled Calvo-Roth's desire to be a reporter.
She began her journalism studies at Lima's Catholic University in Peru but realized she wanted to learn the kind of journalism of newspapers like The New York Times, the New York Herald Tribune and the St. Louis Post-Dispatch. "If that's what I want, I better leave," Calvo-Roth decided.
After much discussion and persuasion, her parents supported her decision to attend school outside Peru – and to become a journalist. The 16-year-old narrowed her options down to three schools. She was thrilled to be accepted at her top choice: the Missouri School of Journalism.
Once enrolled, Calvo-Roth focused on her studies on news-editorial. The Missouri method of hands-on learning in real-media outlets suited her. Professional experience at the Columbia Missourian stretched and strengthened Calvo-Roth's writing abilities.
"I chose Missouri because it was and is the oldest school of journalism in the world," Calvo Roth says. "I was glad to be there for other reasons as well, mainly the Columbia Missourian, which was better than any post-graduate internship. It gave me self-assurance, and I felt like a pro on my first day as a working journalist."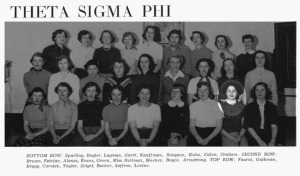 In 1954, Calvo-Roth won a Sigma Delta Chi award from the Society of Professional Journalists for a two-part Missourian editorial about the referendum for a new sewage system.
Calvo-Roth didn't know her article had been submitted to the competition. So when her copy editor asked the staff to attend the SPJ awards recognition celebration in Neff Auditorium, she almost didn't go. "I was very surprised and pleased, of course," she says about receiving the award.
Calvo-Roth was also a member of Theta Sigma Phi, a journalism student sorority. This was a premier organization only for women who took more than five hours of journalism courses per semester.
Calvo-Roth worked incredibly hard in school. She took 19 credits per semester – the normal course load is 15 – and focused on getting the most she could from the Missouri School of Journalism. She developed close relationships with her professors by working after hours, taking summer school classes and extra correspondence courses.
Her plan to graduate in two and a half years – with honors – almost derailed during her final semester. There simply wasn't enough time to fit in the final three credits she needed to graduate given her course overload and work at the Missourian. So she convinced one of her favorite professors, Albert Edmund Trombley, to teach her French literature at 7 a.m. on Wednesdays.
"Without all his extra help, I wouldn't have been able to achieve my degree and finally begin my dream job," Calvo-Roth says.
At just 19, an age where most undergraduates are freshmen, Calvo-Roth graduated with honors from the Missouri School of Journalism. It would be 15 years before Calvo-Roth returned to Columbia. By then, she was a regular guest commentator on Latin America for NET, now PBS, and Stephens College booked her as part of its Foreign Affairs lecture series. Calvo-Roth was able to visit with Missouri School of Journalism Dean Earl English and other professors while in the area.
Much More Than a Journalist
Calvo-Roth got her first job as a copy editor at a newspaper called La Prensa at a time when women weren't considered capable of reporting hard news and international issues. Management transferred her to the feature-oriented society page, a move that Calvo-Roth felt was a demotion.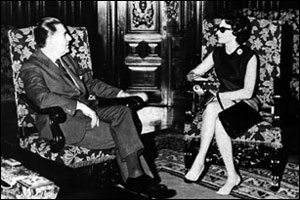 Gender bias left Calvo-Roth feeling discouraged about women's roles in newsroom management. So she re-evaluated her career and turned to a different opportunity where she could use her multilingualism. Calvo-Roth decided to pursue a degree at the School of Interpreters in Geneva.
A fortuitous encounter happened as Calvo-Roth traveled to start her studies in Switzerland. During a brief stay in Mexico, she met the Israeli ambassador by chance. When he learned about her Missouri journalism degree, he offered her a two-month job in New York at the Israeli Mission to the United Nations during the Sinai War of 1956. She accepted on the spot.
Calvo-Roth instinctively knew that this position would take her one step closer to reporting international news. It also established her in New York, where she has lived for the past 58 years.
After her job ended with the Israeli Mission, she became the New York correspondent of the Brazilian newsmagazine Visaõ. Later, she was asked to transfer to Visión, the sister publication in Spanish for Latin America but edited in New York, where she stayed for 12 years. After a stint at the news desk, she was promoted to business editor, then to assistant managing editor, managing editor and editor-in-chief before becoming editorial director of Visión, Inc., where she jumpstarted the monthly business magazine Visión/Europe in partnership with Hachette. During her tenure as managing editor, Visión won a Maria Moors Cabot award from Columbia University School of Journalism.
Early on in her career at Visión, she met and married her husband of 57 years, Felix.
While on an assignment in the Dominican Republic in 1965, her husband and newborn daughter Carla stayed at home in New York.
After stumbling into a street fight during that country's civil war, where she was shot at but not injured (an incident covered by The New York Times), Calvo-Roth thought to herself, "I'm going to die here and leave my six-month old daughter behind." So on her return, she decided she wanted to stay closer to home in New York and spend as much time as she could with her young family.
Calvo-Roth decided to be a stay-at-home mom after the birth of her two children. The newsroom, she thought, wasn't the place to balance parenthood and her deadlines. However, being a homemaker wasn't a good fit for her, she says, so she decided to go back to school.
Her father was bemused at this decision: "What's this craziness? You've done this, you've done that. You can't be still and enjoy your position in life? Do you have to go back to school?"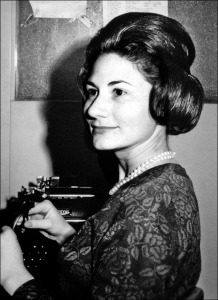 Once again, Calvo-Roth quieted her father: "Dad, now I realize how ignorant I am and how much I have to learn."
Calvo-Roth began her studies as a special student at New York University's School of the Arts where she focused on film, TV and radio to better herself as a journalist. Shortly afterward, she became director of Public Affairs at WJIT-Radio, where she produced and broadcast her own program for the next five years. On a walk one day, she discovered that only five blocks stood between her home and acclaimed acting teacher Stella Adler's studio. She stopped in to inquire about studying there. Calvo-Roth, then in her early 30s, worried she might be too old to enroll.
Adler saw it another way: "You're still so young. I want you to study here."
Adler's influence on Calvo-Roth went beyond acting. One summer, Adler asked Calvo-Roth to produce a few plays for a summer stock season which started in Castine, Maine, and ended in one of the studio theaters at New York City Center. Calvo-Roth was skeptical of her abilities but Adler waved her fears away saying, "If you can produce a magazine, you can produce a play." Backstage, the entertainment industry publication, gave the ensemble a rave review and called Calvo-Roth's performance in one of the plays "notable."
Theater proved to be an important period in Calvo-Roth's career and a valuable education in a different form of expression. Her education from Adler strengthened her acting skills, and she applied this knowledge to her journalism career. Calvo-Roth remains an avid theatergoer today and cites Shakespeare as one of her favorite playwrights. In her spare time, she enjoys taking on smaller acting roles such as her recent role as Maria Rosa in the TV series The Blacklist.
In the 1970s, Calvo-Roth completed post-graduate studies in Comparative Politics at New York University with an ABD (all but the dissertation) and began teaching politics, first at Hofstra University and years later at NYU. She also helped start Lima's Channel 2 and Vista, a Latino magazine supplement for the U.S. in 1983, which now reaches 3.3 million readers. In the early 1990s, Calvo-Roth created Coral Communications LLC with her son Stephen, which hosts the audio book label Nueva Onda, the first in the U.S. to produce audio books exclusively in Spanish.
No Slowing Down
Calvo-Roth's early passion for journalism fueled her desire to want the most out of life.
"There's only one life you have, and there were so many interests that I had," Calvo-Roth says. "Doing the same thing year in and year out? I didn't think so."
In 2002, El Diario-La Prensa named her one of the 50 outstanding Latinas in the U.S. She is also the recipient of a Humanitarian and Arts Award from the Simon Daro Foundation in Miami.
Today, Calvo-Roth continues to live in New York City with her husband. She works as the editor and recorder of audiobooks for Coral Communications, which recently won an Earphones award from AudioFile magazine for one of its books. Calvo-Roth is a former president for New York Women in Communications. For the past 12 years, she has served as a trustee of the City University of New York's Graduate Center Foundation. CUNY is the largest urban university in the United States. In May of 2014, Calvo-Roth was recognized as one of the New York Senate's "Women of Distinction." Sen. Liz Krueger presented the award in Albany.
Calvo-Roth has no intention of slowing down. She still follows the international news, acts and goes to see plays.
"You have to have a passion for whatever you're doing, and I love what I do," Calvo-Roth says.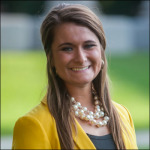 Shannon Yokley is a senior at the University of Missouri majoring in science and agricultural journalism. Yokley grew up raising and showing cattle with her family south of Jefferson City, Missouri. After graduation in May 2015, she plans to pursue a career in strategic communication with an agricultural company. The College of Agriculture, Food and Natural Resources recognized Yokley with its Outstanding Junior award in 2014. She has held several internships and freelance opportunities with companies including the Missouri Department of Agriculture, MU Extension, Brownfield Ag News, FCS Financial and Farm Journal Media.
Updated: December 16, 2014