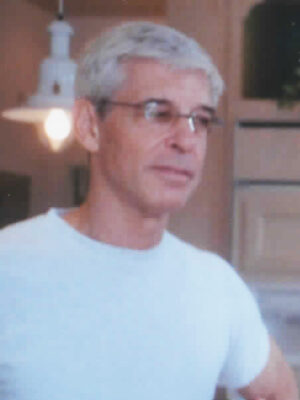 Degree(s): MA '66
Whereabouts: United States, New York, New York
Waitlisted by the Ivy League, nearly sidetracked by interfering deans and his own egregious spelling error did not halt Fred Bleakley's ambition for a successful career in journalism. Determination, perhaps, is the key to his achievements. He has won prestigious awards, including the John Hancock Award for Excellence in Business Writing. He has held editorial positions at BusinessWeek, the Institutional Investor, The New York Times, The Wall Street Journal and the American Banker, where he redesigned the entire paper. From New York to Missouri and back again, Bleakley continues to apply his high standards and make impressive contributions to the journalism profession.
Bleakley was exposed to journalism at a young age and developed a passion for reporting and writing. His father worked for the New York Herald Tribune, a daily newspaper with a circulation of more than 400,000. On Saturdays during his last two years of high school, Bleakley also worked at "The Trib" as a clerk in the advertising department. This limited time at a major publication only whetted his appetite for a future in journalism.
Aiming to hone his writing, Bleakley pursued a bachelor's degree in English from Holy Cross in Worcester, Mass., and practiced journalism throughout his undergraduate years. He was news editor of the Crusader, the Holy Cross campus newspaper, where he assigned stories and looked for the college angle on local, state and national issues. For example, Bleakley covered Sen. Ted Kennedy's sponsorship of a bill relating to college tuition and loans. Bleakley also took it upon himself to re-format the paper. He was determined to make the Crusader more relevant and easier to read.
"I was in charge of page one and redesigned our college weekly to resemble the New York Herald Tribune," Bleakley says. "At the time the Tribune was experimenting with only two or three stories on page one with large pictures and a right-hand table-of-contents column that had a capsule description of the story."
The dean of Holy Cross, however, scolded Bleakley for spending too much time on the paper and neglecting his studies. All too soon, Bleakley's ambitious goals for the Crusader were cut short.
"I left the Crusader because the dean said I had to stop going to the printer on Friday mornings because I was cutting history class to put the paper to bed," Bleakley says.
Bleakley obeyed the dean's request and left the Crusader, but he didn't leave journalism. He found a night reporting job at the Worcester Telegram & Gazette, a Scripps-Howard daily for the city of Worcester and the surrounding area with an approximate circulation of 200,000. He worked from 4 p.m. to midnight five nights a week; he covered local politics and police nearly 20 miles outside of Worcester for the Fitchburg, Mass., bureau.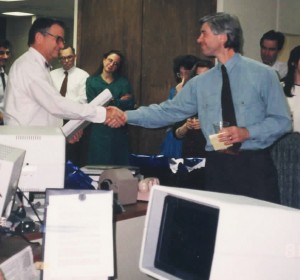 The Telegram & Gazette was impressed by the quality of Bleakley's work and wanted to hire him. Just before graduating from Holy Cross in 1965, he was offered a full-time position that started at $80 per week. Knowing his fellow reporters with master's degrees earned more than this amount, Bleakley turned down the offer and applied for graduate programs at Columbia University and the University of Missouri.
Columbia University was his first choice, but he was placed on the waitlist and told he would be accepted the following year. Fortunately, he was immediately accepted to the Missouri School of Journalism. Bleakley decided to make the 1,257-mile journey west to the University of Missouri.
"As the first J-School, and with a great reputation, it was a no-brainer to head west to Mizzou when Columbia University put me on its waitlist," he says.
Attending graduate school during the Vietnam War proved to be another challenge. College graduates were hoping to enroll in graduate programs to get a deferment from the draft, so the Missouri School of Journalism was swamped with applications for graduate school. In 1966, midway through Bleakley's graduate studies, Dean Earl English tried to persuade Bleakley to be satisfied with earning a bachelor of journalism degree, thus giving up further pursuit of a graduate degree. The dean hoped this proposed plan would free up a spot in the already-crowded master's program.
Dean English's stern attempt at persuasion did not phase Bleakley. He was unwilling to compromise.
"My goal was to get a graduate degree so I could ultimately make more money. I wasn't going to give up my spot," Bleakley says.
Bleakley managed to complete the graduate program in 15 months and graduated in 1966.
"It was very intensive," he says. "I had to make up several basic undergrad courses, such as History of Journalism, so my workload to finish a master's in a year's time – my goal – was heavy."
Bleakley maintained a rigorous course schedule and worked full time at the Columbia Missourian for extra credit between fall and spring semesters. He also managed to find some time to socialize with his peers.
"The Ivanhoe across the street from the J-School was the big beer-and-burger hangout of the day," Bleakley says. "One time Dean English told my semantics class to break into small groups and go over to the Ivanhoe to discuss how to describe in words an orange. He gave each group an orange to put on their respective tables."
Dean English was an expert in typography and taught semantics for 30 years. His course was one of the only courses of its kind in the country at the time.
"It was one of the best classes I took," Bleakley says. "It opened my eyes to the meaning of words and also how in speech, the tone and emphasis that you give words affects the impact they have."
In addition to the Ivanhoe, another popular hangout for students was The Shack. It was located where the Reynolds Alumni Center now stands and was rumored to be the bar referred to in the hit 1956 song "Green Door" sung by Jim Lowe, who attended the University of Missouri.
"It was described as a mysterious, speak-easy-type place behind a green door that you knocked on three times for admittance," Bleakley says. "Actually, what was behind the door, as I and countless other Mizzou students came to appreciate, was a rabbit warren of booths, all carved in with initials from names of students then and past, where beer flowed freely and the noise level was high."
With a vibrant campus presence from 1920 to 1984, The Shack remains a respected, beloved memory for many 20th century alumni.
Even with a lively social scene steps from campus, journalism was Bleakley's top priority. He found an ally in Professor Tim Hubbard, who oversaw the business journalism program.
Before joining the school's faculty, Hubbard worked at BusinessWeek, a weekly magazine covering national marketing, labor, finance, management and other business topics. Ken Kramer, editor-in-chief of BusinessWeek at the time, contacted Hubbard seeking suitable candidates for an open position at the St. Louis BusinessWeek bureau.
Hubbard made a sign that read, "Why not start at the top?" and posted it on a bulletin board at the J-School.
Bleakley was intrigued and immediately spoke to Hubbard about this opportunity. After recommending Bleakley for the BusinessWeek job, Hubbard required Bleakley to take the business journalism course as preparation for the job.
For the final assignment, students reported on new businesses in the Columbia area. Bleakley chose to write about the Xerox store, the first copy center in Columbia.
"Right after I turned in my assignment, I knew I had made a huge mistake," Bleakley explained. "I called Professor Hubbard at his house and asked him to change the 'Z' in my version of 'Xerox' to an 'X'."
Fortunately, Hubbard didn't pull his recommendation. But he had little patience for careless spelling errors, as he clearly indicated a few weeks later when Bleakley stopped by his office to say thanks before starting his BusinessWeek job. "His parting words to me," recalls Bleakley, "were…'Oh, don't screw up!'"
The position at this national publication started at $135 per week. Earning a master's degree was paying off.
"I am glad Columbia put me on its waitlist because, in addition to spending time in a great part of the country and at a great school, the Missouri School of Journalism got me started at a better job most likely than I probably would have had out of Columbia University," Bleakley says. "I doubt BusinessWeek hired straight out of Columbia, but I made it in the back door by starting out in the St. Louis news bureau."
With no prior financial reporting experience, Bleakley jumped right in and got off to a good start by beating the other national press in breaking the news that the McDonnell Company was in secret negotiations to merge with Douglas Aircraft, which would eventually become the first billion-dollar merger. He was quickly promoted from St. Louis to the New York BusinessWeek headquarters. After covering financial markets for BusinessWeek where he wrote several cover stories, Bleakley joined the Institutional Investor Magazine as a senior editor.
"It was the hot new magazine at the time, and the pay was a lot better," Bleakley says.
While there, he won the John Hancock Award and also founded a newsletter division. He left to try to start his own magazine, to be called "CAPITAL," which was unable to raise enough money during the recession of the early 1980s.
"The 1980s and '90s were great times to be a financial journalist because everything was changing and changing fast," Bleakley says.
After freelancing for The New York Times, he was asked to join the business section full time. His stint there, where he rose to be deputy editor of the section, included heading the paper's extensive coverage of the 1987 stock market crash.
Then, the American Banker Newspaper, a daily, called to recruit him to revamp the paper as its new editor.
"It stirred my entrepreneurial instincts," Bleakley says.
After a total makeover of all the sections and adding staff, with readership and advertising gains, Bleakley moved on to The Wall Street Journal as its finance editor. There, throughout the '90s, he headed a team of banking, real estate and insurance reporters and then crisscrossed the country as a writer of grassroots economic stories.
Bleakley is now back at the Institutional Investor, where he is editorial director of memberships, which are private forums for executives in asset management.
"It's not exactly journalism but getting people together to share ideas, write special reports and build websites for them is fun," he says. "It's just another form of communication."
So the gamble in moving halfway across the country to attend the Missouri School of Journalism instead of waiting a year to attend Columbia University seems to have paid off.
"Mizzou launched me into a very fortunate and fascinating career," Bleakley says.
Updated: November 2, 2011