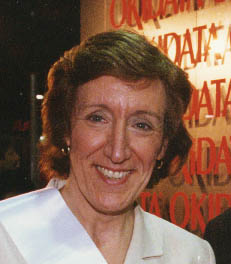 Degree(s): BJ '67 (News-Editorial)
Whereabouts: United States, Dallas/Ft. Worth, Texas
What is your company like?
The Communicators is the coolest place to work. We won the first national competition for the best small business in America a few years ago. In a competition of hundreds of organizations we were selected among the top 10 finalists and then got the call that we were number one. Criteria included operations, technology, nature of the business, environment and culture of the workspaces, plus innovation.
What do you do?
I'm the president, and that means I get to make all of the big decisions and big mistakes.
How did you get your job?
That's worth a book! It was the biggest challenge of my career. In order to become president, I had to take that job away from the current president. He was the founder of the company, a great business partner, and another journalism professional for the Des Moines Register, and eventually became my husband. Get it? So, I helped him create another company – his next career, so I could take over this one.
What is your best professional lesson learned at the J-School?
Teaching makes you a better professional. When selected to be a News 105 Student Instructor, I learned more by teaching others to be journalists that spending time by myself.
What is your favorite J-School memory?
The hours spent in the newsroom, putting out the paper.
What would be your best advice to current students?
Work your little tail off, and don't come up for air until you graduate. The big party you think you want to go to is waiting for you after you graduate. School is serious. Life is fun.
What are you working on currently?
We are currently working on some really major developments that will create history and make national news. So much of what you heard if you participated in the 100th Anniversary of the School of Journalism is at the core of innovations and new business models we are creating, every year.
What do you consider to be your greatest professional achievement?
We have not achieved greatest, yet. We seem to have a lot of "firsts" and history – making professional achievements every week. Maybe everyone is right who nags me to "write that book" about our amazing journey with so many nationally known leaders and organizations.
What makes you good at your job?
Our customers tell us it is in the way we make connections. We are raging visionaries with the ability to execute flawlessly. What makes me good are the super duper talented people who are attracted to this company and want to work with me. They are all better than me and just haven't figured that out yet.
Who would you like to work with and why, or where would you most like to work?
I've already worked with some major personalities and people who changed the world. We moved the company and my family to the Dallas/Fort Worth metroplex at the beginning of 2010, for many good reasons, including client service. Our work is still mainly in Chicago, Dallas/Fort Worth, Washington, and west coast cities.
What are your next career steps?
Recently, we reinvented this company and decided to create a new company to serve unmet needs for business processes and total communications systems for the entire certification industry – corporate, associations, and government. At a time when some are thinking retirement, we are building another business, alongside the flagship corporation.
What did you want to be as a kid?
I was a writer. Others passed notes in class, and I issued small booklets with stories. Because my grandfather and great uncle were well-known journalists and newspaper publishers, it seemed like a neat thing to do.
Updated: November 10, 2011