Jane Di Leo
Vice President, Chief of Staff, Corporate Affairs & Communications in NYC at American Express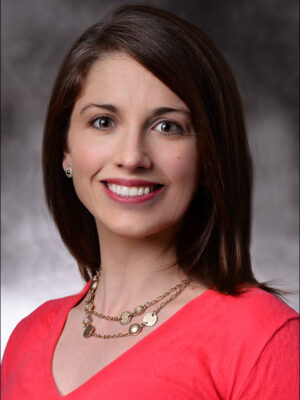 Degree(s): BJ '05, MA '06
Whereabouts: United States, New York, New York
Evenings at the Di Leo household were times of storytelling. Jane Di Leo, BJ '05, MA '06, and her sister listened to their dad regale them with tales about his childhood in a Chicago orphanage or make-believe stories about the rights and wrongs in life. When Di Leo wasn't listening to her dad's stories, she was reading vicariously, drinking in the words on paper that ignited her imagination and passion for storytelling.
Di Leo soon put her stories on paper, winning an elementary school writing competition. Di Leo identifies it as a key moment that ignited her love for writing. What she didn't know was that, with a few calculated risks, her ability to tell stories would take her on an adventure around the world.
Early Beginnings
Di Leo was having a somewhat other-worldly experience when she was ushered into the living room of Minnesota Gov. Jesse Ventura at 1006 Summit Ave. There was such grandeur: vaulted ceilings, intricate ironwork and displays of silver and crystal.
She was there in her capacity as a high school reporter for the youth section of Minneapolis' Star Tribune.
"That was an interesting experience, to be a teenager and sitting in the home of the governor, his wife, and their daughter," Di Leo says. "It was such an inside glimpse into what life was like for them, something few are able to experience."
High profile interviews such as this and working with editors who expected Di Leo to connect and talk to the community and write according to the newspaper's deadline schedule motivated her to constantly improve her skills as a journalist.
"The Star Tribune got us out there meeting people," Di Leo says. "They were throwing us in the hot seat as interviewers, and it got us turning around a story on deadline. It was great."
Di Leo began looking into journalism schools when she started to think about college. Dad Sal did some research, too, and discovered the positive reputation of the School of Journalism.
"At first, he let me do my own thing and look at these schools all around the country," Di Leo says. "He finally said, 'You know, if journalism is your true passion, you should look at Mizzou.'"
It didn't take long for Di Leo to realize that Missouri was the best fit for her. During her campus tour, Di Leo was not only able to talk to staff and current students but also see the hands-on Missouri Method in action. Knowing she would be able to report in the field convinced Di Leo that the Missouri School of Journalism would be an ideal platform to further her storytelling skills.
"I couldn't wait to get into the newsroom and start reporting," Di Leo says.
Making It at Missouri
Late one night in early October 2005, Di Leo and other Vox Magazine team members were working long into the night. The upcoming issue was a big one: Celebrity Kanye West was in Columbia, and homecoming was just around the corner. The art directors decided the cover needed to make a statement: What better way to celebrate these two events than "pomping" (tissue-papering) West's mascot Dropout Bear for the cover?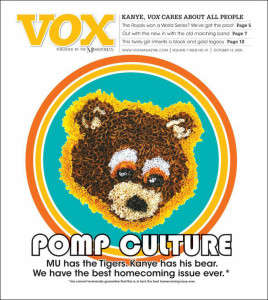 "Let's just say we bit off more than we could chew," Di Leo says, noting that few of them had ever pomped before. "Pomping the Kanye bear became an all-staff adventure."
Di Leo also developed close professional relationships with her professors. Jennifer Rowe, professor and editorial director at Vox Magazine, was especially influential.
"Every professor at Mizzou was able to impart his or her wisdom on us," Di Leo says. "Being able to learn from their experiences was crucial to all of us being able to hit the ground running right out of the J-School and be able to hold our own in a profession where many writers, editors and designers had years on us."
Di Leo had a dual major in Spanish and participated in the university's study abroad program in Alicante, Spain. She took classes such as Economics of the European Union and Spanish Literature, hung out at the beach and traveled on the weekends. The real takeaway was learning she could survive on her own.
"Studying abroad is really an empowering experience, especially as a single female, to put your backpack on and visit the countries you want to visit," Di Leo says.
Di Leo's new-found confidence influenced her decision in applying for the 4+1 master's program at the Missouri School of Journalism. The program allows students who have an undergraduate degree from the Journalism School Missouri to earn their graduate degree in one year. Di Leo worked in an editorial capacity at Vox, and as part of her master's project, she interned at Women's Health magazine. Di Leo's project, "Editors of Women's Health Magazine: Defining the Concept of Healthy," addressed how various editors at the magazine communicated and defined the idea of health.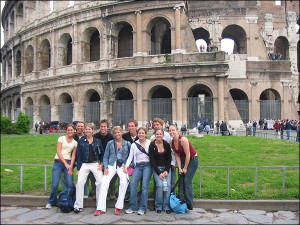 By the end of Di Leo's tenure at Women's Health and following graduation, she was faced with a decision: to continue working as a researcher for Women's Health or to take a job closer to home as an associate editor for MSP Communications in Minneapolis. MSP Communications is a custom content agency that produces Mpls.St.Paul Magazine, a regional magazine for the Twin Cities, as well as magazine print and digital titles for brands such as 3M, IBM, and Delta.
Di Leo was torn. Women's Health was a big-name magazine with opportunities to move up the corporate ladder, but MSP Communications was in Di Leo's home town. MSP would give Di Leo the opportunity to manage her own team and develop a broader range of skills. After making a panicked phone call to Rowe to ask for advice, Di Leo accepted the offer at MSP Communications and prepared for the move back to Minneapolis.
Though Di Leo didn't realize it at the time, this choice would lead her on an adventure overseas that would change her life.
The Real World
The year 2007 was rough for the global economy. The Global Financial Crisis had a stranglehold on the world; economists considered it to be the worst economic crisis since the Great Depression. Many people lost their jobs.
Di Leo felt lucky to be able to stay employed. She created a niche for herself, by building on the computer skills she had started to develop at Missouri, Di Leo requested HTML training at MSP to help move the company online.
Alongside Missouri journalism alumna Abby Van Ness, BJ '06, Di Leo started a health section on the website, which created new revenue for the company. The two women oversaw the running and editing of that part of the website as no one else knew or had the time to learn HTML coding.
"Learning HTML, quite frankly, kept us in jobs," Di Leo says. "We were able to innovate our skills, pivot a little, get into that online space and really learn about what drives online stories versus what you might do in print."
The opportunity also allowed Di Leo to hire some of her fellow J-Schoolers on a freelance basis.
"I knew the actual amount of time I would have to spend editing or stressing was completely at a minimum," Di Leo says. "Along with that, it's just a great group of smart, dedicated people who really believe in the craft and professionalism of journalism. And I think there's a lot to be said about that."
Still, Di Leo was itching for a new adventure.
"There was a pull in me that I needed to give back in an immersive way," Di Leo says of her decision to move to Cuernavaca, Mexico, to work for Nuestros Pequenos Hermanos. NPH is a global nonprofit organization that houses abused and vulnerable children and currently has orphanages in nine countries in Latin America and the Caribbean.
Initially, friends and family protested that Di Leo was crazy to want to move away when she had a successful career in the States.
"I can honestly say I would not be where I am today without taking that risk," Di Leo says.
At NPH, Di Leo wrote stories about the children for the organization's fundraising offices, but her capacity stretched far beyond that. From running coach and big sister for some of the children, Di Leo's days became less about work and more about learning to overcome the challenges unique to nonprofit organizations, particularly the fiscal challenges.
When Di Leo arrived at NPH she was given responsibility of the library, in this case a glorified bookshelf locked behind glass casing. Frustrated, Di Leo requested a room to house the library. While that wasn't entirely possible, Di Leo was able to collect small amounts of money from a number of donors to contruct a wall that would serve as the beginning of a new library room.
"We got some funding from someone in Holland and built a wall in that hallway and created a room," Di Leo says. "And we got shelves from a donor, books from another donor, and ended up creating this really cool library. But it was all about finding little scraps of money where you could to put towards projects that would make a big difference."
"You don't have all the tools at your fingertips," Di Leo says of the adjustment to life in Mexico. "But it gives you this scrappy set of skills that I think, as a reporter, make you so much better. You know how to dig and be efficient."
Taking Risks
Toward the end of Di Leo's year-and-a-half in Mexico, she applied for – and was offered – a job at a start up called Tough Mudder in New York City. She was one 15 employees. Tough Mudder is an endurance event series in which groups of people complete a 10-to-12 mile obstacle course. Tough Mudder partners with Wounded Warrior Project, allowing participants of the race to raise money for the charity if they want to.
Di Leo's risk in moving to Mexico paid off.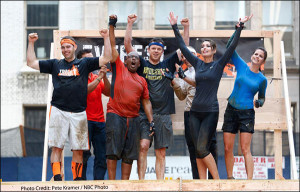 "I remember my manager telling me that if I had not taken that risk by going to Mexico, they wouldn't have hired me," Di Leo says. "They had cookie-cutter PR people come in but they were looking for people more like them, people who were willing to take a risk by working for a start up and really willing to push the boundaries."
Di Leo's job at Tough Mudder was to ignite the brand recognition of the company through public relations and, later, to establish an internal communications department as the company expanded.
During her two years at Tough Mudder, Di Leo took the brand from strength to strength. In just one year, she increased brand impressions from 100 million to more than 2 billion. It was when Tough Mudder began its expansion to Australia, that Di Leo realized how much the brand had grown. Most Tough Mudder events attracted 10 to 15,000 people, so Di Leo was shocked when 25,000 people turned up.
"It just showed that the work was paying off, and this was catching on fire," Di Leo says. "Having it go from zero to 60 in such a short period of time was amazing."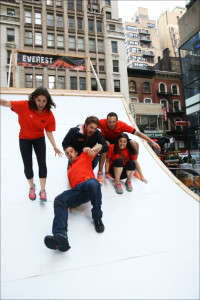 While the brand expanded, so did the company itself, with offices popping up in Australia, and the United Kingdom and colleagues traveling often between various offices and events. With most people traveling and the company expanding, Di Leo felt communication between colleagues was necessary to ensure company culture didn't deteriorate. To help her fellow workmates keep up-to-date, Di Leo set up a workplace intranet so people in different locations could connect and collaborate.
She also created a weekly email to update employees with top stories in the company. The email was a snarky, tongue-in-cheek take on the week's events and was initially just written for fun – until Di Leo realized that employees actually craved this information.
One week Di Leo was late sending out the weekly email and was approached by colleagues who were upset it hadn't been sent at the normal time. The newsletter had become a part of Tough Mudder's Friday ritual, and Di Leo realized how thirsty her colleagues were for knowledge and linkage.
The whirlwind of Tough Mudder was a significant learning curve for Di Leo. Not only was it her first formal experience in the world of public relations, it was also an exercise in starting from scratch. To this point, Di Leo had spent most of her professional career working for small and medium-sized companies. Now she was ready to take on the world of corporate public relations.
On and Up
Currently, Di Leo serves as manager of public affairs and communications for American Express. She says she is constantly learning from those around her and appreciates the opportunity to work with practitioners who have had decades of experience in large, multinational organizations.
The practical training Di Leo received from the Missouri School of Journalism, along with a desire to take risks in her life, has put Di Leo in good stead for a life that has been anything but ordinary. Above all, she hopes current and future grads of the School of Journalism remember to keep fire in their belly and have passion for what they do.
"It's easy to be comfortable," Di Leo says. "It's easy to be complacent, but the people who have some of the most interesting careers are those who are constantly looking to push outside their comfort zone."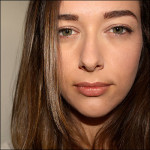 About the Author: Frances Gordon is a master's student at the Missouri School of Journalism majoring in strategic communication. Gordon grew up in New Zealand and obtained a Bachelor of Communication Studies degree in journalism at Auckland University of Technology. After graduating in May 2016, Gordon plans to pursue a career in strategic communication within the health and nonprofit industries. Previously, Gordon worked for MediaWorks New Zealand, M2 magazine New Zealand, Visual Communication Quarterly and Veterans United Home Loans.
Updated: January 14, 2020