Jeffrey M. Christian
Managing Director at CPM Group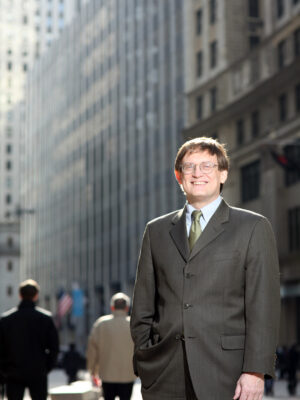 Degree(s): BJ '77
Whereabouts: United States, New York, New York
What do you do in your current job?
I am the largest shareholder and managing director of CPM Group. I created the company when I negotiated a leveraged buy-out of what was then the Commodities Research Group within the Goldman, Sachs Investment Research Department. We spun off to be independent, for a variety of reasons. I run the company, with a relatively small but extremely effective and widely respected staff. We produce research reports on precious metals and commodities markets. I am considered the world's foremost authority on the precious metals markets. I also am considered one of the top experts on commodities derivatives markets, hedging and investment strategies in options, as well as other aspects of commodities markets. I write six major reports per year for publication, 12 monthly reports, several minor weekly reports and special reports on client-specific projects. I give about 12 speeches per year, worldwide, travel extensively and spend most of my day on the telephone.
What do you like best about your job?
My job puts me in contact with major commodities producers, users, investors, governments, central banks and others around the world. We have a tremendous network of contacts at high levels, and we have a tremendous amount of discretion as to the work we undertake.
How did you get your job?
My last journalism job was as an editor at Metals Week, an industry publication. When I grew tired of that job in 1980, I decided that I was more interested in the metals markets than in journalism. J. Aron and Co. had a research department, which needed a new director. I took the job. In 1981 J. Aron merged into Goldman Sachs. In 1986, I managed a leveraged buy-out of the commodities research group out of Goldman, to create CPM Group.
What are you working on currently?
We just finished our annual Gold Survey. We are working on our annual Silver Survey. We also are working on a program related to providing hedging advisory services to agricultural companies in developing countries. We have developed an asset management division, with several managed accounts for high net worth individual and institutional clients. We have two interesting investment banking charters that we are beginning. An emerald mine in North Carolina that we structured a funding program for is now funded and being ramped up.
When did you know you wanted to be a journalist?
I always liked writing. I was not particularly interested in journalism, however, since most journalistic articles are said not to accurately portray the reality of the story, at least by the people familiar with the story. I was also interested in developing countries, and what were then the Communist countries, from politics to international trade. When I enrolled at the University of Missouri, I was not sure whether I would go into journalism, history, psychology or something else. The concept of being able to report on and write about developments in developing Africa, Asia and Latin America, and possibly the Communist bloc countries, got me interested in focusing on journalism.
What has been your greatest achievement in your career so far?
Probably creating CPM Group and making it the internationally established source of precious metals and commodities research and analysis that it is. In terms of individual projects, we undertook some very interesting advisory work on the "normative role of gold in monetary reserves and management" in the late 1980s and early 1990s, which was very rewarding.
What are your recommendations and advice for current students?
Passion for your work is the single most important factor for success. You must love what you are doing. You must not want to set it down to go home at night. There is an old saying that "I never met a blacksmith who loved his anvil." You must love your anvil and never be content to think you know everything about it. Secondarily, you must always remember humanity. When you are a reporter covering a story, you must be fully conscious of the potential effects your work will have on individuals involved in that story as your write. Journalistic pieces can liberate people. They can destroy people just as easily.
What is the greatest lesson you learned at the Missouri School of Journalism?
There is always more to a story than you have learned.
Updated: January 23, 2012