Jesse Baker
Producer at NPR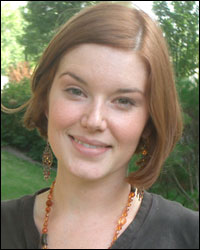 Degree(s): BJ '03
Whereabouts: United States, New York, New York
It was a love of storytelling that first brought Jesse Baker to the Missouri School of Journalism. And, by any account, she had plenty of stories to tell. From living in Hawaii, backpacking through Europe, sleeping for a night on the streets in Brussels, spending time in Lithuania, traveling up and down the Pacific coast and growing up a self-proclaimed "Army brat," Baker has experienced life around the globe.
Now, as producer for NPR in New York, Baker can reflect on how she found her radio career on a whim.
"The world is filled with many wonderful opportunities for a journalist," Baker said. "I think moving around and change are good. It gives you a different perception of the world."
The Missouri Path and Beyond
Craving a big change after graduating from a performing-arts high school in Louisville, Ky., Baker decided to attend the Missouri School of Journalism and major in radio-television journalism. She figured that she could showcase the performance skills that she developed in high school while also cultivating reporting and storytelling abilities.
Feeding off the competitive nature of broadcast news, Baker devoted herself to her studies, learning the basics of reporting, writing and editing in the classroom and on the job as a reporter for KOMU, the NBC affiliate for mid-Missouri.
In her free time, Baker and a friend planned a European backpacking adventure as a graduation present to themselves. The trip turned out to be more than an opportunity to see the new sites and experience other cultures. Baker returned to the States with a better understanding of herself, her strengths and interests and a desire to have a job that would be personally fulfilling and rewarding.
A Fork in the Road
Without any preference for geographic location and knowing her bills would not wait for that perfect job to find her, she set out to find her first job in the unconventional, creative Baker way – a road trip along the Pacific coast of the United States.
Taking her broadcast tapes on the road with her, Baker landed interviews in various newsrooms because of the skills she developed at Missouri. The jobs were great, but none seemed right for her. Meanwhile, Baker still looked at every opportunity as a chance for continued growth and development, and she discovered new skills along the way, such as how to interview and the interview process.
"You have to be prepared for anything," Baker said. "I learned that for any job, you have to sell yourself and convince that other person that you're fabulous. And, that can be harder than you realize."
Carving Her Own Path
Still craving the challenge of following a different path, Baker knew she had to keep looking and hold out for the job that would kindle the passion inside her. Surfing the Internet one night for various job opportunities, Baker ran across an internship with NPR. Without any previous radio experience or inside connections at NPR, she decided to apply on a whim.
"Growing up, I listened to NPR but only because my parents listened to it," Baker said. "I faxed in my application the day it was due. I got bummed because the time passed when they were going to announce the internship, and I hadn't heard anything."
Two weeks after the internship was supposed to be announced, Baker received a phone call. She had received the internship and was to start work in three days. A day into the internship, Baker knew she had found her new home. She found a working culture and environment that matched her personality and a newsroom that utilized the skills she already possessed in radio.
"I knew from day one that it was what I was looking for," Baker said. "It was the 'something different' that I had been holding out for."
A month into her three-month internship, a permanent position opened at the arts desk for an editorial assistant on a segment titled "Intersections." Baker's performance arts background and Web skills made her a natural for the job.
"The learning curve at NPR is great," Baker said. "Television and radio aren't that different in the lingo. A lot of my training from KOMU crossed over into learning how to do radio. However, the writing is different in radio because you need to be expressive since you have to tell stories without pictures. Your words have to be colorful, and the sound has to be as colorful as your story as well."
Coming Full Circle
In fall 2006, Baker took a seven-week leave of absence from NPR to return to the Missouri School of Journalism as a Hearst Residential Professional. She worked with students at KBIA-FM, mid-Missouri's NPR station, sharing her love for radio and spreading enthusiasm and knowledge about radio as a career choice.
Baker hopes to continue to learn and grow throughout her career. When Baker reflects on the many paths her life has taken, she remembers the words of Greeley Kyle, associate professor of radio-television journalism.
"He told me that I always took the path less traveled," Baker said. "To which I say, 'I've enjoyed every bit of it.' I've learned there are many paths to success, and there's no one right way. I don't know what the future holds, but I have met some incredible people working at NPR and would love to continue that path."
Updated: November 2, 2011