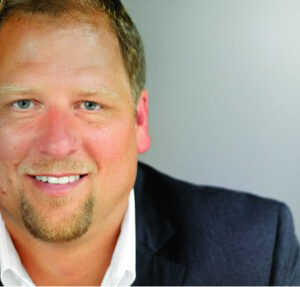 Degree(s): BJ '87
Whereabouts: United States, New York, New York
When John Duban got a "D" in his advertising principles and practices class, his professor told him, "Guys like you never make it in the advertising business."
Duban, BJ '87, proved his professor's judgments were wrong. After almost 25 years of advertising agency experience, he is now executive vice president, global managing director at Starcom MediaVest Group, the world's largest media agency, part of the Publicis Groupe, the French communications holding company.
Duban is also a member of Starcom's U.S. Managing Board, and SMG's Global Management Group, which is comprised of the agency's top 100 leaders from across the more than 70 markets in which SMG operates.
Over the years he has held agency positions from copywriter to global head of strategy to president/CEO. His career has also taken him to more than 40 countries, including living and working for eight years in the developing markets of China and Eastern Europe.
Says Duban, "I might not have 'made it' in the advertising business yet, but I've got a decent head start."
How It All Started
Duban says he was just an average, aimless kid from Lindbergh High School in South St. Louis County, and the youngest in his family of three boys. He remembers being inspired by his Dad's business travels, and his mother's long hours and hard work as a 7th grade biology teacher.
"My Mom and Dad are my real heroes," he says.
Duban's parents often encouraged him to "Go fly. Be free. There's a great big world out there. Just try and stay out of jail."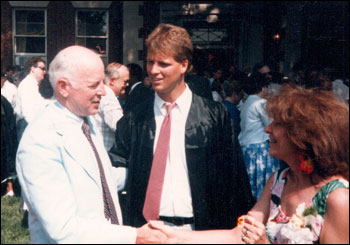 Looking back, Duban bemuses aloud now if it was only "happenstance" that his parents and his ad professor understood his "potential." At least he understands now why his Grandpa nicknamed him "Stormy."
"I always thought it was because I hated thunderstorms as a kid," he says. "Now it is all starting to make sense. I guess I'm slightly mischievous."
Duban calls his landing at the Missouri School of Journalism a "purposeful accident."
"Just like a lot of things that have happened in my career, and in life, there was a voice that guided me to the Missouri School of Journalism," he says. "I realized that there was something really special about this place. It was the first school of journalism in the world. It felt like the walls could really talk."
Duban has memories of playing Frisbee on the Quad during summer school with his best friend Jeff, and $1 pitchers at the Field House. A Mizzou fan since childhood, he attended Tiger basketball and football games "with higher regularity than some classes," he added.
Academic life was exciting and challenging for him.
"I acquired some of the most critical skills for my career, such as the ability to write effectively and use proper style," Duban says. His favorite class was the one Professor Don Ranly taught on the principles of mass media.
True inspiration, though, came with his first advertising copy class taught by Henry Hager, a former vice president for Young & Rubicam in Detroit.
"It was Mr. Hager's summer school class that awakened something inside of me and said, 'This is the business for me,'" adding, "Hager was an "advertising god." He wrote the famous line "rich, Corinthian leather" for the 1972 Chrysler Cordoba campaign starring Ricardo Montalban.
"Who needs more proof than that?" he adds.
That connection with Hager is how he "tripped and fell into advertising," Duban says.
Early Career
Duban attributes his career success on an international level to an early exposure to a foreign culture. After he graduated from high school in 1982, Duban spent a year as a foreign exchange student in Austria, with AFS (American Field Service). His host family lived just ten kilometers from the wall that divided communist countries like Hungary and Czechoslovakia from the west. He could literally walk to what was considered the "iron curtain." It was fascinating and eye-opening, he says, and drew him deeply into the intrigue of global affairs. He learned to speak German, thanks to his Austrian host mother.
During the break-up of the Soviet Union and massive political change in Eastern Europe, Duban served partly as a public relations and advertising professional, partly as an ambassador, and partly as a spy.
This foreign exchange experience helped secured him a job right after graduation from the Missouri School of Journalism in 1987. One of his professors, Jack Prince, a veteran of the D'Arcy Masius Benton & Bowles agency, helped Duban secure a summer internship with a former colleague at DMB&B's affiliate in Vienna, Austria. The three-month gig turned into a three-year job.
Duban's German-language skills were put to the test. One of his first projects was to write advertising copy for Uncle Ben's rice. He also wrote and produced two 12-part video training series for M&M Mars Europe, as well as co-created several award-winning print and outdoor campaigns for local retailer Bauwelt. It seemed that everything Duban loved came together: advertising, global business and changing political times.
Eastern Europe: The Epicenter of Change
After his work in Austria in 1990, Duban found himself again in the eye of the storm. He went back to the U.S. just briefly before being sent on an assignment to Czechoslovakia to work on the Anheuser-Busch account. It was in this time, during the break-up of the Soviet Union and massive political change in Eastern Europe, that he served partly as a public relations and advertising professional, partly as an ambassador, and partly as a spy.
"It was an indescribable advertising job," Duban says.
Duban was put in charge of building a grassroots public relations program to assist Anheuser-Busch in resolving its Budweiser trademark rights dispute with the state-owned Budejovicky Budvar brewery. Duban's role was to try to repair relations in order for Anheuser-Busch to buy the brewery in the privatization movement taking shape in the country at that time.
This was one of those moments in his career when Duban realized the power of his Missouri journalism experience. It gave him a fundamental set of skills to ask questions, create solutions and bring ideas to life. He recalls the amount of energy he felt from the efforts to make a difference and gain a deeper understanding of how a transitional economy operated after the fall of the Wall in Eastern Europe.
As part of his work for Anheuser-Busch in Czechoslovakia, Duban joined forces with young members of the newly, democratically-elected local government and professors and graduate students from the local agricultural and sciences university.
"It was over many nights, and many, many rounds of beer – the original Budweiser Budvar, no less – that this group of East-meets-West banded together to support the launch of the first non-state-run radio station in the southern province of Czechoslovakia.
"The original intent of 'Radio Faktor' was to blast rock'n roll, 24 -7," Duban recounts. "But when potential advertisers started to make calls to get in on the action, it became an economic juggernaut, thanks to which, it is still blasting rock 'n roll 24-7 to this day."
"I Did a Job Like I Have Never Done Before."
The same push for political and economic change was in the air when Duban worked in China for the 2008 summer Olympic Games. Now at Momentum Worldwide, Duban identified, pitched and won two high-profile Olympic assignments. It was also a type of communication he had never done before: He planned and oversaw construction of two full-fledged, stand-alone 40,000+ square-foot museums for the Coca-Cola Company and Adidas Group, which served as corporate showcasing centers inside the Beijing Olympic Green. Each was designed to receive more than 30,000 visitors a day. The buildings were up for just 45 days, but it took his team two years to design, construct and then disassemble them after the project ended.
"Graduates of the Missouri School of Journalism should have confidence that they can be 100 percent proud they went to the institution people know and respect."
"We had to go through everything – from buying steel to designing buildings to creating a story to figuring out how to get 30,000 Coca-Cola bottles in people's hands at four degrees centigrade every day in the heat of the Beijing summer," Duban says.
He regards his work for the Coca-Cola Company as an invaluable boost to his career as a result of the enormous scale of advertising and a range of marketing tools the company used.
"They sell magic in a bottle," Duban says. "The brand is a global icon and has been at the forefront of just about every advertising innovation over the past 100 years. I'm proud to be part of that."
"Media Business Is the Place to Be Right Now"
In mid-2010, after more than 20 years of working on the creative and managerial side of the business, Duban made a big change.
Duban joined Starcom MediaVest as executive vice president and managing director. Because of the amount of investment at play, work for a media agency requires close cooperation with the key decision-makers of businesses, Duban says, while work in advertising tends to limit the relationship with the client to just the marketing department or the CMO. The new professional challenge would help broaden his expertise in the media industry.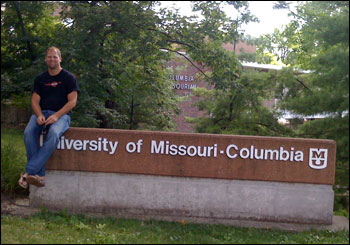 "Managing a global media account is diverse, fast-paced and requires a lot of analytical rigor," he says. "Not to mention, a team of really, really smart people."
Duban is responsible for more than $1 billion of clients' media investments around the world, leadership with the firm's clients in nine countries and management of more than100 people in the United States. He leads the accounts of Mars/Wrigley Global, GE Global and Emirates Airways.
Duban is confident that the dynamic media business is the place to be right now and anticipates it will continue to drive a new ad agency model, one that will re-aggregate the creative and the media sides.
"Starcom has the global firepower and visionary leadership to drive the future of the industry, in particular in the rapidly developing digital space, where consumers have a seemingly insatiable appetite for creative content to be delivered when they want it, how they want it and where they want it."
Duban notes that with these recent technological developments in media, there couldn't be a more exciting time than now for the graduates of the Missouri School of Journalism to start a career.
He has some advice for them. Never stop asking questions, he says, and never, ever give up. It's a tough business. Duban appreciates intellectual curiosity and a desire in people to "not want to make copies, but rather open up the copy machine and see how it works."
Duban says Missouri journalism graduates can be 100 percent confident that they went to an institution people know and respect.
"I've been so proud to write on my resume that I went to the University of Missouri in Columbia," he says. "In shear marketing terms, the journalism school at the University of Missouri is a "power brand."
"It Takes a Village"
Along the way, Duban also found time to "start a small village," as he says. He has twin 16-year-old sons – William and Harrison – and a 15-year-old daughter, Rachel. And while all of them love the view from his office on Broadway overlooking Times Square in New York, he's not convinced he has a legacy ad pro in the group, yet.
"But based on the volume of tweets and Facebook posts, I might have a least one J-Schooler," he adds.
100,000 Miles Around the Globe
Duban is a self-described gypsy: In 2010 alone he traveled more than 100,000 miles. Stateside he has worked in Dallas and Atlanta, and now lives in Manhattan in the Gallery District in Chelsea with his wife and best friend, Emily, and their red-headed Australian sheep-mutt named Roxie. They hope to live in California one day or maybe India or perhaps Indiana.
"I don't know which way the wind will blow," he adds, quoting a line from one of his favorite rock groups, U2. "One thing I do know though; Emily is the greatest co-pilot for any adventure."
Although the media markets around the world are all different, they share the same kind of principles, Duban says. Advertising is the economic muscle that drives the ability for journalism to survive, he says. The same idea was espoused by Founding Dean Walter Williams as a reason for the discipline to be included in the School's curriculum.
"If we do our job well, a lot of people, even in distant parts of the world will get jobs or maybe keep their jobs," Duban says. "And it's a fun business. It's exactly what professor Hager promised it to be."

Ekaterina Timokhina is a Fulbright graduate student from Russia. She has four years of experience in strategic communication and media analysis, having worked for the PBN Company as an integral member of its client service teams. Timokhina worked on projects in energy, fast-moving consumer goods, retail, financial and healthcare sectors. Her previous work experience also includes business development at the Russo-British Chamber of Commerce and interpreting for the Open World Program. Timokhina graduated with honors from the Plekhanov Russian Academy of Economics with a degree in international economic relations in 2007. She is fluent in Russian, English, German and Spanish.
Updated: November 16, 2011