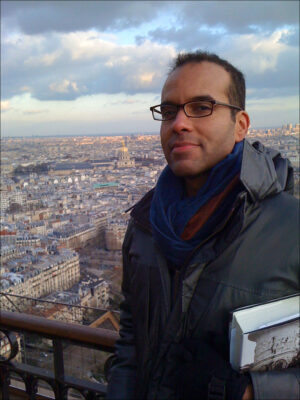 Degree(s): BJ '85
Whereabouts: United States, New York, New York
If there is one thing the Missouri School of Journalism taught John Haskins, BJ '85, it was to pay attention to detail.
Haskins sat in the sunken room in Neff Hall that was commonly called "the pit." As Professor Ernest Morgan returned the first graded assignment to the class, Haskins stared at the manual typewriter in front of him, anxious and intimidated. The assignments in his news editing class were demanding. Haskins nervously looked at his score, feeling his stomach drop at having missed nearly half of the errors that needed to be corrected. He was devastated.
"I realized it wasn't going to be easy," Haskins says. "It was definitely a wake-up call, but it was a challenge rather than a hurdle."
Haskins realized there was a certain level of expectation that came with the Missouri School of Journalism and its reputation. He was determined to learn the new skills and pay attention to details on a level he hadn't before.
Haskins was surrounded by those with big dreams – among them several who have risen to the top of their field, including chief White House correspondent for CBS News Major Garrett, writer and editor Ron Stodghill, anchor and managing editor Russ Mitchell and newsroom manager Mark Russell. Others, such as would-be advertising-pro Brad Pitt, would pursue other career paths, such as acting.
Haskins' path would eventually lead him to the New York Times. It all started when he declared his emphasis in magazine journalism. Soon, Haskins' attention to accuracy turned into a passion for precision and order.
Mizzou Made
It was 10 p.m. on a Friday night. Haskins and several co-workers were in the basement mailroom of the Columbia Missourian helping to assemble the newspaper for distribution. For the next two hours, he slid shiny supermarket inserts into the middle of each paper. He repeated this routine a couple nights each week.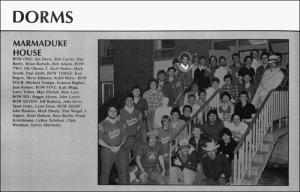 While the manual labor Haskins put in at the Missourian gave a different meaning to the "hands-on" nature of the Missouri method, it was a way to earn money. He also had several other work-study jobs during his time at the School of Journalism, including the lost art of mimeographing and a bit of proofreading in the Office of Continuing Education in Gannett Hall.
Haskins did some editing for Ideas magazine, the Missourian's Sunday magazine, and was the head of the Minority Journalism Association during his senior year.
The summer after Haskins graduated from the School of Journalism, he accepted a copy editing internship at the daily Star Tribune in Minneapolis, a newspaper with a circulation of more than 300,000.
Haskins had never considered being a copy editor; he always thought of himself as more of an "idea editor," someone who generates a vision for a magazine and its content. However, a summer behind the copy desk of the Star Tribune turned into a full-time job and piqued Haskins' interest in copy editing.
In the Real World
Sitting in front of his computer one evening, Haskins opened an email from his boss. The word "bciycle" was highlighted at the top of an article he had edited. The message was clear: It's not all about speed. Haskins had been trying to beat a deadline and was working so quickly that he had accidentally misspelled the word "bicycle" in the headline.
That day, Haskins learned first-hand why his professors at the School of Journalism had encouraged students to pay attention to grammar, style, spelling and other such details.
His coworkers were now taking the place of his journalism professors. They taught him to always keep the readers in mind.
"The people you meet along the way and the people who work beside you, that's your classroom after graduation," Haskins says.
Haskins left Minneapolis in 1988 to move to Long Island for a copyediting job at Newsday, a daily newspaper with a circulation of more than 400,000.
Outside of work, Haskins was active in the National Association of Black Journalists. One summer, the group asked him to help lead a copy editing seminar in New York City. Haskins looked into what else might be happening during his time there and learned the New York Times was sponsoring an event at the Metropolitan Museum of Art. He decided to attend.
It was there that he met Times senior editor William Connolly. Toward the end of their conversation, Connolly asked Haskins, "Have you ever considered working for the New York Times?"
Surprised, excited and relieved that he was being taken seriously only a few years out of college, Haskins said, "Certainly, here's my card."
Eight months later, Haskins began what has become a 24-year career at the Times.
He initially worked on the National copy desk. After a number of other jobs, he was asked to help work on the online presence of the Travel section.
This prepared Haskins for his next role at the Times – editor of Escapes, a section focused on real estate and travel featuring stories about weekend getaways and second homes.
Escapes: The Delicious Chewy Center of the Times
The jobs Haskins had landed up to this point had been relatively straightforward editing jobs. Now he finally had the opportunity to become the "idea editor" he always wanted to be.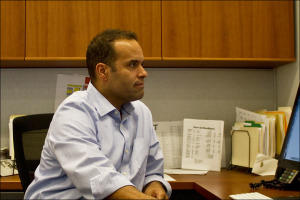 For the first time since his role as editor-in-chief of the Lincoln High Railsplitter, Haskins had the freedom to shape something and make it his own. The entire weekly section was his to design and mold.
The newspaper came out every Friday with the Escapes section folded in the middle. Haskins joked that his goal was to make it the "delicious, chewy center of the paper." He wanted to have a little fun with the section and make it both visually appealing and enticing.
"You'd arrive at the middle of the paper and have a sense of delight, or awe, because you would basically see a pretty picture of something you'd want to do," Haskins says.
For Haskins, editing the Escapes section was "just a lot of fun." He took readers to places they would like to go. Haskins' favorite stories were "A Good Old-Fashioned Thrill Ride," about wooden rollercoasters on the East Coast, and "In the Valley of the Literate," about old-fashioned bookstores of Massachusetts.
Haskins introduced new columns such as "High and Low," a comparison of the cheapest and most posh second homes in a specific area. He added a self-help column on home improvements and repairs.
Things were going well until the recession hit in 2008. Suddenly, readers didn't have the resources to buy second homes. The Escapes section became less relevant for the readership of the newspaper.
As a way to help its bottom line, the Times experienced a major reconfiguration that cut the Escapes section. But there was an upside: Haskins was sent to Paris to be an associate managing editor for the International Herald Tribune, which was owned by the Times.
Paris Living
"Where did you go?" Haskins' coworker asked him jokingly as he walked into the newsroom on Monday mornings.
"Munich," Haskins replied casually.
Nearly every week, the answer was a different city.
Haskins moved to Paris alone, despite being in a relationship, and filled his free time traveling to 25 different cities including London eight times, Amsterdam three times, Barcelona, Milan, Brussels, Antwerp, Valetta, Tel Aviv, Athens, Budapest, Hamburg and Rome.
Contrary to the excitement and adventure of his travels, "it wasn't all cheese and bread and wine," Haskins says. It was quite an adjustment for him, moving alone to a foreign city and speaking little French.
Haskins worked at his desk for long hours. While it was an exciting time for him because everything was new, it was a lot of hard work.
In Manhattan, Haskins would walk to work, but in Paris he got on the subway early to begin his his time-consuming commute. Once he arrived in the office, Haskins would talk on the phone in English for nine hours, making sure all of his reporters were on track, which was not a very good way to learn French.
The French newsroom was less social compared to newsrooms Haskins had experienced in America. Workers in France separated work and play. When they were in the office, it was all business. This made it hard for Haskins to get to know coworkers on a personal level.
"No matter where you go from newsroom to newsroom, it's really important to seek out, build and nurture relationships with your coworkers to build trust and to build understanding," Haskins says.
While he was in Paris, Haskins flew to D.C. to marry his partner but returned to Paris to work abroad for another year. In 2011 the couple was tired of living apart, so Haskins left Paris and returned to New York.
Today, Haskins is managing editor of both the New York Times Magazine and T, The New York Times style magazine. He oversees the budget, staffing and production for both magazines.
Back in the States
Whenever staff members are sent into high-risk environments, Haskins makes sure they are signed up for risk insurance and follow deployment procedures and security protocol. He makes sure everything is safe and set in place before anyone enters a dicey area.
"I'm building a career at a company I respect and continuing to find adventure in my job," Haskins says. "I think what I'm most proud of is my years of service to an industry that I still love and respect."
"It's all about planning to make sure that if something bad happens, you're prepared for that, or if news happens, you're prepared for that," Haskins says. "You really have to be prepared for both the opportunities and the hurdles you face."
Haskins describes some of his other duties as crucial, if not scintillating, such as approving expense reports and attending planning meetings. A great deal of his job involves administration and monitoring. But Haskins finds pride in that fact that what he does at the Times contributes to the big picture.
"It's not, maybe, as glamorous as some other aspects of journalism, but it's absolutely essential," Haskins says. "I still like being part of an organization that is proud to get the message out. It's what I liked in the first place and it's what I still like."
Haskins is proud of his contributions to the Times.
"I'm building a career at a company I respect and continuing to find adventure in my job," Haskins says. "I think what I'm most proud of is my years of service to an industry that I still love and respect."
Returning Home
"I joked to other friends from the journalism school that I wouldn't go back to Mizzou until they asked me," Haskins says.
Almost 30 years later, Haskins was excited to return to Missouri as the commencement speaker at the Missouri School of Journalism graduation ceremony on Friday, Dec. 19, 2014.
"I joked to other friends in the journalism school that I wouldn't go back to Mizzou until they asked me," Haskins says.
"I was humbled and very proud to finally be asked," Haskins says.
The visit allowed him to reunite with former professors and colleagues, take a tour of the School and go to his favorite eateries, including Shakespeare's Pizza.
As a December graduate himself, Haskins offered the graduating class his advice and wisdom at the milestone in their lives.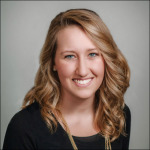 Liza Poskin, from St. Louis, is a senior studying strategic communication at the Missouri School of Journalism. She has worked as a content development intern for HLK, an advertising agency in St. Louis, and has been a member of the University of Missouri swim team throughout her college career.
Updated: December 16, 2014