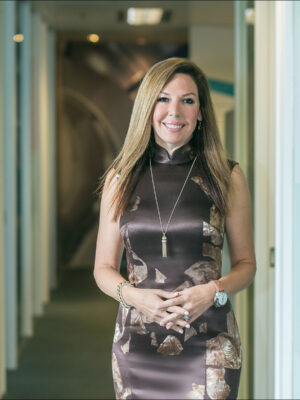 Degree(s): BJ '87
After moving constantly throughout her childhood and never spending much time in one place, Lynne Anne Davis, BJ '87, unexpectedly found her home in Hong Kong when she was 30 years old.
While her initial move to Hong Kong – prompted by her public relations position with FleishmanHillard – was not meant to be long term, she fell in love with the region and the people. She was able to see a unique potential for public relations in Asia and has thrived working in a region where her profession is a ground-breaking industry. Now 19 years later, Davis serves as president of FleishmanHillard Asia Pacific, a position she has held for 15 years.
Davis has been able to start a family and create a life that many women in her leadership position can only dream of. While balancing her responsibilities at work and her family hasn't been easy, it's something that Davis has been able to successfully handle with grace and pride.
"Moving to Hong Kong changed my life in all ways wonderful. I met my husband here, I had my children here. My career has flourished as Asia has grown," Davis says.
Finding a Home in Columbia
Adapting to new environments was an integral part of Davis' childhood. She was born in Connecticut; lived her early years in Toronto, the United Kingdom and Florida; and went to high school in Ohio. So the decision to attend an out-of-state university, the University of Missouri, where she knew no one, wasn't out of character for Davis.
Davis had deep roots in the University of Missouri system. Her grandmother was one of the first female graduates of the Missouri School of Journalism in 1932; her grandfather attended MU's law school; her mother graduated from Missouri with a degree in education; and her father graduated from the University of Missouri's Rolla campus.
Despite this strong family legacy, Davis approached her college decision very seriously and with due diligence, researching the other top journalism schools around the nation. She says her decision to come to Missouri was based solely on the journalism school.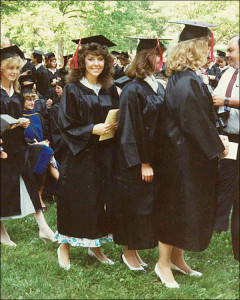 Choosing to study journalism was a no-brainer for Davis.
"I enjoyed all kinds of writing from a very young age. It seemed natural to focus my profession where my passion lies," Davis says of her interest in journalism.
Many of the skills Davis says she uses every day in the public relations industry she remembers learning at the Missouri School of Journalism, even though she did not take the one public relations course that was offered at the time. Instead, she focused on the advertising curriculum.
She recalls Henry Hager as one professor who impacted her journalism school experience. A much-loved professor in the journalism school who passed away in 2012, Hager was best remembered for his kind, yet authoritative nature. Beyond the basics of creating advertising campaigns, it is the life lessons Hager taught that Davis remembers most. One particular lesson was to never show up to a meeting empty-handed, and it's advice she still passes on to her colleagues today.
Davis also recalls her involvement in various campus activities and the life lessons and lifelong friends she was able to create from them. She was a member of Pi Beta Phi sorority and was tapped by the national leadership honor society Omicron Delta Kappa. Some of the skills Davis now uses on a daily basis she learned through her involvement serving on the leadership for Homecoming and Greek Week. She says these experiences taught her about managing a lot of moving parts at once as well as breeding collaboration between people and achieving great success as a team.
"By pledging a sorority I immediately had a group of friends who encouraged and inspired me and still do, because we remain close to this day," Davis says. "That was a magnificent, enduring support system, plus being a part of the whole J-School experience really set me up for all kinds of pursuits in life, ready to embrace all of the adventures that awaited me."
Entering the Professional World
After graduating Davis took a job as an account coordinator at Kerlick, Switzer and Johnson, an advertising agency in St. Louis. After only one year, though, she realized that as an account coordinator in the advertising world she wasn't going to be able to exercise her passions as much as she would like.
"What I learned quickly in that experience is that the writers write and that's their domain, so there wasn't much room for contribution from account people," Davis says of the distinct separation between the account team and the creative team within an ad agency. "What I really wanted was a role where I could advise on strategy, exercise creativity, keep writing, and enjoy responsibility in account management all at the same time."
It was a journalism school classmate who brought the idea of switching to public relations to her attention. She told Davis about her experience in public relations where she could do all of the things she loved most, especially when it came to writing and ideas. Davis was sold and ended up at St. Louis-based global public relations giant FleishmanHillard. She never looked back.
The early experience in advertising has been useful to Davis throughout her public relations career. As public relations has evolved within integrated brand promotion efforts, public relations firms in recent years have significantly expanded work across paid, earned, shared and owned platforms. Davis is thankful for the experience she got with paid media and the ways ad agencies think because these insights are still useful today.
Finding Her Passion in Public Relations
When Davis started her career at FleishmanHillard's global headquarters in St. Louis, she began at the ground level as an assistant account executive, the most junior entry-level position on the account services team.
In these early years Davis worked with America Online at a time when the Internet was becoming more available to the public and was changing the way the world communicated. She helped launch AOL 2.0 with one of the cast members of the popular Beverly Hills 90210 television show. This was an exciting and fun project for a young public relations professional like Davis to work on.
Davis also worked with clients such as Anheuser Busch and Sea World. Both expanded her knowledge and practice of the different dimensions of public relations, from crisis management to new product launches and marketing. Working with Sea World during a time when the anti-captivity movement was getting in full swing, she learned first-hand about the importance of public relations and reputation management.
"It was exciting to be in the industry at that time. Issues management and the whole green movement started in the early '90s," Davis says. "There were a lot of ethical debates ranging around a lot of emotionally charged issues. Communications plays a critical role in breeding understanding."
Making the Big Move
As Davis approached her 30s, she began feeling the need for a change of venue. "I really craved a new environment with new challenges," she says.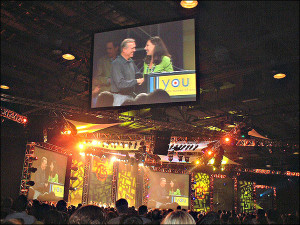 When FleishmanHillard began discussing opportunities in new markets, Davis eagerly volunteered. She assumed that she would be sent to either the District of Columbia to join the team serving clients such as AOL or even Dallas for Dell. Both brands were growing and driving massive change at the time.
To her surprise, though, FleishmanHillard raised the opportunity to go to Hong Kong, at the time for only a year, to help integrate a small agency it had acquired there.
"I couldn't think of a better way to spend a year of my life," Davis says. She agreed to the move on the spot, having no way of knowing that it ultimately would lead her to so many different opportunities, both in her personal life and in her career. Although she had become accustomed to traveling for her job, moving halfway across the world was completely new to her.
With her open mind and adventurous spirit, it was seemingly easy for Davis to become accustomed to Chinese culture. While many would have found the language barrier a challenge, for Davis it was something she embraced.
"I took Mandarin lessons when I first arrived in Hong Kong, which helped me with basic understanding and professional courtesies," Davis says. Over time she has developed a rich appreciation of the Chinese culture and is using it to not only further her career but also to benefit the future of her family as well.
"My sons have been learning Mandarin alongside English since they started nursery school," Davis says. "It's one of the many gifts that our children enjoy by being raised in Hong Kong. Mandarin fluency will open up exciting, lifelong opportunities for them."
Leading With Passion
A year in Hong Kong has turned into nearly 20 years as she has risen up the ranks and proven her ability to lead offices in a global environment. After only four years in China, Davis became responsible for the whole Asia Pacific region, overseeing a network of three brands and 18 offices in 10 countries. She is a woman who leads with conviction, especially when it comes to things she feels passionate about.

When Davis sees something that needs to be fixed, she's not one to wait around for someone else to fix it. Women in the workforce are constantly being torn between work and family life, which is something that Davis has worked to balance throughout her own career. She takes the lessons she has learned and is still learning and passes them on to other women facing work-family challenges. The message Davis spreads about supporting women in the workforce is centered on encouragement for women to continue to opt in, and the competitive advantage that diversity in leadership brings to an organization.
Of the 20 most senior people in the firm in Asia, 50 percent are women, many of whom are working mothers, much like herself. She encourages women to stay on their career track even after they have children and to work with their employers to make that possible. Davis acts as a mentor to women in the workforce and is working toward giving them the kind of opportunities she has been given.
The advice and help she gives women on this issue is helping to gain recognition for FleishmanHillard as a leading place for women to work. FleishmanHillard has been named to the list of "Top Companies for Female Executives" by the National Association for Female Executives for the past seven years. Davis was named the 2013 "Global Women's Champion" by the group as well. Davis believes the opportunities FleishmanHillard offers women are making a difference for the future of the agency and the advancement of leadership diversity overall.
"It's important for the younger generation of women to see other women in top roles that they want to emulate so they can picture themselves in those positions," Davis says.
Davis is equally passionate about ensuring that those who run the Asia Pacific offices are native to the area. Even though FleishmanHillard is an American company, Davis says that all of the leaders are local; they grew up in the market that they are working in.
"Even as a global agency headquartered in the U.S., our leadership model in Asia is all-local, which is a very important competitive edge and more sustainable for the business," Davis says.
Paving the Way for Future Mizzou Graduates
Davis traces the foundation for her professional success to her time at the University of Missouri, yet she had not been back to the campus since her graduation 30 years ago. In October 2015, she finally came home during the 104th Homecoming celebration.
"It was a magical experience to walk back on the campus after so long and to see this incredible transformation both of the campus and the journalism school," Davis says.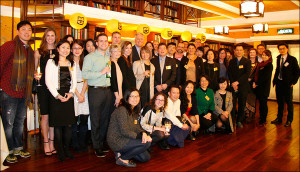 While on campus she spoke with strategic communication students about her experiences in the public relations industry. She also attended a MOJO Ad presentation, where she heard the students who staff the School's this agency discuss the insights they gained from their research. Davis was impressed with the way the journalism program has kept pace with the radical changes in the public relations industry. She also was excited to learn that the strategic communication emphasis area comprises a large majority of the journalism school enrollment.
"At the time I was at Mizzou, advertising was a very small minority," Davis says. "I think it speaks volumes for the opportunity public relations presents and the power that strategic communications wields today."
Her visit to campus opened a door of opportunity for Davis to share her love of the Asia Pacific region of the world with journalism students who are open to working in a global environment after graduation. In addition, she highlighted some of the world's most creative campaigns and trends from her experience as the PR Jury President at the 2015 Cannes Lions International Creativity Festival, the "Oscars" of the industry.
She collaborated with officials at the School to plan a March 2016 event with Dean David Kurpius during his first international trip as dean of the journalism school.
The welcome reception in Hong Kong brought together Missouri alumni from a broad range of top-tier media organizations as well as leading corporates, government and academic circles. Kurpius had the opportunity to share recent news and highlights about the achievements students at the Missouri School of Journalism are accomplishing during this event.
Davis believes this event could help bring together many influential alumni who could then act as mentors and help with the job placement of other Missouri graduates in Asia.
Big Risks, Bigger Rewards
Big changes have been the driving force in many of Davis' largest milestones, from choosing a college where she knew no one to moving across the world for a position in a market she had never experienced before. With her fearless attitude toward taking risks, it is obvious that Davis has even more adventures awaiting her in the future.
She has a philosophy that the "big game" changes in your life are always attached to risk. She says that you have to push yourself out of your comfort zone in order to grow, professionally and personally. Davis' successes since her move to Hong Kong, both in her personal and professional life, are confirmation that her philosophy is successful.
"I encourage people on a regular basis to look for opportunities to get outside of their comfort zone and embrace different challenges because there's so much adventure that comes with taking new opportunities in a changed venue," Davis says.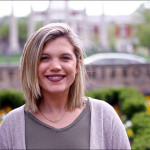 St. Louis native Lauren Hasse graduated in May 2016 with a Bachelor of Journalism degree with an emphasis in strategic communication and a French minor. She has held internships at the Down Syndrome Association of Greater St. Louis, University of Missouri Hillel and Maritz. She also has worked with the public relations team for Fair St. Louis. Her immediate post-graduation plans include beginning an internship in the St. Louis office of FleishmanHillard.
Updated: May 25, 2016