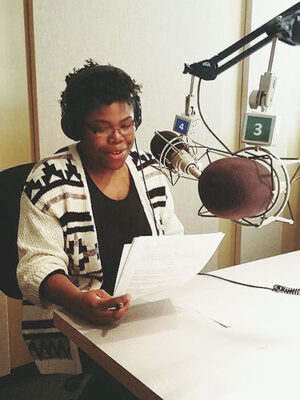 Degree(s): BJ '15
Whereabouts: United States, St. Louis, Missouri
During her childhood, Marissanne Lewis-Thompson, BJ '15, watched documentaries and knew she wanted to tell others' stories on multi-platforms. This passion led her to the Missouri School of Journalism, where she studied convergence journalism and learned how to tell stories from all viewpoints. Today, Lewis-Thompson is an afternoon newscaster and general assignment reporter at St. Louis Public Radio. She previously spent time as a feature reporter at KRCU in Cape Girardeau, where she covered a wide variety of stories including historic floods, the Bootheel, education and homelessness.
Why did you decide to come to Mizzou?
The Missouri School Journalism is known for being the best journalism program in the country. We had basic television – no cable – when I was growing up. This meant I watched many documentaries on our local PBS affiliate station KCPT in Kansas City, Missouri, on programs such as Independent Lens and the American Experience. I remember one in particular on WWII and the Holocaust. I was hooked. From that moment on, I knew I wanted to tell stories that mattered and help people want to learn more about something that perhaps wasn't something they were interested in before.
My parents and high school teachers picked up on my interests pretty quickly and suggested I apply to Mizzou. In my mind I felt like all of my childhood dreams would finally be realized. I would get to make documentaries and win an Academy Award for best documentary feature. However, I soon discovered that optimism had a price. We'll call that the "Missouri Method," a method of learning by doing.
At the time, there wasn't a documentary journalism interest area. I met with my amazing academic adviser, Shawn Wallace, and we concluded that convergence journalism was the best route.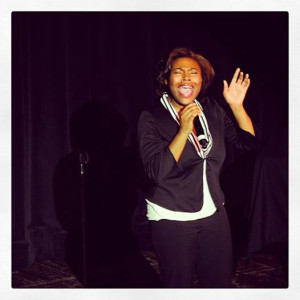 How has your "Missouri Method" education shaped your career?
The Missouri Method broke down my "fear wall." I didn't realize it then, but all of my professors in the J-School put the ball in my court. I had the opportunity to be better and do better if I allowed myself to do so. The Missouri Method concept is to "learn by doing," but if you're afraid to try something new, you'll never learn. Once I got out of my own head and stopped limiting myself, I started to grow and better understand my craft.
To this day, I push myself by using the Missouri Method. I recently did a few stories about agriculture and the flooding in southern Illinois. Both of those things are way out of my comfort zone, and I wasn't sure how to really go about it. I reached out to some of my former colleagues, and they helped me craft the story I wanted to tell.
When did you first realize what path you would take with your career?
I always knew I wanted to tell long-form stories, but I thought it would be in the form of video. That all changed when I walked into the doors of KBIA-FM, mid-Missouri's NPR-member station, my junior year at MU. I finally found something that fit what I wanted to achieve in storytelling: raw emotion, those long pauses in the middle of a sentence that leave people wondering what's going to happen next, and hearing intimate moments that no one gets to see or hear.
My teachers, Ryan Famuliner and Janet Saidi, showed me the value of audio storytelling, and how it could allow listeners to escape with you on this journey. I do have to give a shout-out to Amy Simons, Judd Slivka and Karen Mitchell for helping me understand the fundamentals of storytelling. Ideas are nice, but if you don't have a foundation sometimes those "ideas" will fall. Fortunately, the dynamic trio helped me build the foundation I needed to grow. In many ways, the "convergence experience" led me to radio.
What was your most beneficial J-School class?
In the convergence reporting class, the professors forced me to be better not only in my professional career, but also my academic career and personal life. The class forced me to be accountable for my actions and to exhaust all possibilities before giving up. They never gave me an option to quit, which wasn't allowed for good reason.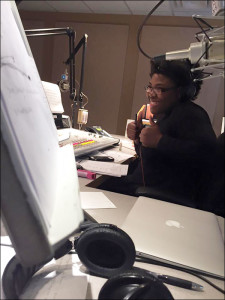 Convergence reporting prepared me to be persistent and patient, which is something I experience all the time at my current job. It took me three months to track down one source, and fortunately she was worth it. I sometimes still use my handy course pitch form for certain stories. When I was in the class, I never thought in a million years that I would find myself happy to have it.
How did you get your first job?
I saw a job post on one of the J-School Facebook groups. It fit what I wanted to do and where I wanted to go in the next phase of my life. I reached out to one of my professors from KBIA and asked if they knew anyone at the station. Later that day, I got in contact with the person who had the job before me. He explained what kinds of stories were important to the area and the station. I did my research to prepare for the first interview and the next thing I knew, I was on my way to Cape Girardeau to do an in-person interview. I was extremely nervous, but I treated the interview like a convergence reporting pitch meeting and showed them that I knew what stories mattered to the station and to the community. A few weeks later I got a call for the job, and I took it.
Do you have any advice for graduating seniors?
Keep clawing your way through the dirt until you get to the surface – stopping isn't an option. Once you graduate, take some time and figure out what you want in this life. Sometimes when you're in school, you can lose sight of who you are. This life is not a race and all those things you want will come. But when they come, make sure that you're mentally ready for it. Make sure that you still have that support system once you leave the J-School. I still talk to some of my professors, and they constantly serve as a reminder that I have people in my corner.
Did you ever think you would end up where you are now?
I still can't believe that I ended up doing something that I was passionate about. I get to write, edit and produce feature stories. I get to jump head first into environments, communities and unlikely scenarios that I wouldn't normally find myself in. I can't wait until the next step.
Updated: November 30, 2020