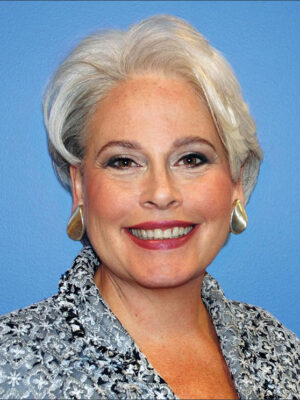 Degree(s): BJ '76
Whereabouts: United States, California, San Francisco
Major newspapers headlined the Watergate scandal in northwards of 72-point type when Washington Post enterprise reporters Bob Woodward and Carl Bernstein uncovered a major political scandal. The two made public a June 17, 1972, break-in at the Democratic National Headquarters at the Watergate office complex in Washington, D.C., and President Richard Nixon's attempted cover-up of staff involvement.
The news brought the value of journalism's role as a government watchdog into the light. College-age students saw how they could make a big difference in the world through journalism. Among them was Mary Huss, BJ '76.
When Huss began her studies at the Missouri School of Journalism, she joined peers with the aspirations of being those reporters who would break important stories and become the best in the business. The events and activities of the 1970s would provide plenty of news to cover: major weather events, worker strikes and the abundance of anti–war demonstrations.
Both the era and her experiences at the Missouri School of Journalism gave her a solid foundation that shaped her career. She is the president and publisher of the San Francisco Business Times. Huss has held her title as publisher for 24 years at the No. 1 source for local business news in the San Francisco Bay Area. Her journey to the San Francisco Business Times was filled with many triumphs and some failures that provided valuable life lessons.
From Cavemen to Journalism
Huss grew up in St. Louis. From an early age, she was encouraged to develop her writing skills. In second grade, a story she wrote about a caveman prompted her teacher to tell her mother that Huss had impressive storytelling talent. When her mother told her this, she also said that maybe one day she would want to attend the University of Missouri School of Journalism.
"It's so funny how a little thing like that stuck with me – just a little second grade comment that could or could not have ever happened – and that was my first awareness that there was this journalism school that was considered to be famous," Huss says.
Throughout middle and high school, "I always loved my English, journalism and yearbook classes; you actually got to produce a tangible product," Huss says.
Becoming a student of the Missouri School of Journalism became a goal of hers.
Curiosity Leads to News Emphasis
Upon high school graduation in 1972, Huss made the 130-mile drive on I-70 to Columbia to begin her life as a student.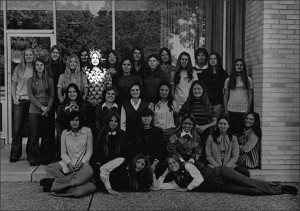 Huss credits the Missouri School of Journalism for helping her find herself and preparing her to find a job that she loves.
"I love seeing that people are still in journalism and actively pursuing it," Huss says. "It is different now, but it is going to continue being a great profession for a long time."
She quickly found her niche in the news-editorial sequence.
"I realized I really liked reporting," Huss says. "I'm curious; I'm a natural interviewer; I will get a lot of information out of people just because of my natural curiosity."
Curiosity paired with a strong work ethic and a willingness to try new things got Huss far. She was on an enterprise reporting team at the Columbia Missourian. The students would drive to Jefferson City to write about changes in educational funding. Huss loved working in a newsroom environment, the ownership she had and the pride she felt in the articles she was helping to produce.
Huss looked up to the faculty members she learned from and worked with at the Missourian.
"The faculty are people who have lived it and done it," Huss says. "So, because it was such a real thing to them, it sharpened my interest and my focus. It was like getting closer to reality, and I really, really liked it."
Then, it was time to graduate.
Job Oversight Does Not Define Huss
Huss wanted to relax for a few weeks before entering the workforce, but her mother had other plans for her.
"My mom was just relentless. She was not going to let me sit around and take a few weeks off," Huss says, laughing. "She had the little typewriter and the newspaper, and she had circled all of these want-ads."
At 7 a.m. the next Monday after graduation, with a little encouragement from her mother, Huss began the job search for any paying journalism-related job she could find.
Huss made finding employment a job in-and-of itself. She made cold calls, went to informational interviews at ad agencies, public relations firms, news offices and even companies that simply had a communications department. Through trying to secure a job of any kind, she learned a lot about the real world and what lie ahead.
The job search was difficult in 1976 as America had just come out of a recession. President Gerald Ford noted in the annual economic report to Congress: "As we enter 1976, the American public still confronts its two greatest personal concerns: inflation and unemployment."
Despite the tough market, Huss secured a job as a stringer for a suburban newspaper group in St. Louis, working on a part-time assignment basis. Her boss sent her to school board and city council meetings to take notes and write stories afterward. Huss was still seeking full-time employment, and soon she landed her first 9-to-5 job at Lindenwood University.
Huss was hired as a public relations assistant. The school was in the process of transitioning into a bigger institution and needed some positive public relations. The St. Louis Post-Dispatch and other news outlets picked up her press releases. In one story she wrote about a theatre major who interned on a film set in Hollywood.
Two days after she was hired her boss left on a five-week vacation, and she dived into her job. "I was just pounding out these press releases and stories and going and visiting with the press and getting them placed. I was just on the job for a few weeks, and I was just going to town," Huss says.
Lindenwood is where Huss learned the difference – the hard way – between news writing and public relations writing. One day shortly before her boss returned she had a two-word note on her desk from one of the deans: "See me." The news was not good. Huss failed to get approval for the press releases she had been writing prior to distribution. It was time to start looking for a new job.
"It was probably the best thing that ever happened to me because it was sort of the cold water in the face that was like, 'Wait a minute, slow down, really take the time to understand what you're supposed to do,'" Huss says. "I also wasn't going to let this define me. It did not define my future."
Starting the Riverfront Times
Huss joined a small subscription-based publication in the St. Louis area called Profile St. Louis, launched by four Missouri School of Journalism graduates. Huss initially applied for the position of advertising sales director. Ray Hartmann, the founder and publisher, had already hired an advertising sales director and pointed out that she wasn't qualified for that anyway. But instead he offered her the job of calendar editor and general assignment reporter, doing a variety of writing and information gathering. Like everyone on this startup, Huss did a little bit of everything.
Months later Hartmann presented Huss with the opportunity to launch a different niche newspaper idea, which they decided to call The Riverfront Times. The caveat was that she was going to have to do it on her own while he and the rest of the team focused on Profile St. Louis.
Hartmann wanted to create a free, community-based publication for the workforce. In late 1977, there was a renaissance going on in St. Louis after the recession. There also was a growing group of alternative newspapers in cities around the country. Hartmann decided he needed to pursue this vision that his barber had given him, but unfortunately he didn't have time to pursue both publications. That is where Huss came in. She needed to find out exactly what this paper needed to be to fit Hartmann's vision and to please her readers: the downtown St. Louis workforce.
Huss became the founding editor of The Riverfront Times and also did most of the writing and sold the advertising as well.
"I just went out and started asking questions and telling people what we were looking into and getting their feedback on what should this be. What are the most important things?" Huss says.
It was the era of phone booths, and Huss called Hartmann to tell him she had sold her first campaign to Commerce Bank. This was an achievement because The Riverfront Times didn't even exist yet. The bank was buying into an idea, not a product that yet existed.
"I sold something from nothing. I created something from nothing. I think just that was this enormous foundation to my career. It was a confidence builder," Huss says.
"Ray Hartmann built it into a powerhouse, and he is that brand of passionate cause-driven journalist that inspired me," Huss says. "What he did with The Riverfront Times is the all-American entrepreneurial success story."
Hartmann ultimately sold The Riverfront Times many years later. And although it has changed owners and looks much different now, Huss takes pride in the lasting impact of the publication she helped launch. The Riverfront Times has a weekly readership of over 200,000. It is known for its investigative reporting, news, entertainment and coverage of local politics.
Transitioning to Business Journalism
After three years with Hartmann, Huss accepted a higher-paying job at the St. Louis Post-Dispatch, but found she missed being in an entrepreneurial operation. Mark Vittert, who had invested in Hartmann's operation, phoned Huss one day and offered her the opportunity to join his startup, the St. Louis Business Journal. Vittert was a young entrepreneur with several successes already, and he and a partner had plans to launch city business journals in a number of markets, starting in St. Louis. Vittert was a mentor and played a big role in Huss' early career.
"My first thought was, business journal? Business sounded so dry, and it so isn't. I had no idea how exciting it would be," Huss says. "It's all about telling the story of business success and failure and rise and fall, innovation and the people and the entrepreneurs that build businesses, and there is so much value in that."
This was when Huss' career veered to the business side of publishing. Huss joined the startup team of the St. Louis Business Journal as circulation director, a job she had to learn, and built the paid circulation of the publication to one of the highest in the country for business journals and number one in the company. She later helped set up the circulation teams as Vittert started other business journals in the country.
Huss showed a talent for taking struggling publications and making them successful, and she was asked to move to Philadelphia to be the advertising sales director of the Philadelphia Business Journal, a turnaround, and she became publisher two years later. In a few years, it became the top revenue and profit producing business journal of the company.
In 1991, Huss accepted the opportunity to become the publisher of the San Francisco Business Times, which was 5 years old and losing money and circulation. Again, it was a turnaround. She is still there 24 years later.
Chasing No. 1
Through Huss' leadership and obsession with a quality journalistic product and with financial and audience growth, the San Francisco Business Times is No. 1 in revenue in her company, American City Business Journals, as well. By telling the stories of entrepreneurs' successes, documenting business rise and failure and offering tips for all those in the business world, the San Francisco Business Times has grown into a successful publication. Rankings without substance are hollow, Huss says.
"No. 1 only comes if you build a fabulous product and great relationships, and it only comes with really wonderful and talented people – people who continue looking for ways to be better," she says. "It is very important to never think you have arrived. But we can celebrate all the wins along the way."
Huss is where she is today professionally because of how her Missouri School of Journalism prepared her and her willingness to say yes to every opportunity.
"Dive in to any task, don't think you already have to know how to do something, don't be afraid to take a responsibility, a project or an opportunity because you think you might not know how to do it." Huss says. "Go for it, and you might surprise yourself."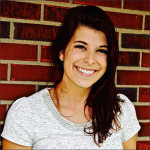 About the author: Clara Kohrs is a senior at the Missouri School of Journalism with an emphasis in strategic communication. She is a native of Minneapolis who has followed her passion of writing to Missouri. At MU, she has held two teaching assistant positions and has had three summer internships, including one in event management and public relations for Jostens. Kohrs has a passion for creating content. Through her love of travel and various other multicultural experiences, Kohrs has developed an appreciation for a diversity of people and ideas.
Updated: December 29, 2015