Max Cole
Film and Theater Actor, New York City Radio Personality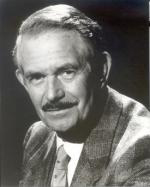 Degree(s): BJ '37
Whereabouts: New York, New York
New York Radio Personality Max Cole, 90
60 years of continuous broadcasting on the airwaves in New York
Ernest Max Cole passed away on July 16, 2006, after a short battle with lung cancer. He was 90 years old.
Born on Oct. 20, 1915, in Topeka, Kan., Cole grew up in Springfield, Mo. He graduated from Springfield High School in 1933 and then attended Drury College in Springfield. Cole graduated with a degree in journalism from the University of Missouri-Columbia in 1937.
He went to Hollywood and was in the Warner Brothers' movie "Ten Gentlemen from West Point" (1942), which starred George Montgomery and Maureen O'Hara. Other movie credits include playing a pilot in the movie "Wake Island" for Paramount and a part in "The Beginning or the End" at MGM. Cole also appeared as an imposter in a 1969 "To Tell the Truth" show.
In 1942 he did a screen test for Warner Brothers and was in the process of signing a seven-year contract when he was called to active duty as a navy reservist. After basic training at Notre Dame in South Bend, Ind., Cole was assigned to active combat in the Pacific.
On June 30, 1943, he was one of the officers leading landing craft as part of the amphibious force at Rendova Island in the Solomon Islands. Cole's troop, based on Bau Island at the edge of Rendova Harbor in the thick jungle, took heavy enemy fire. He also saw combat in Iwo Jima and Okinawa.
Cole left the naval reserve forces as a full lieutenant in October 1945, concluding his tour of duty on the U.S.S. Lowndes after his first ship, the U.S.S. McCawley, was sunk. When the ship went down, he lost his gold watch presented when he graduated from the University of Missouri, among other things.
After the war, feeling his moment had passed in Hollywood, Cole came to New York in 1946 and never left. The most significant portion of his career was spent as an acclaimed radio announcer in New York City.
Cole's first job in radio had been at KFRU in Columbia, Mo., in 1937 right out of college at a depression-era salary of $0.20 an hour. Then, in 1939, he was hired by KSD, the NBC Pulitzer radio station in St. Louis, Mo., where he worked for three years.
In New York Cole's career began as an announcer at WOV, where he worked from December 1946 to July 1955, and from there he went to WNYC where he worked until 1960.
Late that year Cole was approached by the general manager at WRVR, a new station broadcasting from studios at the Riverside Church, and was asked to become a producer and announcer. WRVR was an inaugural member of the newly formed non-profit Educational Radio Network, a precursor of what is now known as National Public Radio.
He started work just two weeks before the first broadcast. On Jan. 1, 1961, Cole's voice was the first heard when WRVR began broadcasting at noon with a live broadcast of the "Service of Worship" led by the Rev. Dr. Robert James McCracken, Senior Minister.
Over the course of five decades of uninterrupted service, Cole announced many signal and historical events. In the 1960s, he gave active coverage of Dr. Martin Luther King's great "I have a Dream" sermon. Another time, Cole covered the events surrounding WRVR's attempt to tape a KKK meeting. The reporter was thrown out when discovered, and WRVR's tape machine was kicked to bits.
Along with his long and distinguished career at WRVR, Cole also was an announcer at the New York classical station WNCN (until it was sold) and at WBAI. He also continued his acting career, performing in theater and commercials in New York and as a convention presenter for companies such as DuPont, Westinghouse and Volkswagen.
Cole is perhaps best known for having created WRVR's Saturday jazz show, which continued to air to popular acclaim every Saturday until the station was sold. He received a gold-finished microphone at a dinner in his honor given by the prestigious Jazz Interaction Club.
Other highlights of his career at WRVR and Riverside include being a part of the Folk Music Contest, which Bob Dylan attended in the hope for a chance to show his talent.
Cole and Father O'Connor from WGBH announced the first Duke Ellington Sacred Music Concert from the Fifth Avenue Presbyterian Church. This featured the great composer and arranger Lena Horne. This live broadcast was the only one to feature Lena, and her part never appeared on the CBS record of the event. Cole also was responsible for luring the unknown Ed Beach to his job at WRVR, which eventually led to his programs being safely archived in the Library of Congress.
After WRVR was sold by Riverside Church, Cole was approached by the executive minister to remain as the announcer for the Riverside Service of Worship broadcast by tape recording every Sunday by the new owner of the station. He accepted the position after having served for seventeen years as chief announcer of WRVR.
Cole announced and produced the Riverside radio broadcasts through various station owners up to the present 106.7 Lite FM WLTW. He had just resigned from this position on April 1, 2006, due to ill health at the ripe old age of 90-1/2 years old.
Since 1977, in the days before DAT and electronic editing, Cole would time each section of every service and then cut and splice tape to bring the broadcast to the requisite hour-long time frame. When sick or on vacation, he supplied substitute announcers paid for out of his own salary. Cole also accepted salary cuts from Riverside Church, preferring to maintain continuity of the broadcasts and continue to work with Riverside.
An inveterate traveler, Cole particularly enjoyed taking annual portions of Cunard world cruises. He also was well known for his exuberant optimism, for poking fun at himself and for his love of opera and theater. As an avid theater-goer, Cole attended the original productions of many iconic Broadway shows, including Oklahoma, My Fair Lady and A Chorus Line.
At the time of his death, he likely held the record for the longest continuous voice on radio in New York City. Cole was buried with full military honors in his hometown of Springfield, Mo., on July 28, 2006.
Updated: November 3, 2011