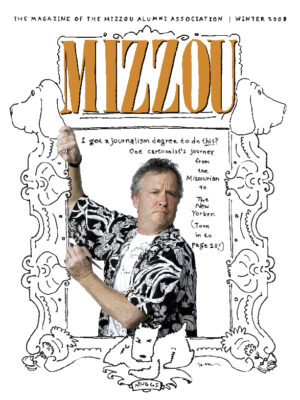 Degree(s): MA '92
Whereabouts: United States, West Chester, Ohio
As a kid, Michael Shaw, MA '92, should have known he'd be a cartoonist someday. At age 10, he and his twin brother Patrick, MA '88 (English), each paid homage to the most celebrated of super heroes by creating heroes themselves. Patrick created "Selvas Kane, The Enforcer" while Michael drew up "The Tranquil Four."
"Like the Fantastic Four, except they didn't do anything," he told Sona Pai, BJ, BA '99, a writer for MIZZOU, the magazine of the Mizzou Alumni Association. Shaw was featured in the winter 2008 edition.
Now grown up with a full-time copywriting job, Shaw has turned the quick wit he displayed as a youth into a successful ongoing cartooning gig with The New Yorker, which has published more than 60 of his cartoons over the years.
Shaw attributes much of his success to his days at the School. Under the guidance of his most memorable professors, he learned to hone in on what mattered most to him.
"It's really all about making the most of your own particular talents," he said. "I'll always appreciate the J-School taking a chance on me, and helping me launch a second career. Beyond being the greatest journalism school, the faculty was wonderfully supportive and Columbia is a great town to live in. I'd move back there in a second, but in my business, a copywriter's got to go where the catalogs are."
Today, Shaw lives in West Chester, Ohio, where he is the senior copywriter for the upscale home furnishings catalogs Grandin Road and Frontgate. The former was recognized recently as the No. 1 best copy catalog by Multi-Channel Merchant, a catalog industry publication. His journey into the advertising and cartooning industry, however, was far from linear.
Shaw grew up in St. Louis and attended Webster University. In 1980, he earned a bachelor of fine arts degree in painting. He spent one year living in Greece and a number of years teaching, including four years as an art teacher in the St. Louis public school system. Then he decided to apply to the School's graduate program. His first (and only) news writing course was taught by George Kennedy, professor emeritus, who was then associate dean and managing editor of the Columbia Missourian, the daily community newspaper that serves as a real-world lab for students.
"He said I had 'an uneasy relationship with the truth,' and he recommended I try advertising," Shaw told MIZZOU.
It was Shaw's introduction to news writing. "It was a required course and almost killed me," he said. "I did my big feature project on the new animated cartoon adventures of Mighty Mouse created by Ralph Bashke. George rightfully thought I was crazy."
After switching to the advertising sequence, Shaw continued to draw cartoons. They were featured in the Missourian's Sunday weekend magazine, and his cartoon strip "At the Zoo" regularly ran in The Maneater, the independent campus newspaper.
While writing his thesis titled "Who Calls the Toons?" on cartoonists and syndicates, Shaw worked with Mort Walker, BA '48, who created the Beetle Bailey comic strip. On a separate research project, he worked alongside professor emeritus Frank Stack, an art professor and underground cartoonist who held a position on Shaw's thesis committee.
"I was doing stuff that no one else was doing, so I got to more or less make it up as I went along," he said. "I think there may have been one other grad student in the advertising sequence, so I was a real statistical outlier in terms of the other students who were all hell-bent on getting hired at an ad agency."
Upon graduation, Shaw became a copywriter for a medical device company and then worked for the Lands' End catalog, where he traveled as far as Lake Como, Italy, to write about silk ties. While working for Lands' End, he began to invest his time back into cartoon writing and drawing. In the early 1990s, he sent samples of his work to The New Yorker. "The Sistine Chapel, no, the Vatican of cartooning," he told MIZZOU. But The New Yorker editors only regretted that they could not use his material.
With that, Shaw began to study The New Yorker's back issues while continuing to submit more cartoons. It wasn't until he submitted a cartoon in a contest when he finally caught a break. As he told MIZZOU, the contest was put on by The Algonquin Hotel in New York. Contestants were to submit cartoons with a hotel theme, and three winners would meet The New Yorker's cartoon editor and well-known cartoonists while staying at the hotel. After Shaw submitted 25 cartoons, one was selected. It was a cartoon of a sign hanging on a doorknob of a hotel door. It reads, "Already Disturbed." It was never published, but it opened the door.
Just a year following the contest, The New Yorker published one of Shaw's cartoons. To date, the magazine has published more than 60 of his cartoons, all of which can be found at cartoonbank.com. Monthly, he'll submit up to 40 cartoons to The New Yorker while working his full-time job. It's a unique career combination, and Shaw credits his Missouri Journalism experience for helping open that door.
"I'm happy that someone (like me) who didn't follow the usual paths in journalism can still find success and contribute," Shaw said.
Shaw's work has also been featured in Grandin Road and Frontgate Catalogs.
Updated: November 10, 2011