Mike Deeson
Investigative Reporter at WTSP News
Degree(s): BJ '70
Whereabouts: United States, Florida, Tampa Bay
By Lauren Flaker
Investigative reporting isn't for everyone. The hours are long. There are constant barriers to information. Sources don't always want to talk. Mike Deeson, BJ '70, however, thrives on the excitement of these challenges.
The investigative reporter for WTSP News in Tampa, Florida, approaches every story with the same vigor he did when he first started reporting nearly five decades ago. He finds something poetic about serving as a watchdog for the community, shining a light on abuses of power and bringing justice to those situations. It energizes Deeson's intensity to dig deeper.
Watergate Changes How Reporters Work
Watergate fueled an interest in investigative journalism in the early 1970s, and Deeson was hooked. The scandal was a game-changer for reporters. Elected officials who were doing wrong now had no place to hide as the press publicly challenged them about their activities.
"It was inspiring," Deeson says, "because there were so many politicians doing things incorrectly, abusing their power."
The direct result of Watergate on Deeson and other journalists was a clear relationship shift between reporters and politicians. It was no longer about being friendly and asking convenient questions. Journalists forced politicians to be honest.
Deeson covered the Virginia General Assembly during these early days of a new public accountability. Deeson accused a longtime senator of not telling the truth during an on-camera interview – a reporting practice not common at the time.
Early in his career, Deeson developed a call-ahead tactic to schedule on-camera interviews. He says he never tries to do an interview without calling the person to give them the opportunity to first comment off camera. Deeson's standard statement to sources: "You have the prerogative not to answer the question, but I will ask it on camera. It can be a scheduled interview or an unscheduled interview, but I will ask the question on camera, so you shouldn't be surprised." Then he pursues the story full force.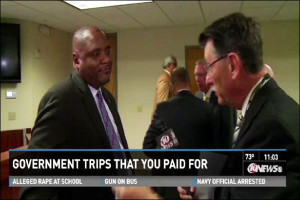 Once on to a story, Deeson has no qualms with chasing people down to get the information he is seeking.
Such was the case when he learned a legislator had received a grant for a company that didn't exist. On paper, it appeared the man was stealing money from the government. Deeson called the politician to give him an opportunity to share his side of the story. The politician declined, so Deeson waited outside a bar for four hours to talk to him. Deeson wasn't deterred when the man went out the back entrance. Instead, he tracked the politician down at an event in Tallahassee, Florida, and asked his questions there – on camera this time.
The legislator is one of a long list of politicians and public figures Deeson has reported on over the years. In the last two years alone, he is responsible for exposing officials for unapproved raises, having sex with employees and padding their overtime pay, misusing funds, and sending racist and sexist emails. Stories like these that hold people accountable for abusing power are what keep Deeson going.
"It really drives me," Deeson says.
Basics Learned at the School Provide Lifetime Benefits
In his years of investigative work, what Deeson learned at the Missouri School of Journalism has become second nature: Get it right, be fair, get all sides.
As he's working through a story, Deeson always thinks, "Could I defend this if I had to?" Each time, Deeson knows he can support his case because professors pushed him to show evidence in his work. That's why he comes armed with the facts when he approaches those he is investigating.
Deeson's decades-long tenure in investigative reporting defies the odds in an intense profession that's known for burn-out. His efforts for public accountability have earned him numerous recognitions from the Radio Television Digital News Association: 10 Emmys, the Silver Circle Award for lifetime achievement and the Outstanding Individual Achievement every decade since the 80s.
Deeson continues to serve as a watchdog for those in power in the Tampa community. Bringing honesty to the system is why Deeson says he stays on the job and pushes officials for the truth.
"There's no more satisfaction than doing a story like that," Deeson says.
Lauren Flaker, from Columbia, Missouri, is a senior strategic communication major, business minor. She has interned at MediaCross and Moosylvania, an ad agency in St. Louis. Flaker runs for the University of Missouri on the track and field team. She plans to earn a master's degree at the University of Missouri after graduation.
Updated: August 7, 2014