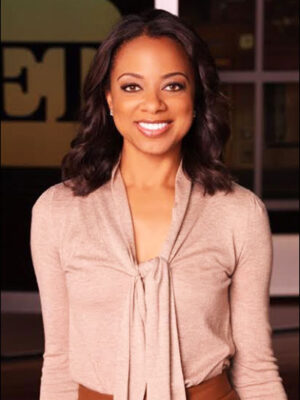 Degree(s): BJ '98
Whereabouts: United States, California, Los Angeles
Nischelle Turner, BJ '98, has stood in the reporting field, anchored the news desk, roamed the sidelines and commanded the red carpet. Nearly 20 years into her career, the small-town girl rooted within the esteemed correspondent still admits to brief moments where she feels starry-eyed, taking it all in.
It is not constellations that blind her, but the celebrities Turner mingles with every day. She has probed everyone for answers — from first ladies to Real Housewives. Despite the grandeur or glamour that surrounds her, Turner remains faithful to the oath of journalism. Whether she is reporting on Bashar al-Hassad or Justin Bieber, her stories are based on the facts that cannot be found on the cover of a tabloid.
Though the self-proclaimed "hard news girl" admits that she fell into the entertainment business, she stays because of the beauty she finds in chasing a story.
Once a Tiger, Always a Tiger
Turner was born and raised in Columbia, Missouri. She lived under a roof with her single mother and in town with her large extended family. After living in mid-Missouri all of her life, Turner realized that college was her opportunity for a change of pace. Open to any new possibility, she allowed fate to be her compass. The high school senior closed her eyes, placed her finger on a map and enrolled at the University of Kentucky.
"It was always my plan to come back," says Turner, who knew she wanted to study journalism. "My mother would kill me if I didn't go to the best journalism school in the country, and it was right in my backyard!"
Turner left Kentucky at the start of her junior year and returned to Columbia to begin her first courses at the Missouri School of Journalism. Despite being a Columbia native, she felt like an outsider as her classmates questioned the new girl on campus who was now in their broadcast courses.
Turner eventually broke the ice, making friends with her peers and developing relationships with her faculty mentors, which included Kent Collins, Stacey Woelfel and Greely Kyle. Kyle in particular saw a bright future for Turner and invited her to join G7, a group of like-minded student broadcasters who met to discuss journalism.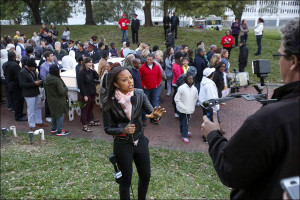 From the moment she stepped on campus, Turner immersed herself in the opportunities the Missouri School of Journalism had to offer, particularly its NBC affiliate broadcast station, KOMU-TV. The station is the only university-owned commercial television station in the U.S. that uses its newsroom as a learning lab for students. They work as reporters, writers, producers and camera operators while providing regional news coverage.
"I learned how to run the studio cameras. Then I came in on weekends at 7 a.m. and ran the assignment desk. Then I went out and reported, and came back and anchored the show," Turner says.
When other students headed home for summers and the holidays, Turner was in the newsroom. In addition to the extra time she put in, she admits that she had a natural advantage over her peers.
"When you know the players, the landscape, the small towns, how the government works, all that, it's easy to dive right in," she says of the natural knowledge she had as a Columbia native.
After graduation, Turner decided it was time to challenge herself and report outside her familiar landscape and landed a job at WEHT ABC in Evansville, Indiana.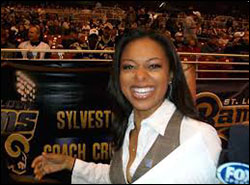 When Personal and Professional Collide
Turner applied for the reporting position in Evansville knowing it would be a great learning opportunity to work remotely with the help of equipment like helicopters and satellite trucks. She was with the station for about a year and a half when she was approached with the opportunity to leap up the television market ladder to a position as a weekday reporter and anchor for WVUE-TV FOX8 in New Orleans.
Initially, she declined the invitation – twice – thinking she had no interest in the city. She finally agreed to see the city for an interview, and it was love at first sight.
"The minute I stepped off the plane, I knew this is where I was supposed to be," she says. "I fell in love with the city, the live music and the culture in New Orleans."
Turner took the job and found a newsroom that she describes as the best in the world. She loved working with great writers and storytellers. Turner spent most of her 20s in New Orleans, where she learned about life and the industry. She is able to pinpoint this moment in her career as a time that she grew not only as a journalist, but also as a woman.
In 2005, Hurricane Katrina hit the city of New Orleans, sweeping away the beauty Turner had fallen in love with. Just months before Katrina hit, Turner had left New Orleans for a reporter position on "Good Day LA" in Los Angeles. The morning show assigned her to return to her former home and report on the disaster.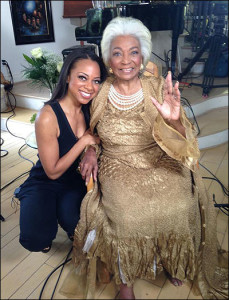 "That was the toughest thing that I ever had to go through, because that was personal and professional colliding," she says.
Turner reported the hurricane's aftermath and effect on the city during the day and at night returned to sleep in a rented Chevy Impala, which sat on the freeway. She recalls making no complaints about not having a bed to sleep in, because she watched her friends lose everything. Sometimes she was even the one to report it.
"As broken as that city and the people were, there was still resiliency there," she says. "Going back there now, I am very proud of the city. It's not where it was, and it will never be the same, but I'm proud of what it is reshaping itself to be."
She reported through the ruins and the reconstruction and witnessed firsthand, the depths of human spirit.
Off the Stands and On the Sidelines
Following her Hurricane Katrina coverage, Turner returned to Los Angeles and made an organic transition to the set of "Good Day LA." The morning show featured segments on news, weather and entertainment, and Turner finally felt like she could expand her television persona, to match the dynamic personality she maintains in her personal life.
"The nature of the show was to be yourself," she says. "We screw up, but we also have a good time. We give you your news."
While at "Good Day," Turner received a call from David Hill, who at the time was president of Fox Sports. He had taken notice of her impressive interviewing skills on "Good Day" and wanted her to report on a couple of NFL games on her weekends off from the morning show during the 2007 season.
"I love sports. I played growing up and came out of the womb a Mizzou Tigers fan," she says. "But covering sports and loving sports are two totally different things. I really had to take a crash course."
Quickly, Turner learned her field goals from her fumbles and in 2008 decided to leave "Good Day LA" to report with Fox Sports full time. In addition to football, she began covering baseball and college basketball. She recalls the whirlwind of an opportunity fondly but reflects on the pressure that came along with this position.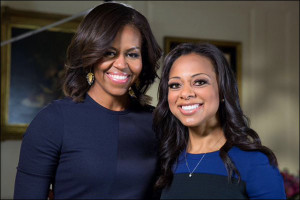 "I was bound and determined not to be that girl," she says. "Women on the sidelines come a dime a dozen these days, and people always assume we don't know what we're talking about. This job is one in a million, and I was fortunate to have it for five seasons."
Turner's laudable interview and reporting skills set her apart as a five-tool player, or a master in every medium, as she phrases it. Her proven abilities led her to another opportunity when Turner started hosting a collaborative Web series between the celebrity buzz show "Extra" and "Essence," the monthly magazine for African-American women. "Extra on Essence" reported on celebrity news, health and style as it relates to the African-American community. Once again in her versatile career, Turner proved that she could successfully manage the balancing act between two demanding positions – in this case two entirely different genres of news. She continued to find her footing on the field working for Fox, while her job at "Extra on Essence" helped her make her next step on to the red carpet.
Seeing Stars
After seeing her work on "Extra on Essence," CNN offered Turner a full-time position as an entertainment correspondent. The president of the network, Jeff Zucker, liked her work so much that he moved her to New York and gave Turner her own show.
A year and a half later, "Entertainment Tonight" locked eyes on Turner from the opposite coast and offered her a spot on its team. Zucker, not wanting to stand in her way but not wanting to lose her, proposed that she do both shows. Turner agreed, and now works full time at "Entertainment Tonight" while contributing to entertainment segments at CNN.
Turner admits there is no such thing as a normal day in her job. She spends a lot of time traveling. One week she may interview a lead actor from an upcoming film; the next week she may attend the Oscar red carpet where she puts her own personal spin on the infamous celebrity passerby question, "Who are you wearing?"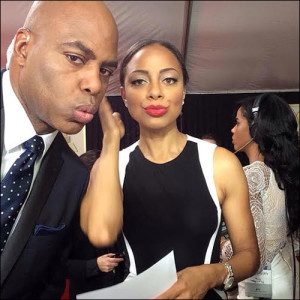 When Turner sits down with celebrities, she gets them to open up by making them feel like she's their neighbor or their best friend. She does this with ease, admitting there's not much to complain about her job; but there is still one main struggle staring her in the face every day.
"I'm a woman of color in this industry, and in this world, period," she says. "We're having the whole conversation right now about the lack of diversity in Hollywood, and I think that extends to television as well, and to our business."
Turner appreciates journalists of color who served as her role models, like Carole Simpson and Ed Bradley. She also looked up to KOMU reporter April Eaton, MA '89. Though she had role models to aspire to, she continues to advocate for representation within the industry.
The good definitely outweighs the bad for Turner. The best part about her job is meeting some of her personal heroes. Recently, she sat down with her namesake, Nichelle Nichols, who played Lt. Uhura in "Star Trek." She traveled with Oprah and the cast of "Selma" to recreate the Montgomery March in Selma, Alabama. She even sat down with first lady Michelle Obama who wrote a note to Turner's boss praising her work.
Turner never imagined as a student at the Missouri School of Journalism that her journalistic career would include entertainment news. There are some days that she is in awe because when she looks to her feet, she sees not the gravel roads she grew up on, but instead the red carpet.
"I'm just a little black girl from Columbia, Missouri," Turner says. "I'm pinching myself because I'm sitting here in Hollywood, kind of wide-eyed taking it all in."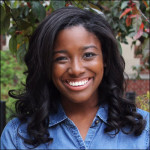 Lauren Giwa-Amu graduated in May 2016 from the Missouri School of Journalism, where she studied strategic communication. She will intern in Wieden-Kennedy's public relations department before returning to the School to complete her master's degree. The south-side Chicago native hopes to combine her passions for pop-culture, programming, and public relations and ultimately land a journalism career in the entertainment industry.
Updated: April 6, 2021