Sally Franklin Kur
President at The Kur Carr Group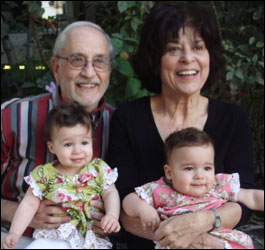 Degree(s): BJ '66
Whereabouts: United States, Arizona, Phoenix
Sally Kur, BJ '66, always had a passion for writing. Her work on her high school yearbook gave her the idea to study journalism instead of nursing in college.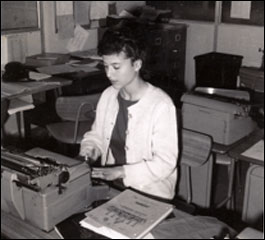 Kur's decision to attend the Missouri School of Journalism had a profound impact on her life in ways other than journalism. There were the hands-on opportunities to do real journalism. The campus was beautiful. She would earn her degree from a school with a superb international reputation. And there was also the young man standing in the doorway of a fraternity house who caught Kur's eye – and heart.
Now president of her own public relations firm and celebrating her 45th wedding anniversary, Kur reminisces fondly on her time at the Missouri School of Journalism.
"A lot of good things happened to me at Missouri," she says.
Fresh Out of Indiana
At 17, Kur left Fort Wayne, Ind., where she had lived her whole life, to go to the Missouri School of Journalism.
"I look back on it now, and I had no idea what I was doing," she says, laughing.
Kur decided to pursue the newspaper sequence. She spent most of her time on the copy desk at the Columbia Missourian, a large horseshoe-shaped table with the editor sitting in the middle. Here she and the other students became very conscious of the significance of clarity and editing. They polished the headlines and leads of the day's stories.
These essential journalism skills, Kur says, have served her well throughout her career.
"When I got out of school, I truly had a degree that worked for me," she says.
A College Love
While pursuing her passion for writing at Missouri, Kur also found another love: her husband Ed.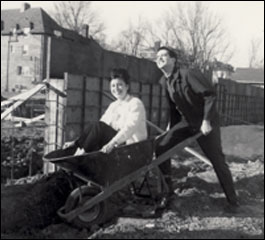 In spring of her freshman year, Kur, an Alpha Epsilon Phi pledge, was dating a member of the Alpha Epsilon Pi fraternity. One night, they went back to his fraternity house, where she briefly met Ed and some other brothers in the doorway. There was an instant connection. By fall of her sophomore year, Ed had asked her out.
"That was our beginning, " she says. "He said he knew he would marry me when we met in the doorway of his fraternity house my freshman year."
They dated for two years before Ed's parents suggested they marry. Kur's mother would support the idea, but only if her daughter finished her degree before marrying.
Sally graduated in June, and she and Ed were wed in August.
Sharpening Skills from State to State
The Kurs moved to Cincinnati so Ed could work with Procter & Gamble. Given the times, this was a very bold move for a young woman.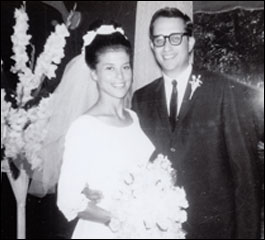 "It was just a different kind of situation," she says. "Never would I have travelled across country unless I was married to this man. It just wasn't done then."
Kur first tried to get a job with a Cincinnati newspaper, but they weren't hiring. She did find an entry-level public relations position for Shillito's department store doing ad write-ups. However, having no passion for the work she was doing, Kur didn't stay long.
Yearning to work somewhere where she could expand her writing skills from school, she went to the Chamber of Commerce.
"I went there just to see if there was anything," Kur says. "I was just kind of exploring. I had no idea that I would find a job."
The move put Kur in the right place at the right time. While at the Chamber offices, she talked to a man who gave her news that she said made her want to "jump off the roof" in excitement.
"He said, 'We're just getting ready to launch a city magazine. Would you have any interest in working on that?'"
Kur became one of the first staff members for Cincinnati Magazine, which is still published monthly. The job gave her the chance to use and develop the skills she learned at Missouri. She got the chance to write, edit and work with art directors.
It was during Kur's time at the magazine that she had her what she calls the first "ecstatic" moment in her career. She was asked to learn to fly an airplane and then write about it. Kur accepted the challenge on the spot only to learn that she needed to get her husband's permission first. It was a sign of the times, but the question still surprised Kur.
In good humor, Sally asked Ed, and he, of course, approved. To this day, she still has the magazine with the photo of her standing by the plane. Kur submitted the story to Flying Magazine upon the encouragement of her editor. They published it and paid her $50 for the article.
"That is what I would call my very first exciting, energizing experience, and I think I got it because I told them where I graduated from college," she says.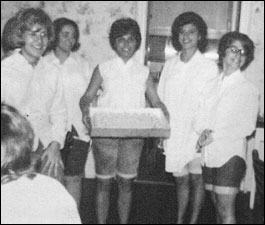 Three years later, Ed's new job took the Kurs to Sacramento, Calif. They started their family, and Sally took a break from writing to focus on raising her son and daughter.
When Ed decided to return to school to work on his doctorate at the University of California, Los Angeles, Sally took it as an opportunity to do some outside writing. She did freelance work and some editing at UCLA. In particular, Kur assisted students whose first language was not English with their dissertations. This improved her skills as an editor.
"Those years, I really honed my skills," she says.
When the Kurs moved to Arizona in 1979, Sally began to work as a staff writer for the state's largest electric utility service, Arizona Public Service (APS). Her corporate communication responsibilities included internal communications, media relations and marketing. Six years later, Kur was named director of communications for Pinnacle West Capital Corporation, the parent company of APS.
"I learned what it was like to do the PR and marketing for major corporations," Kur says.
In 1989, with encouragement from Ed, Sally left the corporate world behind to form her own PR firm, Kur Communications. Three years later Steve Carr, who had worked for her at APS, joined her and together they formed The Kur Carr Group.
The firm's first client was APS, a testament to the high regard the utility had for Kur and Carr. Today the full-service public relations, marketing and media relations agency's clients include Bank of America, Ronald McDonald House, The Leona Group, one of the largest charter school organizations in the country, and Mesa Community College.
One of the agency's most amazing opportunities, according to Kur, was when she and Carr handled the media room following the landing of US Airways Flight 1549 in the Hudson River on Jan. 15, 2009. Their team handled more than 1,000 calls from national and international media outlets in three days.
Kur is president of the firm, and she does a broad range of communication activities. She associates her current success with her years working at the Columbia Missourian, where she established skills.
"Now probably one of my best skills in terms of writing is that I'm really a good editor," Kur says. "I think it stems from the training, discipline and experiencing the skills of the professors. The skills can take you to every place."
Always a Tiger
Even after venturing from state to state, the Kurs are loyal Tiger fans at heart and still talk about their days at Missouri.
Sally is especially grateful of her time at the Missouri School of Journalism. The initial skills she learned here allowed her to grow professionally throughout her career.
"I think you should take opportunity in hand, and I happened to have the Missouri journalism advantage, and it stayed with me," she said.

Amy Willmott is a journalism student at the Missouri School of Journalism on exchange from Macquarie University in Sydney, Australia. Willmott's program allows her to gain hands-on practice and experience the American culture while completing her bachelor of media degree in film and radio at Macquarie.
Updated: November 16, 2011