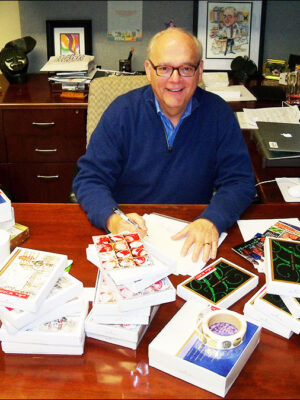 Degree(s): BJ '71
Whereabouts: United States, Kansas City, Missouri
Steve Doyal, BJ '71, came to the University of Missouri with a taste for journalism after working a couple of summers at the suburban newspaper group where his stepfather was production manager. It wasn't until covering a horrific accident on Highway 63 as a student reporter for KOMU-TV that he realized that the journalist lifestyle was not for him.
"It was so difficult for me to report on what was happening rather than to be highly empathetic, sympathetic and helpful," Doyal recalls.
It was a pivotal moment in Doyal's young life, one that caused some soul-searching about his future career options after graduation.
"I realized that intruding in other people's difficulties and grief was probably going to be hard for me," he says. "But I still wanted to use the skills and the abilities that I had developed in the journalism school to communicate to others."
After spending more than 20 years as the senior vice president of public affairs and communications at Hallmark Cards Inc., Doyal attributes his change in heart – and ultimately the direction of his career – to that one moment in his time at MU.
J-School Junkie
Doyal quickly immersed himself in the journalism school and all that it had to offer when he arrived on campus. He was a member of Sigma Delta Chi and the Society of Professional Journalists. Doyal was elected president of the Journalism School Association for the 1970-71 academic year, a victory in more ways than one. He met his future wife, advertising student Cathy Yoder, through a mutual friend during the campaign. She had a knack for design and was volunteered by a friend to create the posters for Doyal's campaign as a favor.
"I was completely smitten by her, and she didn't even know I existed," Doyal says.
When he won the election, he had to focus on his next task – winning over the girl.
"I met the woman that I fell in love with and spent the rest of my life with, and I give the university a lot of credit for that," Doyal says.
His junior year also brought him to the classroom of broadcasting pioneer Edward C. Lambert, PhD '52. Lambert founded KOMU-TV/Channel 8 in 1953. Today, the station stays true to Lambert's vision as the only university-owned commercial TV station in the U.S. that uses its newsroom as a learning laboratory for the School's broadcast journalism students. Lambert was one of Doyal's most influential professors.
"He was a great storyteller but more importantly, he had enormous patience to help us along," he says.
Doyal wasn't the only student to feel connected to Lambert. Years later, Doyal and many of his former classmates endowed the Edward C. Lambert Seminar Room in the Donald W. Reynolds Journalism Institute. It was dedicated in 2008 during the School's centennial celebration.
"He developed relationships with each of us. Rather than just being a professor, he was genuinely a teacher," Doyal says.
A Short Detour
While his time as a student felt safe and secure inside the walls of MU, Doyal knew that outside of campus there was a war raging – literally.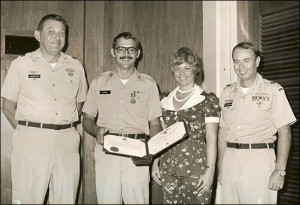 The Vietnam War began long before Doyal entered college, but the draft was implemented in 1969 during his sophomore year. He was selected 14th in the draft.
"It was pretty clear that my first job out of college was going to be the United States Army," Doyal says. At graduation, he was initiated into Kappa Tau Alpha, the journalism honor society, for earning one of the top grade point averages in his class.
When the time came, he never saw combat duty. Instead, after basic training he got what he called "absolutely the luck of the draw" by being sent to Schofield Barracks, Hawaii, to be an information specialist.
There, Doyal's ability to write and produce information was put to good use. He wrote for the Hawaiian Army Weekly, crafted press releases for the Army and developed speeches for military members.
"It gave me a taste of what corporate communications might look like because I was advancing and supporting the view of the United States Army," he says. "I used the experience in a way that helped me refine my thinking of where I would look for work once I got out of the military."
After two years in Hawaii, Doyal's abilities were no longer needed with the Army, and he headed back home. Thanks to his military experience, Doyal had an idea of where he wanted his career to go.
Finding a Home at Hallmark
Doyal moved back to Kansas City and started looking for his future career.
"It was a difficult job environment at the time," Doyal says. "I wrote every company I could think of that might have a corporate communications department."
After a few months of searching, Doyal walked into his first interview at Hallmark, which happened to be conducted by Pam Moore, BJ '71.
"She graduated from the J-School the same year I did and that probably helped me a lot in the long haul," he says.
At Hallmark Doyal began writing sales publications and worked in several different facets of the communications department. He had no way of knowing he had just embarked on a company career that would stretch across four decades. Still, it was clear to Doyal from the beginning that Hallmark, with a strong company vision and values, was going to be a great fit.
"Hallmark was a particular interest for me because it was known for the way it treated its employees, and that reputation made it appealing," he says.
Hallmark's vision reads: "We will be the company that creates a more emotionally connected world by making a genuine difference in every life, every day." This vision embodies Hallmark products but also its employees and how they work together to make a brighter future for each other.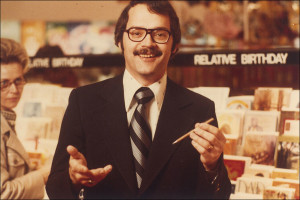 One way Doyal saw Hallmark's vision being exemplified was through his mentors and the opportunity he had to mentor others. He found it rejuvenating to be able to work with such inspiring people, in particular, Jim Dawson, one of his supervisors in the earlier years of his career.
"What differentiated Jim from lots of folks is he was willing to take a risk," he says. "If you failed, he failed, but he also believed that if you succeeded, so did he."
Hallmark lived up to the reputation that Doyal imagined. The innovation Hallmark inspired, stimulating coworkers and encouraging environment didn't just draw him in, it kept him around for more than 40 years.
When Tragedy Strikes
After a few years working at Hallmark headquarters, Doyal transferred to work at the Crown Center Redevelopment Corporation, one of Hallmark's subsidiaries, as its public relations manager.
The corporation had been formed in the 1960s to restructure the rundown area surrounding Hallmark's headquarters. By the time Doyal joined the redevelopment corporation, the construction of the new Crown Center was underway. It was his job to communicate what was happening to the public and shed a positive light on the changes being made.
When the first phase was completed, the Crown Center consisted of five interconnected buildings, a shopping center, a residential community, the Crown Center Square Fountain and two well-known hotels – the Westin and, at the time, the Hyatt Regency.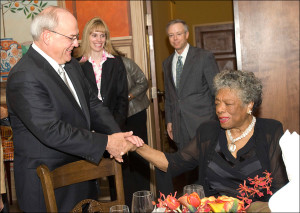 On a July evening in 1981 the Hyatt Regency was holding a tea-dance party when two walkways that connected the buildings collapsed; 114 people were killed.
"It was a tragedy of enormous proportion," Doyal remembers.
Though Hallmark and the Crown Center were not held at fault for the collapse, it was still a very difficult time for both companies.
"People and media, the instant it happened, wanted to know how did it happen, why did it happen and whose fault was it, and none of those things can be known right away," Doyal says. "What needs to be known is how can you help the people who have been injured, hurt or have experienced tragedy in their lives."
Doyal counts the event as one of the most challenging times in his career. He attributes much of his ability to handle it to the constant deadlines, due dates and time crunches during his time in the Missouri School of Journalism.
"You focused on what had to be done and you worked to help get it done, absent other distractions," Doyal says. "The journalism school helped prepare me for the work that needed to be done."
A Lifelong Company Career
Upon retiring in 2015, with more than 40 years at Hallmark under his belt, Doyal had served in several different positions and collaborated with hundreds of people across the company and the nation. From celebrating Hallmark's 100th birthday in 2010 to working with Maya Angelou on a card series, Hallmark provided him with many great career accomplishments.
Doyal recognizes that it is an anomaly in this field to have a career at a single company that stretches as long as his did. However, in a privately-held company with such high familial and emotionally-connected values, it was understandable and even encouraged for Doyal to have worked under two different CEOs and pursued a lifelong career at Hallmark.
Though Doyal started his college career eager to report the news, his transition into the world of corporate communications proved to be a great one. His love for gathering and distributing information along with his need to serve people was well suited for a lifetime career at Hallmark.
"I couldn't imagine that I would be at Hallmark even five years, and I ended up staying for 41," he says. "I have always been in a position where I felt the work that I was doing was meaningful to the company and meaningful to other people."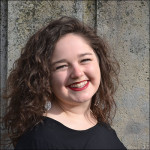 About the Author: Emily Dunne left her hometown of Naperville, Illinois, to study strategic communication at the Missouri School of Journalism. She will graduate in May of 2016. After a successful internship in content marketing at Molex, LLC, she will continue her work with the company as a marketing specialist upon graduation. Dunne looks forward to seeing the Missouri Method pay off in her future.
Updated: December 20, 2015