T.J. Quinn
Investigative Reporter/Anchor at ESPN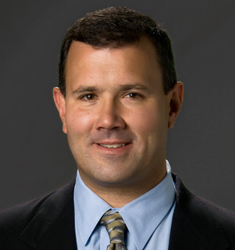 Degree(s): BJ '91
Whereabouts: United States, New York, New York
Sometimes things don't always go according to plan. However, with hard work and help from the right people, opportunity can appear where you least expect it. Such is the journey of T.J. Quinn, BJ '91, who graduated from the Missouri School of Journalism with no intention of working in sports, yet today he works as an investigative reporter/anchor at ESPN.
A born writer, Quinn was born in New York City but grew up in Alexandria, Va. From an early age his parents and teachers told him he was an advanced writer and should continue to develop his craft. He stuck with it. Once he began high school at Fort Hunt, he knew what his strengths were and began writing for the school newspaper with the ultimate ambition of working for the New York Daily News.
"Some kids wanted to be astronauts one day and a doctor the next," Quinn says of his adolescent years. "I just always knew what I wanted to do."
During his junior year in high school, Quinn got his first taste of what it was like to cover an important news story. Fort Hunt was closing down and merging with West Potomac High School in Alexandria. Quinn was there to cover it all. He attended school board meetings, investigated lawsuits and became the main source of information for the other students in school.
"There was just this incredible energy around this story and I was so wrapped up in it," he says. "This was a huge story for those kids and they all came to me for the info."
Armed with the talent and the desire to continue pursuing a journalism career, it was time to decide where he would attend college. After considering Wisconsin, Indiana and Boston University, among other schools, Quinn decided that Missouri was the best fit for him. He felt it offered students the most in terms of professional development and exposure to the business.
Life at Missouri
Upon his arrival, Quinn quickly began to get involved in campus life. He spent two years as a residential assistant in Graham and Defoe residence halls. He developed a close relationship with Professor Robert Knight and became a teaching assistant for Knight's introductory newswriting course, required of all pre-journalism students vying to get into the school. Quinn was selected as the only undergraduate teaching assistant for the semester, a position normally given to graduate students.
"He knew I really cared a lot about journalism education; it was something we had talked about," Quinn says. "He had faith in me and gave me a chance."
During his fourth of five years on campus, Quinn stumbled upon some unexpected news while attending a political science class in the civics building. Someone interrupted class and handed his professor a note asking him to allow T.J. to call the Journalism School immediately.
"I thought something awful had happened to my family or something so I ran to the nearest pay phone," Quinn said. "When they answered, they assured me it was for good reason."
The Los Angeles Times had called Dean Mills looking for a student to take part in their series of stories dealing with the start of the Gulf War in 1990. They were looking for perspectives on the U.S.'s invasion of Iraq from mostly famous people throughout the country.
Quinn's father was an officer in the Marine Corps, and Quinn himself had thought about joining the military in his early years. He also had a friend who was sent over to Iraq. At age 20, his written perspective was published in the Times.
During the same year, Quinn spent two semesters writing for the Missourian. He covered Trump-S, which was a controversial project dealing with recycling nuclear waste that was being done down at the Research Reactor on Providence Road. He also wrote stories dealing with the relatively new AIDS phenomenon that was sweeping the country.
"My aim was to educate people because there were so many myths about the disease at the time," Quinn says. "That whole issue was just starting to hit in mid-Missouri."
Quinn was then hired at the Missourian as the assistant city editor, a paid position at the time. It was there he met the man who would have a great impact on his life, Managing Editor George Kennedy. Quinn admittedly became complacent at his new position and began to coast through the semester.
Kennedy quickly put an end to that.
"He came in one day and looked at me and asked me when I was going to get off my a** and do something for this paper," Quinn says. "And I went into overdrive the rest of the way."
It was that kind of presence, Quinn says, that prepared him for the real world.
"He was such a professional, and he expected all of us to be professional all of the time," he said. "You really had to grow up quick."
Starting His Career
Upon graduation, Quinn accepted a job at the Daily Southtown in Chicago as a news reporter, covering several south Chicago suburb school boards and city councils from 1992-94. There he met another writer at the paper who he would later marry. Colleen Diskin was from Chicago and graduated from the University of Illinois.
From there he went on to work for the Salt Lake Tribune covering suburban growth issues and the mayor's race.
One time, Diskin returned to Chicago to visit family and continue to plan the couple's wedding. She stopped by to chat with the couple's former editor, Mike Kelley, who mentioned that the White Sox beat had just opened up at the Southtown. Quinn phoned Kelly and, after a year and four days in Utah, covered the White Sox during the 1996 and 1997 seasons.
In the year 2000, Quinn's dream of writing for the New York Daily News became a reality. He had spent the 1998 and 1999 seasons covering his favorite childhood team, the New York Mets for the Bergen (N.J.) Record. The next year, Quinn was hired for the same position for the Daily News. After two seasons traveling with the team on the road and spending late nights at the ballpark, Quinn decided that the demands of professional baseball beat writing was too much and made the switch to investigative journalism for the Daily News.
It was during these years as an investigative journalist that Quinn would leave his mark covering steroids use in baseball. He entered into a competitive relationship with Mark Fainaru-Wada, BJ '84, of the San Francisco Chronicle as the two delved into the world of performance-enhancing drugs in major league baseball. In particular, Quinn spent a lot of time in San Francisco reporting on the all-time leader in homeruns, Barry Bonds, and his connection to a steroid laboratory called Balco.
In 2004, Quinn was in San Francisco at the Phillip J. Burton Federal Building covering Bonds' testimony to the grand jury. Bonds was accused of lying to federal investigators about taking steroids and found himself at the center of the media storm.
On the day of the testimony, Quinn needed to make a phone call and turned down a small alcove on the 17th floor when he realized he had reached the back door of the grand jury room and could hear what was going on inside. Quinn began to take notes on what he was hearing and struggled with what he should report as there was no way to confirm what he overheard.
Faced with one of the biggest ethical dilemmas of his professional career, Quinn called Kennedy for guidance.
"He told me that I did what a good reporter should. I heard something interesting and kept listening," Quinn said. "That really put my mind at ease."
Reporting for ESPN, Quinn did indeed publish a story that got people around the nation talking about steroids in baseball but left out the facts he could not confirm.
Although Quinn and Fainaru-Wada were competitors in the world of professional journalism, they further developed their professional relationship spending time in San Francisco covering Bonds. Neither had any intention of leaving their respective publications but decided to pitch ESPN with a potential side project for their new show E:60, which deals with sports stories that occur off the playing field. Initially, ESPN was unsure of the pitch. Unexpectedly, they called the two back months later and offered them positions in the newly formed investigative enterprise unit.
One of Quinn's first live television appearances came on SportsCenter reporting on allegations that outfielder Manny Ramirez also had been using performance-enhancing drugs. On the air Quinn managed to say the name of the drug, human chorionic gonadotropin, flawlessly when a senior vice president was watching SportsCenter. That segment landed him a backup anchor position on Outside the Lines, another show that deals with off-the-field issues.
Quinn catches up on Tiger sports with John Anderson, BJ '87, and Pat Forde, BJ '87, when they are together at ESPN headquarters in Bristol, Conn.
Quinn is also an adjunct professor at Columbia University, teaching graduate students about the profession of newswriting and reporting. He never expected to land there either but accepted the position in 2007 after being asked by a colleague if he had any interest in teaching. He jumped at the chance to share his love of journalism with other students trying to get their start in the business. His Missouri connection remains strong. Quinn says he wears some type of Mizzou apparel "75 percent of the time" while on campus in Missouri and also keeps a Shakespeare's Pizza cup on his desk.
Just as his mentor guided him during the Bonds grand jury, one of the most challenging decisions of his professional life, Quinn hopes to one day return the favor to one of his students as they enter their career paths.
"It's all just a part of the service," he said.
Updated: November 10, 2011