William Taft, Historian and Journalism Educator, Dies at 95
By Ally Appelbaum
Columbia Missourian
Columbia, Mo. (Feb. 21, 2011) — One requirement that sticks out in students' minds of William Taft's history and principles of journalism class was to memorize and recite the Journalist's Creed written by Walter Williams, founding dean of the Missouri School of Journalism.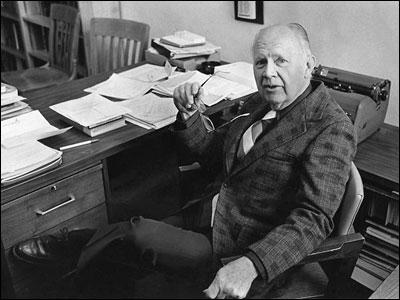 "Bill Taft was a man who cared deeply about the craft of journalism and cared deeply about the school," said Professor Emeritus George Kennedy, a former student and colleague at the Missouri School of Journalism. "He knew his material well and insisted that you master it."
Taft, credited with teaching more than 10,000 students in a career as a journalism educator that spanned 25 years, died Monday, Feb. 21, 2011, at Lenoir Woods. He was 95.
Taft first came to the Missouri School of Journalism in 1956. Brian Brooks, associate dean, said that Taft influenced two or three generations of Missouri journalism students "in a very positive way."
Taft served as historian for the Missouri Press Association and wrote 12 books, many of which focused on the history of Missouri newspapers.
Doug Crews, executive director of the Missouri Press Association, said Taft was "constantly documenting Missouri newspapers." He was inducted into the Missouri Press Association Newspaper Hall of Fame in 2001 for the work he did for the organization.
"He was a family man who was very devoted to his wife and family and a religious man who was very dedicated to his church, the Missouri United Methodist Church," Crews said.
Don Ranly, professor emeritus of the Missouri School of Journalism, described Taft as his friend and mentor.
"He took me under his wing and was my adviser all through my doctorate. I can't say enough good about my relationship with him and his wife, Myrtle."
Ranly talked about the loving relationship Taft and his wife shared.
"They were two people madly in love all their lives, and it was wonderful to watch."
Taft wrote a book in 2008 about his wife called "Created in Heaven: A Love Story." His daughter, Alice Taft-Fisher, said that spending time with his wife was his favorite thing to do. The couple celebrated their 70th wedding anniversary on Jan. 18.
Taft-Fisher also described her father as the "ultimate multitasker" and said he was always grading high school yearbooks while waiting in the car for her to finish her horse riding lessons. "He never did just one thing at a time."
Taft was active in the community as past president of the Columbia Kiwanis Club and Boone County Historical Society. He edited the Kiwanis Club newsletter for 14 years and was recognized as Kiwanis Churchman of the Year and Kiwanian of the Year.
He was also a member of the Columbia Track Club and was known for his race walking. He also enjoyed walking his dog, Penny.
Taft served nearly five years in World War II. As an intelligence officer in 1945, his group was headed for the Pacific arena when President Harry Truman ordered the dropping of the atomic bomb. According to biographical information compiled by the family, Taft credited Truman's decision with possibly saving his life – along with millions of others.
Survivors include his wife, Myrtle; three children, Marie Margolin of Portola Valley, Calif., Bill Taft of Prairie Village, Kan., and Alice Taft-Fisher of Campbell, Texas; four grandchildren, Larry Taft of Kansas City, Michael Taft of Austin, Texas, Linda Medina of Dallas and Matthew Margolin of New York; and four great-grandchildren.
Services will be held Saturday at Missouri United Methodist Church, 204 S. Ninth St., with visitation from 1 to 3 p.m. and a memorial service at 3 p.m. His body was donated to the MU anatomy department; his ashes will be buried in the family plot at Columbia Cemetery.
Memorials can be made to the William H. Taft Ph.D. Fellowship in Mass Media History at the Missouri School of Journalism.
Updated: May 20, 2020