Retired Broadcast Professor Dave Dugan Dies
He Taught Every Student in Broadcast 101, the Entry-level Reporting and Writing Class During His Time at Missouri
Overland Park, KS. (July 29, 2016) — Retired Missouri School of Journalism professor Walkerman David Dugan Jr., 85, died on July 23, 2016, at his home in Overland Park, Kansas.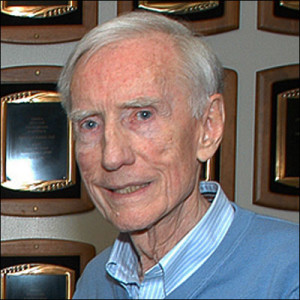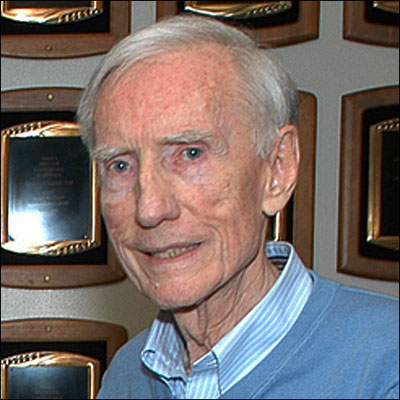 Dugan's introduction to broadcast journalism began at Dartmouth College where he received an A.B. degree in sociology in 1952. There, he was chief announcer at the college radio station WDBS and managed the dance band. Dugan worked summers at station WHDL in Olean and WEBR in Buffalo. After graduation, Dave sold radio time and was a sports announcer for WESB in Bradford, Pennsylvania. He was a television sportscaster for WICU-TV in Erie, Pennsylvania, and enjoyed doing play-by-play for minor league baseball games in Jamestown, New York. Dugan earned a graduate degree in philosophy in 1956 at Saint Bonaventure University.
Dugan began his career with CBS News and the Network in 1957, a career that lasted 36 years. His first job at CBS radio in New York was reporting for "This Is New York" with Jim McKay. The radio news program won a Peabody Award. He was also a play-by-play announcer of Ivy League football games for WCBS.
After two years, he decided to pursue his goal of management by joining CBS radio sales staff. However, after only four months in sales, he returned to the news side of the business and became a correspondent for the CBS Evening News with Walter Cronkite. During the 60's, Dave covered network TV news on civil rights, politics and space as well as co-anchoring news broadcasts for the Cronkite Evening News. Dugan shared many of his memorable interviews throughout the years and covered the funeral of President John F. Kennedy, the March on Washington and was in the recovery fleet for the John Glenn spaceflight.
During his time at CBS, he helped start a broadcast news workshop for minority students at Columbia University in New York in 1969. Two years later, then-dean of the Missouri School of Journalism Roy Fisher recruited Dugan to be a journalism professor and general manager of a new NPR affiliate and training ground for students, KBIA-FM.
During his 15 years at Missouri, Dugan also served as chairman of the broadcast news department and taught every student in the entry-level reporting and writing class, Broadcast 101. When University of Missouri classes were not in session, Dugan worked at CBS-owned KMOX radio in St. Louis and would return to campus each fall with a new set of stories and experiences.
After his stint at the University of Missouri, Dugan retired to Laguna Niguel, California, with his wife Joy. But he just couldn't completely retire from the news. Dugan worked part-time at CBS Los Angeles KNX NewsRadio, but that only lasted a few years. Dugan came out of retirement in 1989 to become program director at KMOX radio until 1993. Dave's goal was always management and said it was important to know the business side of broadcasting.
In 1999, Dugan and his wife moved to Kansas City to be closer to their daughter and her husband. Dave kept busy volunteering in the community as a safe driving teacher for the AARP. (He always shared that it was "classroom only," no "Mr. Holland's Opus.") He also enjoyed volunteering with the University of Kansas' Audio-Reader Network. In 2008, former students and colleagues set up an endowment for MU libraries to honor Dugan.
Dugan was a life-long teacher, a life-long learner and above all strived for ethics in all aspects of life. "Professionalism," he called it. He shared with everyone an enormous sense of wisdom and knowledge of life and spent a good part of his later years keeping in touch with his former students.
Graveside services will be held on Aug. 8, 2016, at St. Bonaventure Cemetery in Allegany, New York. A memorial will be held at the Missouri School of Journalism on Oct. 29, 2016. In lieu of flowers, memorial donations may be made to the Missouri School of Journalism or the Down Syndrome Guild of Greater Kansas City.
Updated: September 29, 2020
Related Stories
Expand All
Collapse All
---