Tribute to Former Professor Dave Dugan to Be Held Saturday, Oct. 29
The Program Will Begin at 4 p.m. at the Missouri School of Journalism
Columbia, Mo. (Oct. 22, 2016) — Alumni will host a tribute to David Dugan Jr. on Saturday, Oct. 29, in the Palmer Room of the Donald W. Reynolds Journalism Institute at the Missouri School of Journalism. The doors will open at 3:30 p.m., with the program to start at 4 p.m.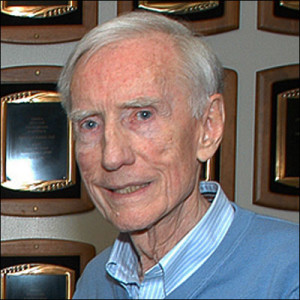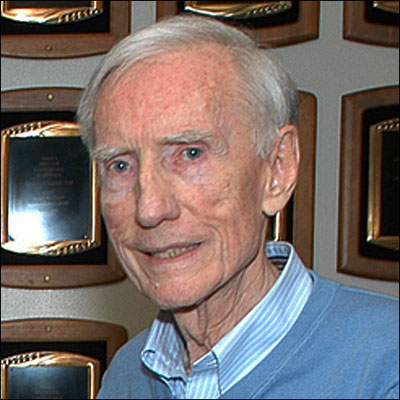 Dugan died July 23, 2016, at the age of 85. He joined the School's faculty in 1971 to be a journalism professor and general manager of the new NPR-affiliate KBIA-FM. During his 15 years at Missouri, Dugan served as chairman of the broadcast news department and taught every student in the entry-level reporting and writing class, Broadcast 101. When University of Missouri classes were not in session, Dugan worked at CBS-owned KMOX radio in St. Louis and would return to campus each fall with a new set of stories and experiences.
In his obituary, alumni remembered Dugan as a life-long teacher, a life-long learner and above all, one who strived for ethics in all aspects of life. He shared with everyone an enormous sense of wisdom and knowledge of life and spent a good part of his later years keeping in touch with his former students.
Speakers will include Dean David Kurpius, Professor Emeritus Roger Gafke, Dugan's son-in-law Brian Briggs and several former students. Audience members will be invited to share comments as well. A reception will be held at the conclusion of the program.
Former students and colleagues plan to create a bronze plaque to hang at the School to honor Dugan's legacy. Checks should be made payable to the "Missouri School of Journalism" and should be sent to the Advancement Office, Missouri School of Journalism, 103 Neff Hall, Columbia, MO 65211, or to Max Utsler, 1602 N. Hunter Drive, Olathe, KS 66061. Online contributions can be made to giving.missouri.edu/duganlibraryfund.
Updated: October 6, 2020
Related Stories
Expand All
Collapse All
---