Journalism and Strategic Communication students have 'A Reason to Roar' about Homecoming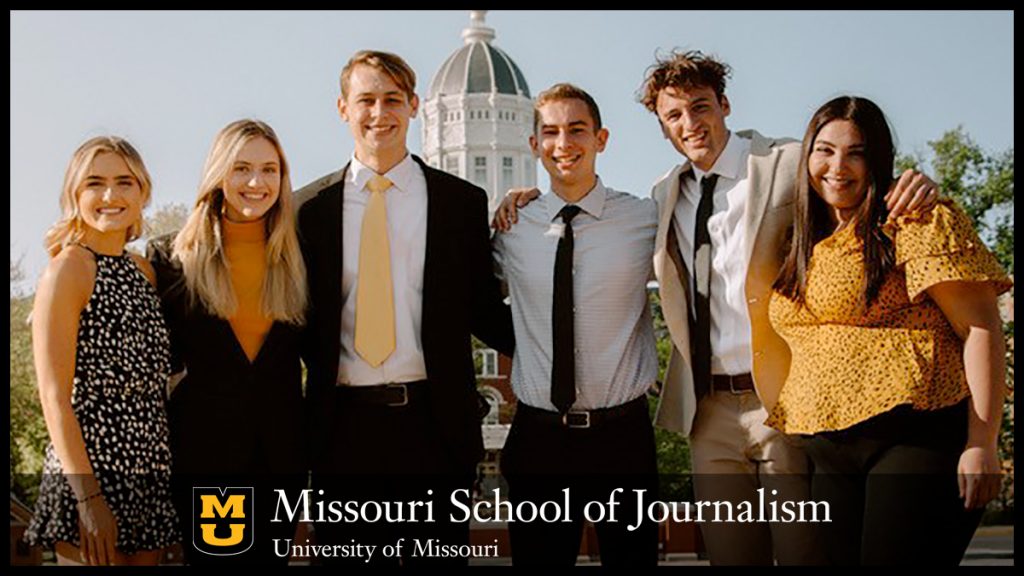 PR Committee and Tri-Director Jackson Ptasienski. From left to right: Jess Janorschke, Abby Blasingame,
Tri-Director Jackson Ptasienski, Jared Fisch, Andrew Moore, Karsen Idelman
By Abby Werner
Mizzou's Homecoming was back in the way that most people remember it pre-pandemic, with large events like the parade, talent show and student-run blood drive. Many journalism and strategic communication students were part of the action, both on the Homecoming Steering Committee and in royalty Top 30.
This year's theme was 'A Reason to Roar' with the subtheme of video games for events like Decorate the District and Campus Decorations.
"We wanted to choose a theme that was separate from the pandemic, because we didn't know where we would be at the time of Homecoming when we were doing the initial planning," said Abby Blasingame, a junior Strategic Communication student on Steering Committee. "We landed on 'A Reason to Roar' because it was both optimistic, and was different from some of the typical tradition-related themes."
The Homecoming Steering Committee is the group of students that has the task of planning and putting on Homecoming every year. Within the group, there are multiple smaller committees that are each involved in spearheading their particular event, like the Blood Drive and Talent Committees.
Senior strategic communication student Jared Fisch served on the Public Relations Committee, which was responsible for promoting each event, as well as Homecoming at large. Throughout the week of Homecoming they were the ones documenting everything and posting behind the scenes content of all of the events on social media.
"There were five of us on our committee, and we each had different skill sets which made us a really strong team," Fisch said. "With photo, video and social media, we worked really well together and I am proud of the content we were able to create."
And the Public Relations Committee garnered huge results. In the time period of Sept. 1-Oct. 10, the Mizzou Alumni and Mizzou Homecoming Facebook, Instagram and Twitter accounts earned 2,024,397 impressions, 85,268 engagements and 1,968 new followers. Mizzou Alumni video engagement on both Facebook and YouTube earned 181,598 impressions, 25,688 views and 7,901 engagements.
Another point of pride for students on the Steering Committee was the implementation of a new tradition: the Homecoming Dome Lighting, including a countdown, concert and Homecoming goodies. In its very first year, they had over 800 people in attendance.
"I'm excited for if my future kids decide to go to Mizzou," said Liza Mahacek, a senior broadcast journalism student on Steering Committee. "Because if they tell me that they went to the Dome Lighting, I'll be able to say that I was part of the group of students who started that, which is so cool."
In addition to the Steering Committee, a few journalism and strategic communication students were selected for Top 30 for Homecoming Royalty based off of their leadership and involvement at Mizzou. Senior strategic communication student Jake Reed represented his fraternity Pi Kappa Phi.
"I decided to apply for Homecoming Royalty because I wanted to get involved with the traditions of the university on a larger scale than just participating in the events of Homecoming," Reed said. "And I'm glad I did it. I had fun meeting other people who applied and went through the interview process, especially since I wouldn't have met them otherwise."
When reminiscing about Homecoming now that it is over, Mahacek commented on the parallels between planning an event as large as Homecoming and being a journalist.
"It's always our goal as the Steering Committee to get as many people involved as possible, especially those who are outside of the typical Greek life mold," Mahacek said. "And in a similar way when I am reporting, I try to interview people outside of the standard white male adult. I want to represent Missouri as a whole, just like Homecoming represents all of Mizzou."
Journalism & Strategic Communication students on Homecoming Steering Committee
Abby Blasingame*
Jared Fisch*
Roshae Hemmings
Karsen Idelman*
Jess Janorschke*
Ericka Loida
Liza Mahacek
Kieran Malloy
Andrew Moore*
Michael Muckerman
*Means they were on the Public Relations Committee.
Journalism & Strategic Communication students in Top 30:
Maddie Kaiser
Mac McMullan
Lauren Michelson
Jake Reed
Paola Rodriguez
Updated: November 1, 2021
Related Stories
Expand All
Collapse All
---