Missouri School of Journalism welcomes Vera Elwood as new head librarian of historic Journalism Library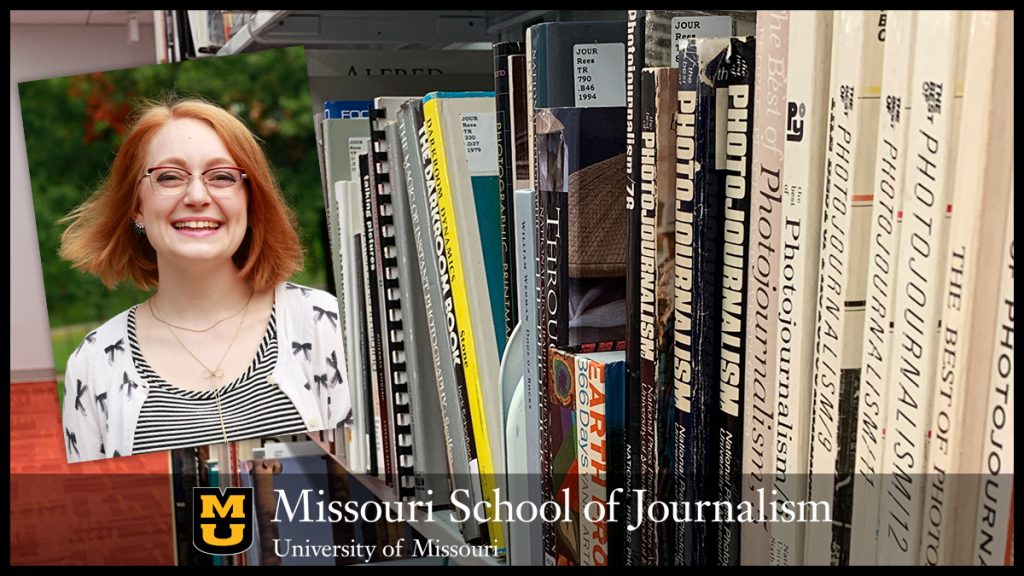 Columbia, Mo. (July 28, 2022) — Mizzou alum Vera Elwood is the new head librarian at the Journalism Library, which serves the Missouri School of Journalism. Overseeing the collections and resources of the world's oldest journalism library, Elwood took the mantle in June at a crucial time for the library and the School it serves.
Amid the establishment of the One Newsroom in Lee Hills Hall — which involved moving the Columbia Missourian's own library and merging it with the Journalism Library — and a curriculum overhaul that has placed increased emphasis on cross-training students between the School's professional newsrooms, the journalism library acts as a central source of information and resources across disciplines.
"Vera's background in outreach and community literacy aligns well with the School's mission of supporting research and education in journalism and strategic communication that serves a real, beneficial purpose for Missourians," said David Kurpius, dean of the School of Journalism. "I'm confident her stewardship of this remarkable library will make it an even more useful resource for students, faculty, and staff in need of the valuable insights its collections — and its librarian — have provided since its founding in 1908."
Serving as the head of the historic institution seems fitting for Elwood, a third-generation Mizzou graduate who has nurtured a love of libraries and books from an early age. It's a role that others have sensed her potential for; In high school, her school librarians offered her a position as a teaching assistant, which would have involved learning the basics of library science. But at the time, her understanding of what librarians did was skewed by their popular depictions in media.
"I, like a lot of people, thought librarians sit in a dark room surrounded by books and shush people," Elwood said. "Even though that wasn't my experience with libraries at all, in the back of my mind, that was what librarians did. In college, I was in Ellis Library constantly — I practically lived there — but I didn't see it as a career."
That changed when she realized a librarian's role is far more people-centered and collaborative than she once imagined. Reviewing her soon-to-be-husband's coursework at library school, she suddenly knew she had found the vocation where her passion and skills could work together in harmony.
"It was just this moment of, 'Oh my gosh, libraries do so much more than I thought they did," she said. "I just really fell in love with the idea of being a librarian."
"It was just this moment of, 'Oh my gosh, libraries do so much more than I thought they did. I just really fell in love with the idea of being a librarian."
Graduating from Mizzou's College of Arts & Sciences in 2015 with a bachelor's degree in mass communication and media studies, she went on to earn a master's degree in library science from Emporia State University — and from that point on, there was no looking back.
In six years as a librarian, Elwood has strived to expand the community impact of libraries. At Hays Public Library in Kansas — an historic institution in its own right, first established in 1911 as a Carnegie Library — she created an outreach department that worked to make the library's programs and resources more accessible to underserved populations. Indeed, a through-line in all her work has been an emphasis on better serving people with disabilities, a topic she has spoken about at conferences across the country.
Now, as head librarian at the journalism library, she also supervises historic collections of newspapers, periodicals, and reference materials, as well as more than 30,000 print books. Some of the most important collections include the largest academic photojournalism collection in the world — including an archive of book submissions to the School's renowned photojournalism competition, Pictures of the Year International — and a 4,000-volume journalism fiction collection. Many of the library's materials are more than 100 years old.
"We have books in this building that cannot be found anywhere else," Elwood said.
But Elwood's job is about much more than curating the collections. At the School of Journalism, students — graduate and undergraduate — and faculty are often engaged in research projects that benefit from access to the library's unique materials. In addition to teaching students how to recognize trustworthy sources, Elwood often works closely with researchers, not only pointing them toward sources but serving as something of an advisor, helping them get the most out of what this and other libraries around campus have to offer.
"My favorite part of the job is going one on one with students and faculty working on projects, helping connect them to the sources they need, but in many cases also helping them redefine their research question into something that is actually researchable," she said. "Being able to work with journalism and strategic communication students — to work with the future of what communication looks like for the coming generation — is so exciting to me."
The collaborative nature of her work also extends to working with the School's Reynolds Journalism Institute — where the library is housed — to develop new approaches to archiving and preserving the accessibility of digital news. That effort, headed by digital curator of journalism Edward McCain, is in its beginning stages as a concerted effort between the School's professional newsrooms.
But beyond any one project, Elwood brings renewed vitality to the journalism library in its 114th year, ensuring that it will continue to help students, faculty, and staff serve the community through research and education for years to come.
Updated: July 27, 2022
Related Stories
Expand All
Collapse All
---