Charles Ridgway
Press Agent (Retired) at Disney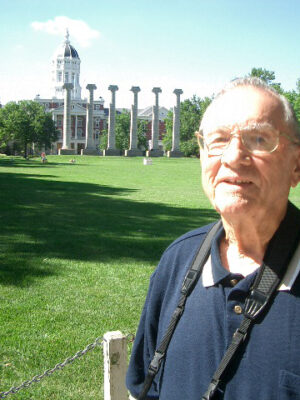 Degree(s): BJ '47
Whereabouts: United States, Longwood, Florida
Some might call Charles Ridgway, BJ '47, a "Disney Legend." After serving 40 years as press agent for Mickey Mouse parks, the Missouri alumnus became a legend and friend to newsmen around the world for his enthusiastic devotion to Walt Disney's dreams. At Walt Disney World in Florida he hosted thousands of news reporters and broadcasters at some of the largest "press events" ever staged.
At Mizzou, Ridgway was president of the Student Government Association, member of QEBH and Kappa Tau Alpha and editor of a weekly student radio news show on KFRU-AM. His father, Frank Ridgway, was a 1913 graduate of the School of Journalism and the first in the nation to receive a joint degree in agriculture and journalism. He later was a member of the Mizzou Board of Visitors.
"]
The younger Ridgway, now 83, has just authored a new book, "Spinning Disney's World," hitting the lighthearted highlights of his career as a publicist for Disneyland and Walt Disney World during four decades of unique promotional events. For Donald Duck's 50th birthday, for instance, Ridgway trained 50 white Peking ducks to follow the famous cartoon character and take part in daily parades down Main Street at Walt Disney World. With the help of his friend Walter Cronkite, he arranged for Supreme Court Justice Warren Burger to join Disney World's commemoration of the U.S. Constitution's 200th anniversary. His appearance at the inaugural of the Disney event was a surprise and shock to many newsmen. Ridgway also helped with arrangements for appearances in the Disney parks by Presidents George W. Bush, Ronald Reagan and First Ladies Nancy Reagan and Hillary Clinton.
As either a newsman or a press agent, Ridgway played a role in the opening of Disney theme parks around world, from California's Disneyland in 1955 to Hong Kong Disneyland in 2005, becoming one of the nation's better-known publicists. Along the way, Ridgway covered Disneyland's "disastrous" opening day as a Los Angeles newsman, moderated press conferences for executives from Walt Disney himself to Michael Eisner, arranged a secret visit to the Florida Magic Kingdom for Britain's Prince Andrew, portrayed Pluto in Disneyland and personally guided hundreds of journalists through theme park construction sites. He helped host press "parties" attended by as many as 5,000 journalists for a single event; traveled tens of thousands of miles around the world spreading Disney news; wrote reams of copy about all things Disney; and collaborated with famous photographers for shots that appeared in Look, Life, Time, Newsweek, National Geographic, Parade and many other national and international magazines, publications and wire services.
Ridgway often regaled visiting journalists with a 1001 Disney tales from earlier Disney days. Finally, one travel-writer friend convinced him to put it in a book which has just been published by Intrepid Traveler Press. Ridgway is a walking search engine of experiences, facts and anecdotes. It is no wonder that he was inducted in 1999 as a Disney Legend at The Walt Disney Studios, along with Roy E. Disney, Tim Allen and Mary Costa, the voice of Disney's Sleeping Beauty.
"Charlie Ridgway is part a breed of people I'm not sure exists anymore in our business," says Roy E. Disney, Walt Disney's nephew. "He is absolutely a perfect representative, always on the lookout for a good story and always pointing it out to a reporter if he didn't see it for himself."
Ridgway graduated from the Missouri School of Journalism in 1947 after returning from World War II service with the 13th Armored Division in Europe. After newspaper and radio stints in Illinois and Pennsylvania, he headed to California where he worked on the staffs of the Los Angeles Mirror-News and the Long Beach Press Telegram. Ridgway foreshadowed his career as a Disney theme parks press agent in April 1955 when he convinced his editor at the Mirror-News to let him write a story about "sneaking" a neighbor kid in for a look at Disneyland construction weeks before opening, providing a two-page photo spread on the unfinished park. Three months later he was among scores of newsmen covering the July 17 press premier of Disneyland, a day plagued by hot temperatures, overcrowding, depleted water and food supplies and a gas leak, according to Wikipedia. Ridgway was among the few who wrote nice things about it at the time.
With a good deal of concern about switching hats from newsman to press agent, Ridgway joined the Disneyland publicity staff as a writer in 1963. In 1969, he moved to Florida to organize Walt Disney World publicity and became director of the department in 1982. Looking back he says, "I thought Disneyland would be the one PR job I could stomach for more than a week. I was right. And my radio and newspaper background, including my Missouri student days, helped me to understand what reporters needed and how best to help them."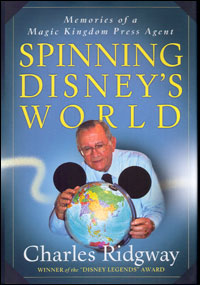 In the course of his long Disney career, Ridgway worked with and became friends with the likes of William F. Buckley, Lowell Thomas, David Brinkley, Tom Brokaw, Peter Jennings, Charlie Gibson, The Associated Press' Hollywood columnist Bob Thomas and a Missouri classmate, the legendary editor of Good Housekeeping, John Mack Carter, BJ '48, MA '49. Conducting park tours for news people and their families gave Ridgway a rare chance to make friends with hundreds of other newspaper and magazine editors, travel editors, feature writers, critics, sports reporters and television and radio news directors, anchors and reporters from around the world. Among his celebrity friends were actress Helen Hayes and comedian Bob Hope. (Note: Brinkley, Brokaw and Carter have received the Missouri School of Journalism's highest award, the Missouri Honor Medal for Distinguished Service in Journalism.)
"Despite his robust enthusiasm for the 'product,' Ridgway was always a thorough, relentless professional," says Walter Anderson, chairman and chief executive officer of Parade Magazine. "His credibility with news people is legend, a legend earned. He may have hated surrendering the answer to a tough question from a reporter, but he did. And he did it straight."
In his Disney role, Ridgway met every U.S. President from Nixon through the elder George Bush along with the children of Gerald Ford and Jimmy Carter. He was there when the press gave President Richard Nixon an extremely cold reception as he began his "I am not a crook" speech in 1973 at The Associated Press Managing Editors' Convention at Disney World's Contemporary Resort Hotel. Ridgway's Disney career is forever memorialized by a window on Main Street, U.S.A in the Florida Magic Kingdom. A mini-parade accompanied the unveiling by Mary Poppins and Disney CEO and Chairman Michael Eisner. In gold letters, the window reads: "RIDGWAY PUBLIC RELATIONS. Charles Ridgway, Press Agent. No Event Too Small."
In "retirement," Ridgway is not slowing down. He continues to travel around the world, occasionally writing stories about his travels for Sunday newspapers. Ridgway also has become an accomplished photographer whose pictures are distributed by photo agencies. He lives in Longwood, Fla., and continues to attend every new Disney World press event. He was married to the late Gretta Sayers Ridgway, BA '47, whom he met while both were serving on the Missouri student council.
Updated: November 10, 2011