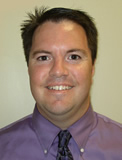 Degree(s): BJ '95
Whereabouts: United States, Corpus Christi, Texas
What do you do?
I am a secondary history teacher and a freelance writer.
What is the best professional lesson you learned at the J-School?
Have faith in experience, and listen to what those who know have to say. No matter how good you think you are, there's always someone out there, in your newsroom or someone else's, who has done it before and done it better. Learn from them. They might save you someday from making a huge mistake. And, when it's all over, take their place inspiring the next generation.
What advice do you have for current students?
Enjoy every minute of your time at Mizzou as you'll miss them when they're long gone. But make sure you're constantly setting and achieving small goals, which will pave the way to the big ones.
What is your favorite J-School memory?
Well, not my "favorite," but I'll never forget my Brad Pitt connection. As I understand it, faced with having to re-take Birgit Wassmuth's graphics class, he dropped out and moved west. I, on the other hand, retook the class, got my C and my journalism degree, and now spend my days fly fishing, conducting underground bare-knuckle brawls and aging in reverse.
Updated: November 3, 2011