Former Missouri Journalism Dean Elmer Lower Dies at 98
He Was a Television News Pioneer, Emmy-Winning Broadcaster and President of ABC News
Vero Beach, Fla. (July 27, 2011) — Elmer Wilson Lower, a former dean of the Missouri School of Journalism, passed away on July 26, 2011, in Vero Beach, Fla., after a brief illness. The Emmy award-winning broadcaster, who served as president of ABC News from 1963 to 1974, had a long and distinguished career over five decades and became an icon of broadcast journalism, having served as a television news executive for 25 years at ABC, NBC and CBS. He was director of operations and special projects for CBS, vice president and general manager of NBC and president of ABC News.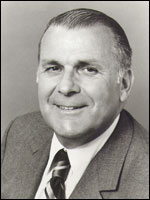 Born in 1913 in Kansas City, Mo., Lower was one of the early members of The Order of DeMolay, an international youth leadership development organization. (His older brother Louis was its very first member.) Before entering television broadcasting in its formative years, Lower devoted 20 years to print journalism, starting as a courthouse reporter in Louisville, Ky., after graduating from the Missouri School of Journalism in 1933 in the midst of The Great Depression. He felt lucky to get that job at a starting salary of $10 per week, because he always believed that "street reporting" is the basis of a solid career in news, print or broadcasting.
In the mid-1930s, photojournalism created new challenges and opportunities for American journalists, especially with the founding of LIFE magazine. Lower pursued the opportunity at ACME Newspictures (UPI Photos) and at Associated Press Wirephoto. His early photojournalism career took him to Cleveland, Chicago, Detroit and New York, where he met his wife to be, Gilberte Stengel, at a New Year's Eve party in Greenwich Village.
After the liberation of Paris in World War II, he joined LIFE magazine, serving first as photo editor and bureau chief in Paris, and then in Los Angeles and Bangkok, Thailand, where he directed LIFE's photo coverage of the Korean War. Lower served the United States government twice in the field of information abroad. At the outbreak of World War II, he joined the Office of War Information (OWI) to coordinate U.S. wartime propaganda and built international radio photo operations from scratch in Cairo, Egypt; Algiers, Algeria; and Naples, Italy. He went on to London, serving both the OWI and the Psychological Warfare Division, to prepare for and provide the world with coverage of the Allied D-Day assaults on the beaches of Normandy, France.
A Personal Reflection

Mr. Lower was a giant in our field – a television journalism pioneer who always upheld the highest standards of aggressive and ethical journalism. He was also a loyal and cherished friend of the School of Journalism – one who would do anything we asked of him.Being in a wheelchair did not keep him from coming back to celebrate the School's centennial in 2008. As always, despite some health problems, he was upbeat, optimistic about journalism and about the Missouri School of Journalism.The only time I ever saw his testy side was when the Florida papers didn't provide him with adequate coverage of his beloved Tigers. He was delighted when we arranged to have the Columbia Missourian fax all of the Missouri game reports to him at his residence in Florida.

Dean Mills
Dean, Missouri School of Journalism
During the Cold War of the early 1950s, he served as head of the information division of the Office of the U.S. High Commission for West Germany during the closing years of the Allied occupation of Germany. Entering broadcasting in 1953 at the very beginning of network television news, Lower began to shape what we now take for granted, becoming a broadcasting pioneer and legend. His first role was as head of the Washington news bureau for CBS. The operation was housed in an old, broken-down garage in the company's then location in Georgetown and had but one reporter, something he would immediately begin to improve on and expand. Moving to New York with CBS, he also assumed responsibility for CBS Sports, where, among other achievements, he led the "marriage of the pigskin and the TV picture tube" with the first, national coverage contract with the NFL. He also became increasingly involved in the coverage of American politics and elections, creating election tabulation and projection systems for all three major networks, an innovation in broadcasting at that time. Until then, the wire services (AP, UP and INS) were the source of national election results. As they were geared to newspapers, their results became too slow for broadcasting, which demanded tabulations the minute election polls closed.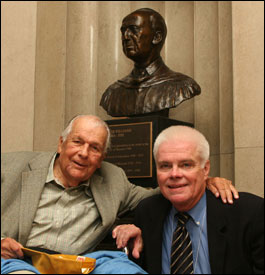 In 1964 the break-neck competition among the networks and wire services reached its peak. All five competitors – ABC, CBS, NBC, AP and UPI – agreed to call off the competitive madness and form a tabulation pool. Toward that end, Lower was one of the three co-founders of the News Election Services, along with Fred W. Friendly of CBS and William R. McAndrew of NBC.
Throughout his career, Lower would develop and organize many other innovations for the time, earning him a reputation as an organization builder. He took ABC News from a small non-competitve organization operating on a slim budget in 1963 to a competitive news team in 1974, increasing its budget many times over and tripling its staff. During that time he assembled a world-class team of talent including Peter Jennings, Sam Donaldson, Ted Koppel, Howard K. Smith, Edward P. Morgan, Frank Reynolds, John Scali, William Lawrence and Robert Clark.
War, assassinations and domestic violence marked the news beat during Lower's 11 years as president of ABC News. The "bookends" for that period were the assassination of President John F. Kennedy (1963) and the resignation of President Richard M. Nixon (1974). In between were the 10 years of an unpopular war in Vietnam, turmoil on college campuses and the violence and destruction in central cities amid demands for racial equity. On a more positive front, he was a leading advocate for in-depth coverage of the developing space program and expanding coverage of international news. His seminal work throughout his many years in television led to a lifetime achievement Emmy award for "personal standards of ethical and professional excellence" and the Radio and Television News Directors Association's highest individual honor, the Paul White Award. Lower received the Missouri Honor Medal for Distinguished Service in Journalismin 1959.
After Lower's retirement from ABC in 1978, he launched yet another career in teaching, an endeavor that took him as a professor to a dozen college campuses and a worldwide lecture circuit over the next 20 years, earning the prestigious Broadcast Journalism Educator of the Year Award in 1999 as well as many honorary doctorate degrees. Quite simply, he wanted to give back by sharing his experiences and professional perspectives with a future generation of journalists. During that period of time, he returned to his alma mater to teach seminars in the fall semester as well as serving full time as dean of the Missouri School of Journalism (1982-1983). He also served on the Board of Directors of the Public Broadcasting Service, including its executive and nominating committees.
He is survived by two sons, Louis (Winnetka, Ill., and Vero Beach, Fla.) and John (Tourrettes sur Loup, France), two grandchildren and five great-grandchildren. His wife, the former Gilberte Madeleine Stengel of Nancy, France, died in 1981. A second marriage to Margaret Kessler ended in separation.
A memorial service will be planned. Internment services in Kansas City, Mo., will be private. In lieu of flowers, donations may be made to the Elmer Lower Fund, Missouri School of Journalism, 120 Neff Hall, Columbia, MO 65211. For more information about making a memorial gift, contact Colin Kilpatrick, executive director of advancement.
Career Highlights
1913 Born in Kansas City
1933 Earned a Bachelor of Journalism degree from the Missouri School of Journalism
1933 Summer vacation relief editor, Republican-Times, Trenton, Mo.
1933-1934 Courthouse and police reporter, Herald-Post, Louisville, Ky.
1934 Courthouse and board of education reporter, Flint (Mich.) Journal
1934-1935 Statehouse reporter, United Press International, Jefferson City, Mo.
1935-1937 Bureau chief and vice president, United Press International, Cleveland, Ohio; covered the Republican National Convention
1937-1939 Feature and photo editor and writer, Newspaper Enterprise Association, Cleveland, Ohio
1939-1942 Picture editor and writer, Associated Press, Chicago bureau and New York headquarters
1942-1944 Field representative and photojournalism specialist, U.S. Office of War Information, served in Cairo, Egypt; Naples, Italy; and London, England
1944-1951 Numerous positions, Life magazine, including bureau chief in Paris, France, and Los Angeles; roving correspondent in Far East
1951-1953 Director of information, U.S. High Commissioner for Germany Information, Frankfurt, Germany, and Bonn, West Germany
1953-1959 Numerous positions, CBS-TV, Washington, D.C. and New York, including director of special projects, news, and director of operations, news
1959-1963 Numerous positions, NBC-TV, Washington, D.C. and New York, including chief and executive producer of convention, election and inauguration coverage. Also served as vice president and general manager, New York, and executive producer of all political and space coverage.
1959 Received the Missouri Honor Medal for Distinguished Service to Journalism, Missouri School of Journalism
1963-1978 President, ABC News, New York, for first 11 years, four years as corporate vice president and company officer. Retired on May 1 at the mandatory age of 65.
1970 Earned a Master of Arts degree in public law and government, Columbia University
1975 Received an Emmy Award for lifetime achievement
1975 Received the Paul White Award, the Radio-Television News Director Association's highest honor that given to recognize an individual's lifetime contributions to electronic journalism
1975 Received an Honorary Doctor of Humane Letters degree, University of Missouri
1978 Broadcast professor, Missouri School of Journalism
1978-1995 Teacher of journalism at Missouri School of Journalism, James Madison University, Brigham Young University, Syracuse University and Columbia University
1982-1983 Interim dean, Missouri School of Journalism
Updated: June 2, 2020
Related Stories
Expand All
Collapse All
---