Henry Hager, 85, MU Journalism Professor, Remembered for Graceful Interaction
By Nicole Jones
Columbia Missourian
Columbia, Mo. (March 9, 2012) — Henry Hager could be described in one word by his friend George Kennedy, an MU professor emeritus.
"It occurred to me that if I had to describe Henry in just one word, it would be graceful," Kennedy said. "As a former athlete, Henry was physically graceful. More than that, in terms of his intelligence, his dealings with other people, he was just interested in them and graceful."
Mr. Hager was born Sept. 12, 1926, to Henrietta Brandebury and Jack Hager.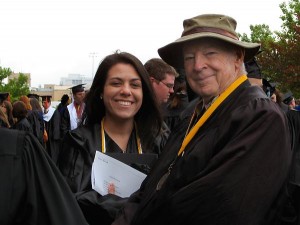 MU alumna Rebekah Sasse said the first time she saw Mr. Hager she knew that he was a friendly person.
"I remember, right off the bat, that Henry had a very gentle, just kind spirit," Sasse said. "But yet, he was authoritative and he knew what he was talking about."
Although Sasse was never in one of Mr. Hager's classes, she developed a friendship with him when she worked as a journalism ambassador for the Missouri School of Journalism and when she wrote a profile story about him for a class. She said he became a teacher because of the students.
"What drew him to teach wasn't so much his knowledge of the profession, but his love for the student," Sasse said. "He talked about it a lot."
Mr. Hager, who was a professor emeritus, joined the journalism faculty in 1985. His dedication to the school and to students continued even after he left the MU staff, Sasse said.
"Henry came in and spoke with prospective students two to three times a week because he loved the school that much, and he wanted to remain a part of it even after he retired," Sasse said.
She recalled her honors convocation ceremony, when she asked Mr. Hager to walk with her as her mentor.
"He didn't have a mortarboard," Sasse said. "He only had a fishing hat. He was so worried about it. I just told him, 'Henry, I don't care. I'm just really glad that you're here.'"
Mr. Hager's contact with his students continued after they left MU. Sasse said she would call him at times, and according to his daughter Jenny Hager, the family still receives mail for him.
"We still get letters from students from years and years back," his daughter said.
Jenny Hager said everyone loved Mr. Hager. She recalled an instance when his co-workers displayed that love.
"He had a propensity for plaid pants and Chuck Taylors," she said. "He continued to wear beat up Chuck Taylors for the rest of his life. He was working for Young & Rubicam in Detroit. For his going-away party, we all showed up to this party, and every person there was wearing plaid pants and had a Henry Hager mask on."
Mr. Hager was also a reader and a writer.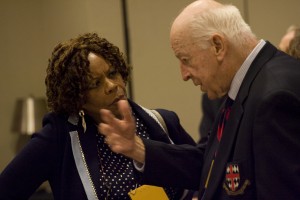 Professor emeritus Steve Weinberg, a colleague of Mr. Hager's, said he remembers when Mr. Hager asked him to distribute his books to people around Columbia as his Alzheimer's grew worse.
"He asked me to decide who should receive each book – they were like family to him – and then distribute those books," Weinberg said in an email. "I granted his request. Then Henry's wife, Laura, asked me to slow down, saying that Henry might find comfort in browsing through at least some of his books a while longer. So I slowed down."
After graduating from Yale University in 1951, Mr. Hager began work on a novel.
"He spent 10 years driving trucks and doing odd jobs while trying to write a great American novel," Jenny Hager said.
He published "Fireball," based on his experiences working in advertising for Chevrolet stock car racing, in 1963.
Weinberg remembers reading five manuscripts of unpublished novels that Mr. Hager wrote.
"They were interesting and educational, especially because the words on the pages provided insights into Henry's remarkable mind," Weinberg said in an email. "I did my best to encourage Henry to seek publication, and introduced him to my literary agent. But his soul wasn't dedicated to actual publication. He simply wanted – needed – to write to feel most alive."
Jenny Hager also said that despite his work, he still made time for family.
"He was a man who worked full time at an advertising agency, was working on his writing, but coached his children's soccer team," she said. "He was a mentor to his children, and he was just a very involved father."
Mr. Hager's son, John Hager, agreed with his sister.
"He gave his 100 percent effort to us growing up and developing us into the people we are," he said.
The effort he put into parenting Mr. Hager expected out of his children as well.
"I think one thing is school," John Hager said. "He was strict about behavior and high expectations. He wanted myself and my sister to always try our best."
Mr. Hager is survived by his wife, Laura Hager; a son, John Hager, his wife, Tracy, and their son, Jason; a daughter, Jenny, her husband, John Hindman, and their son, Patrick; a sister, Adele Saunders; and a niece, Sabrina Saunders and her husband, Bruce Featherstone, and their son, Rex.
Services will be at 10 a.m. Wednesday, March 14, at Calvary Episcopal Church, 123 S. Ninth St.
Memorial donations can be made to the Food Bank for Central and Northeast Missouri, 2101 Vandiver Drive, Columbia, MO 65202.
Updated: June 5, 2020