Katrina Troy takes untraditional path to creative excellence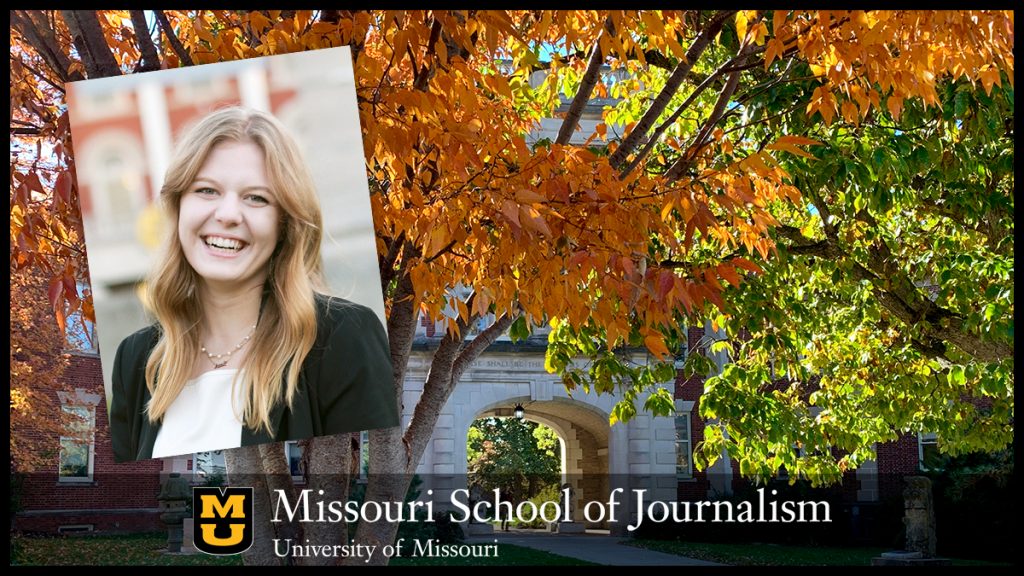 By Abby Werner
Columbia, Mo. (Jan. 4, 2022) — Senior Katrina Troy has made the most of her college experience at the Journalism School. She has interned in New York, gotten involved with Relevant Youth (an advertising agency run by students), worked an off-campus job, changed journalism interest areas twice, and now serves as the art director for her MOJO Ad team, Meraki.
Troy, originally from Lake in the Hills, Illinois, is focusing her studies on strategic communication with an emphasis in art direction. She also is minoring in statistics.
"I pride myself on being good at analytical, organizational left brain type things, but my passion is for art and creativity, right brain type things," Troy said. "I love that I am a little bit of both, because I think that surprises most people."
She has used those organizational skills while being employed as a licensed insurance representative for State Farm. Troy first started working as an office assistant at her local State Farm office when she was a junior in high school. For her 18th birthday, she earned her property and casualty license. She continued her position at her hometown's office through her freshman year of college, working virtually from her dorm room.
Working at State Farm gave Troy extensive experience with talking on the phone and emailing clients, which quickly evolved her communication skills from a fairly young age.
"I credit a lot of my confidence with working for State Farm," Troy said. "I see so many parallels with what I do now in strategic communication when communicating with clients, pitching ideas and managing client expectations."
By the start of sophomore year, Troy knew she wanted to work in-person again, so she transferred to Stephanie Wilmsmeyer's State Farm office in Columbia. Her favorite part of the job is that she works with a talented and supportive, all-female team.
"Katrina brings a creative perspective to not only her role but to the entire agency team," said Wilmsmeyer. "Her energy and ideas are refreshing. She is eager and willing to take on anything we need her to do, and she does so with a high level of professionalism."
Troy's other professional experiences include participating in the Journalism School's New York internship program. Over the summer, she interned with CSM Sport & Entertainment as a creative strategy and design intern, focusing on experiential marketing. While there, she got to work on brands like Coca Cola, H&M, Hinge and HBO.
"I pride myself on being good at analytical, organizational left brain type things, but my passion is for art and creativity, right brain type things."

Katrina Troy
"The most interesting part about the creative team was that it was basically made up of two groups," Troy said. "There were the creative strategists and the designers. The way I saw it was the strategists were the ones brainstorming concepts, but many of them couldn't open Photoshop if they tried. And the designers were the ones executing those ideas, but they could have never come up with them on their own. But they were both considered creatives. And there was a spectrum, where some people had a little of both. That's where I saw myself fitting in."
Another creative-minded organization that Troy is passionate about is Relevant Youth, a Columbia, Mo. student-run agency. She joined Relevant Youth her sophomore year as a creative lead. During her junior year she served as Head of Internal, where she built out Relevant Youth's brand. For her senior year, she is now the Creative Director.
"Relevant Youth has been hands down one of the best experiences of my college career," Troy said. "It was through this organization that I got my first experience working with real clients and having the creative freedom and autonomy to create something I'm proud of."
Even though Troy is on top of the strategic communication game now, she did not always feel like it was the right choice for her. After she took the strategic communication introductory classes her sophomore year, she switched her emphasis area to magazine journalism. That required her to spend a semester writing for The Missourian, which gave her the confirmation she needed that strategic communication was where she was meant to be. She then switched back to strategic communication with an emphasis in art direction.
"I learned so much about myself and where I want to invest my creative energy," Troy said. "Taking a step back from strategic communication made me realize the field is actually a lot bigger than I thought it was, and there is room for me in it."
It was all of these experiences that helped Troy be prepared for her MOJO Ad capstone. Her team's client was the Warner Bros. film "Fantastic Beasts: The Secrets of Dumbledore." This posed a challenge to Troy as the art director because she was tasked with creating ideas for a film she had not seen. However, she and her team made the most out of it.
"Katrina is awesome," said Jake Mosher, Meraki's account manager. "Full stop. Not only is she reliable and easy to work with, but she's ridiculously talented. Everything she creates is impressive. Every time she showcases a new piece of creative, I'm astounded. Somehow, it's always better than I imagined."
Troy's effort paid off. At the end of the semester, she was honored with the Larry Powell Award. The award is given to a student who exhibits selflessness, goes above and beyond, takes on duties outside of their own, demonstrates growth and represents the spirit of MOJO Ad.
"I'm humbled and at a loss for words to be the recipient of the Larry Powell Award," Troy said. "It's the greatest joy to do this work. I love the process of merging strategy and creative, in the end resulting in work that is both thoroughly thought out and stunningly beautiful. The Missouri Journalism School has taught me so much, as a journalist, as a strategic communicator and as a creative."
Updated: January 4, 2022
Related Stories
Expand All
Collapse All
---