Shuhua Zhou brings scientific standard of certainty to innovative research at Missouri School of Journalism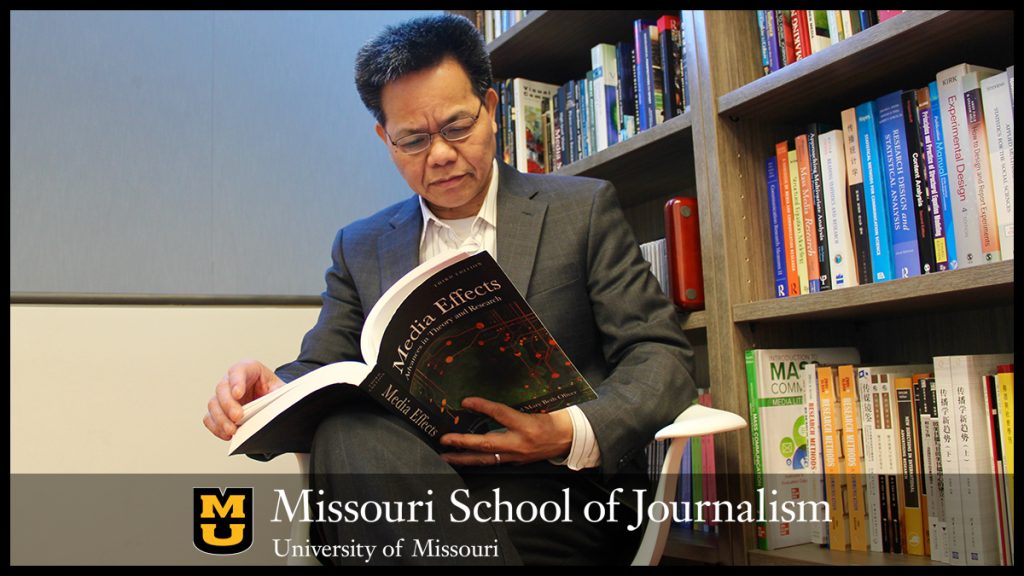 COLUMBIA, Mo. (Jan. 30, 2023) — Shuhua Zhou is a man of many talents. He speaks four languages, has a degree in tropical agriculture and worked for many years as an anchor, reporter and editor at a Chinese TV station before arriving at the Missouri School of Journalism.
But now, as the Leonard H. Goldenson Endowed Chair in Radio and Television at the School of Journalism, his goal isn't so different from the ambition that has always driven his voracious academic curiosity; he wants to find veracity, to validate it through careful analysis and experimentation. That pursuit naturally aligns him with the journalism industry in an era when the topics of truth and trust dominate the discourse.
"Human learning is really about giving us some kind of certainty," Zhou said. "I think that is what I like about the perspective I take into my research. Anyone can jump to a conclusion, but how much confidence do you have?"
A short snippet of thought
Zhou once aspired to be an interpreter for the United Nations, a role that requires careful attention to the truth as words are filtered through other languages and, sometimes, lost in an interlinguistic game of telephone. Now, he interprets communication through a different lens: the mediums people use to talk to each other. He is particularly interested in the rise of short-form videos on social media, known variously as reels (Instagram and Facebook), shorts (YouTube) or TikToks.
"I'm very interested in who is given voice in short videos," Zhou said. "We have a number of people who didn't have a platform, but now, all of a sudden, they do. Short video can empower some people who are on the fringe, who are marginalized and otherwise don't have the platform to voice opinions. But what does that do to our political dialogue?"
His research on the topic is in its early stages, but he sees the prevalence of short video as a regression of sorts, one that harkens back to the early stages of human communication.
"It's not advancing our dialogue," he said. "It goes back to the way humans first began to communicate, using emotion instead of reason to convey thoughts through a short video that is incomplete — it's a short snippet of thought."
The videos often feature prominent displays of emotion — an efficient and impactful way to communicate in short form — and Zhou is well aware that criticism of the medium can often be equally emotional, with critiques sometimes linking back to larger generational grievances about the potential harms of social media. That's why, once again, Zhou wants to be certain.
Like much of his research over the course of his career at the School of Journalism, which has largely dealt with television and radio news, he is using psychophysiology — the study of how mental processes manifest themselves physically — to understand how people process short-form video content. Monitoring physiological responses like skin conductance and heart rate allows researchers to determine how the brain works in concert with the rest of the body to respond to certain stimuli.
It's all part of understanding which kinds of media and information are the most powerful, the most capable of persuasion and influence in a world with an increasingly complex web of digital resources for audiences and journalists alike. It's also work that has stark relevance for the industry amid a push to promote media literacy in education and in journalism. A recent study co-authored with Damon Kiesow, the Knight Chair in Digital Editing and Producing at the School of Journalism, examined similar principles in the context of print and digital media. The study was part of a larger project that remains ongoing.
The study was not the first time Zhou and Kiesow collaborated; they were natural research partners almost from the moment they arrived at the School of Journalism.
"Shuhua and I started at Mizzou on the same day, and within a month we were discussing potential research," Kiesow said. "It is a gift to work with him. I came to the Journalism school after 30 years in the industry, and he has gone above and beyond to collaborate on a project that builds on both theory and practice in a way that could prove very useful to digital newsrooms."
But Kiesow is also privy to another truth about Zhou — you can't be around him for long without discovering another hidden talent or passion.
"He is full of surprises. I knew him for probably two years when one day, he mentioned he would be out of the office part of the next week to run a marathon. I didn't even know he had been training — which frankly violates the first rule of running a marathon," Kiesow quipped.
A journey that is never ending
Zhou has enough ideas for several lifetimes of research; one day, for example, he hopes to write a book about cognitive biases built on individual research studies he will perform on every major cognitive bias known to man. Four down, 20 or 30 to go.
During a nine-month research leave in Hong Kong, he checked a few other accomplishments off his list. In addition to collecting data on producers and consumers of short video content for the aforementioned project, he submitted a paper to the International Communication Association on the impacts of virtual reality use on environmental protection. He also finished the fourth edition of his research methods textbook, "Research Methods in Communication," which is used in graduate and undergraduate courses at 47 institutions worldwide.
Indeed, for all his ambitions, he has already accomplished a great deal in more than two decades in academia. Awarded the SEC's Faculty Achievement Award last March, he has spent the last 23 years as a teacher and prolific researcher at SEC universities (he came to the School of Journalism in 2018 after a long stint at the University of Alabama), having published numerous articles in flagship communication journals.
As if further proof were needed of his rounded and enduring pedigree in journalism and academia, the SEC recognition came nearly 20 years after he was named one of the "100 Best TV Hosts" by the Guangdong Artists' Association in China. But as a frequent speaker at international conferences, he also values giving back by passing along his knowledge in the classroom and through collaborative research.
"I truly believe that teaching and mentoring is a powerful process that stimulates all parties involved and has no real downside," he said. "I treat my mentees as collaborators. We share ideas, create spreadsheets and questionnaires that we share and critique, and openly argue our positions. I think we all learn a great deal from that process."
That cooperative approach was noted by David Kurpius, dean of the School of Journalism, when welcoming Zhou to the School in 2018.
"Shuhua's pioneering work has been at the intersection of theory and practice, what we call the 'Missouri Method' of hands-on training in real-world news media and strategic communication agencies," Kurpius said. "As the Goldsenson Chair, Zhou will work closely with those in industry and academe to address the interdisciplinary transformations and advancements taking place in broadcast today."
His pursuit of certainty and collaborative learning has led him far from his early years as an English teacher on the southern Chinese island of Hainan. It's led him far from his time in Guangdong, where, fresh off a bachelor's degree, he led a team of reporters and editors with master's degrees. And it's led him from Indiana University, where he earned master's and doctoral degrees in journalism and mass communication, to the world's pioneering school of journalism.
But through it all, Zhou's deep respect for what it really means to know something has kept him hungry for the next peak. Ask him, and he'll tell you he's barely out of base camp.
"When you look at how we process information and how much certainty we want to have, and when you look at how certain people believe one thing and others believe another, it's just fascinating," he said. "I don't think I've touched the top of the glacier. This is a journey that is never ending."
Updated: January 31, 2023