Work of 2010 Missouri Honor Medalists on Display in the Journalism Library
By Amy Brachmann
Master's Student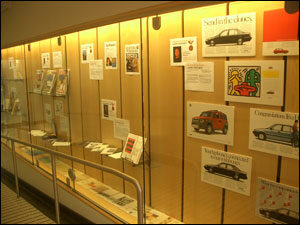 Columbia, Mo. (Oct. 26, 2010) — To celebrate the 2010 Missouri Honor Medal recipients, an array of their published work will be on display in the hallway leading to the Frank Lee Martin Library through Nov. 5. Books by James Balog, Cathleen Black, Dorothy J. Gaiter and Myron Kandel will be shown, along with Honda advertising campaigns from Larry Postaer and copies of ZETA Weekly Newspaper.
The display was coordinated by Missouri School of Journalism librarian Dorothy Carner and will be in the hallway leading from the Reynolds Journalism Institute to the library. Carner came up with the idea for the display, which is being done for the first time, to celebrate the work of the honor medalists. Jessica Beezhold, a strategic communication senior and member of the journalism library student staff, created the copy for the display as well as a power point slide show appearing on the flat screen display in the library. Beezhold and staff member Sue Schuermann designed and put up the display in the exhibit space.
The display is open to the public during regular hours.
The following works will be included in the display:
Animals A to Z by James Balog
Anima by James Balog
Animal by James Balog
Survivors: A New Vision of Endangered Wildlife Photographs and Text by James Balog
Tree: A New Vision of The American Forest by James Balog
Wildlife Requiem by James Balog
Extreme Ice Now by James Balog
Basic Black by Cathleen Black
Love by the Glass by Dorothy J. Gaiter and John Brecher
Wine for Every Day and Every Occasion by Dorothy J. Gaiter and John Brecher
How to Cash In On the Coming Stock Market Boom by Myron Kandel
Honda print advertisements from Larry Postaer
Copies of ZETA Weekly Newspaper
The Missouri Honor Medal will be awarded to this year's recipients during a banquet on Thursday, Oct. 28, at the Donald W. Reynolds Alumni Center on the University of Missouri campus.
Updated: May 14, 2020
Related Stories
Expand All
Collapse All
---