Yang Cheng Wins Research Award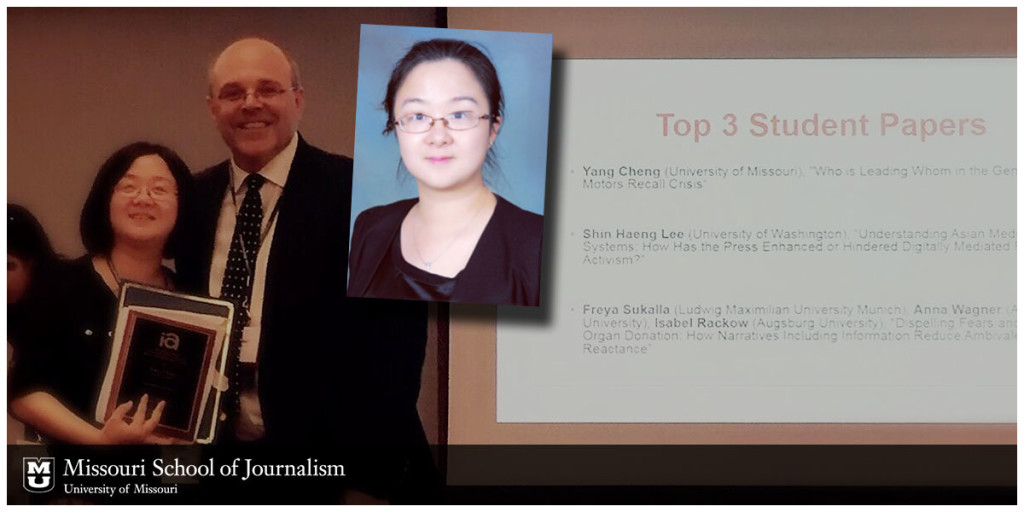 Columbia, Mo. (July 22, 2016) — An organization never hopes to face a crisis, but it happens. A new case study about the General Motors recall crisis can help corporations better understand the relationship between the media and their organization during times of intense scrutiny. This will affect how a company communicates during a crisis in order to protect their public image and stocks.
The author, Yang Cheng, a Missouri School of Journalism doctoral student, earned a top award at the International Communication Association's annual conference in Fukuoka, Japan, for this study. Over 2,500 scholars from over 40 countries attended.
The study has also been accepted for publication in the peer-reviewed Research Journal of the Institute for Public Relations.
The case study, "What Generates News Content? Who Is Leading Whom in the General Motors Recall Crisis: Understanding Media Impacts on Public Relations Efforts, Public Awareness, and Financial Markets," highlights the increased importance for a company to constantly monitor how their brand and products are being covered in the media. It's important for an organization to maintain transparency in their actions, and to establish a dialogue in order to gain trust and maintain positive stakeholder relationships.
Cheng is also a MBA student in the University of Missouri Trulaske College of Business. Her research focuses on public relations effectiveness, relationship management, crisis communication and agenda-setting/building research.
Cheng's studies have been published in leading blind-reviewed journals such as New Media & Society, Public Relations Review and Asian Journal of Communication. Cheng has received additional recognitions and awards for her research. These honors include the Inez Kaiser Graduate Students of Color Award, the 2015 Peter Debreceny Corporate Communication Award, and the Institute of Public Relations Grunig PRIME Research Fellow.
Erin Fry is a graduate student in the advanced social media class.
Updated: September 29, 2020
Related Stories
Expand All
Collapse All
---