Retired Magazine Professor Jan Colbert Dies
She Is Remembered for Her Passion for Life
By Taryn Parker
Reprinted with permission from the Columbia Missourian
Columbia, Mo. (Nov. 8, 2016) — Professor Emerita Mary Kay Blakely will never forget the time Jan Colbert stayed with her at The Bluffs during her mother's final days.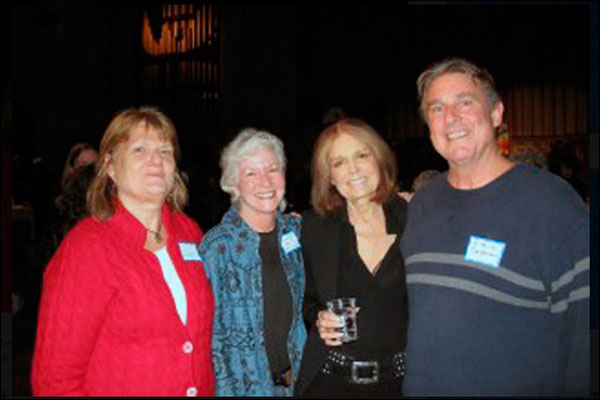 Blakely's mother had broken her hip two months before, and she never quite recovered after surgery. Blakely lived in the lounge at The Bluffs during the last two weeks of her mother's life. More than once, Colbert came to keep Blakely company, and Colbert slept on a couch at The Bluffs on the night her mother died.
Blakely said it meant a lot to her to have Colbert there, and she could talk to her about anything going through her mind and not feel judged.
"That's just one of the 100 things she did," Blakely said. "That's just who she was."
Colbert, a longtime member of the Missouri School of Journalism faculty, died Saturday, Nov. 5, 2016, after battling cancer. She was 64.
Colbert attended MU during the 1970s and was active in political movements of the time. When she became faculty at MU in 1984, Blakely said, her activism drove her to create and teach the School of Journalism's Women and the Media class. In 2003, Colbert received the O.O. McIntyre Professorship, which recognizes outstanding teaching excellence.
Steve Weinberg was a colleague of Colbert's at Investigative Reporters and Editors for a number of years.
"Everybody loved Jan," Weinberg said. "She has more best friends than you could imagine."
Weinberg and Colbert were also neighbors. Weinberg laughed at how difficult it could be to track down Colbert at times.
"She would go into hiding, and we would all be trying to reach her," Weinberg joked.
If she didn't answer her phone or email, Weinberg would walk over and see if she were home. Eventually, Colbert would always turn up.
Mark Horvit, past director of IRE, had a lot to learn in a short time when he started at the organization. He said Colbert was always there to help, lending him the encouragement and expertise he needed. Horvit said having someone who was so generous with her time helped him and the organization tremendously.
"She was very dedicated and passionate about investigative journalism," Horvit said. "It was important to her and to continue to make sure IRE survived and thrived."
Associate Professor Jennifer Rowe, who now chairs the J-School's magazine journalism faculty, had Colbert as a professor in graduate school. They later worked as colleagues until Colbert retired in 2012. Rowe said Colbert made those around her think deeply, embrace creativity and laugh.
"So many memories of her invoke unbridled laughter," Rowe said.
"She was fiercely loyal to friends and colleagues," Rowe said. "She enjoyed engaging in robust discussions on important social issues and was an advocate for numerous causes. Jan wanted people to realize their potential, and she had an incredible capacity to see beyond the limitations so many of us place on ourselves."
Blakely and Colbert were very close. She said she met Colbert in 1997 when Blakely came to interview for a job at the journalism school. The two worked together when she was hired, creating the summer New York internship for the Global Mizzou Internship program.
They became best friends immediately, Blakely said, and they stayed best friends for 17 years.
Weinberg said Colbert was a devoted and active foster parent.
She was an emergency placement parent. When children needed caretakers without warning – sometimes in the middle of the night – Colbert would be there. Weinberg said that after Colbert fell in love with an infant foster daughter, Emily, she adopted her.
Alison Colbert, Colbert's sister, said that Jan and Emily were a duo who explored the world together and that she would have done anything for her daughter.
Dean Mills, professor emeritus and former dean of the School of Journalism, said Colbert was a legend among students and faculty, and he recalled her wicked sense of humor.
Colbert also had friends at her knitting club, her book club and her meditation group.
Colbert was the oldest of five children. Alison Colbert said that after their mother died, Jan Colbert took charge and brought the family together.
When Julie Colbert, another of Jan Colbert's sisters, adopted a little girl from Thailand, Jan Colbert went with her to bring the girl home. She traveled the world with her sisters even after she got sick.
"She let us roll her around Tulum (the Mayan ruin) in a wheelchair, laughing and swearing as we nearly lost control of the chair down a particularly steep, and not ADA-compliant, part of the ancient Maya ruin," Alison Colbert said.
Alison Colbert said Jan Colbert was the "fun aunt."
"It was always dessert first, too much television, R-rated movies and adventures on the road," Alison Colbert said. "From the nude beach to the not-exactly-official water park, my two boys longed for her to be their babysitter."
Colbert had breast cancer for 14 years. Her brother Brad Colbert said she dealt with her illness with grace and humor. Blakely said the same.
"She could make anyone laugh. And she did," Blakely said. "She was so determined to not be morose or mournful. She was something else. A real zest for life."
"I still cannot believe I'm not going to have another conversation with her."
Memorial services for Colbert are under arrangement.
In lieu of flowers, the family asks that people donate to a cause they feel passionately about.
Updated: October 6, 2020