Missouri School of Journalism and KOMU-TV alum David Estrada Orúe named assistant professor and executive producer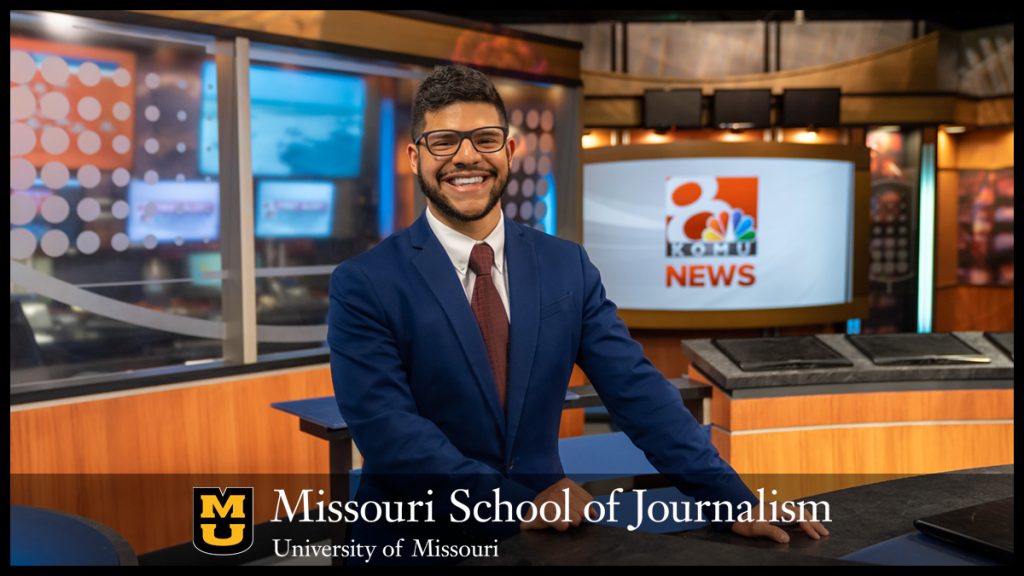 Columbia, Mo. (Sept. 13, 2022) — David Estrada Orúe, MA '19, who has cumulatively worked for more than three years at KOMU-TV as a producer, is now an assistant professor at the Missouri School of Journalism and an executive producer at the NBC-affiliated station. He brings a range of experience in broadcast producing, reporting and digital content to his new faculty position, which he began in June.
"David is someone who stands out even in the most talented crowd, and I am thrilled to welcome him as a faculty member at the School of Journalism," said David Kurpius, dean of the School. "His work is instantly recognizable to his colleagues for the attention to detail and optimism he infuses into everything he does. Our community is fortunate to have him educating the next generation of broadcast journalists and working behind the scenes to bring excellent newscasts to mid-Missouri."
From an early age, Estrada Orúe benefited from a Missouri Method-style education in hands-on journalism — though that education began 3,000 miles away. As a young man in his hometown of Liberia, Guanacaste, Costa Rica, he worked at local television station Anexión TV, where the passion for journalism he had harbored since first grade met the rewarding challenge of learning in a real newsroom.
"I knew I liked journalism, but when I started working [in the newsroom] and experiencing not just the fun parts but the bad things, the tough parts of the job, I knew this was what I wanted to do," Estrada Orúe said. "Having that opportunity to connect with the community and getting an idea of the challenges I was going to face shaped where I wanted to go with my career."
After leaving Costa Rica, he first pursued an undergraduate double major in political science and radio, television, and video at the University of the Ozarks in Clarksville, Arkansas. His professors knew about his passion for news, but it was communication professor Susan Edens who pointed him in the direction of Mizzou to further his journalism education.
Now, he calls Columbia home. It's here that he earned his master's degree in broadcast journalism, married his wife — Amanda Paz Herrera, who is currently pursuing a doctoral degree in biochemistry at Mizzou — and gained professional experience working at KOMU and assisting undergraduates at the station. Newly minted as an assistant professor and executive producer, he is opening a new chapter that will see his diverse skills converge in his faculty and staff roles.
"We like to say David is the Swiss Army knife of KOMU — he could fill any position in our newsroom as a manager," said Jeimmie Nevalga, news director at KOMU. "He comes with all this experience where he can guide pretty much all our students in whichever specialties they're interested in. To bring him back initially as a producer, and now as a faculty member, has been huge."
But it's not just his skills and varied experience that set Estrada Orúe apart. Nevalga said he has the demeanor that great producers and teachers need: a combination of resilient optimism and exceptional patience that help his colleagues and students through the often stressful process of producing television news.
"We know when he's in the newsroom because he's laughing and having a great time," Nevalga said. "Even when things are tough, he has a smile on his face, and that makes him a joy to work with."
Estrada Orúe is now bringing that joy beyond the newsroom and into the classroom, where he teaches the School's advanced broadcast reporting class. It's an opportunity not only to deepen his impact on students working in radio or television, but to give back to his community in honor of the mentors and educators who have supported him on his journey, from his early experience at a newsroom in Costa Rica to his time at the School.
"My professors at the J-School became my mentors and then my coworkers, and it's thanks to them that I'm here," he said. "That connection and mentorship I got from my professors is what I always hope to do with my students. I'm someone they can ask about anything, and they know I'll be there to listen to them."
Updated: September 14, 2022