Missouri School of Journalism announces inaugural class of Gregory Scholars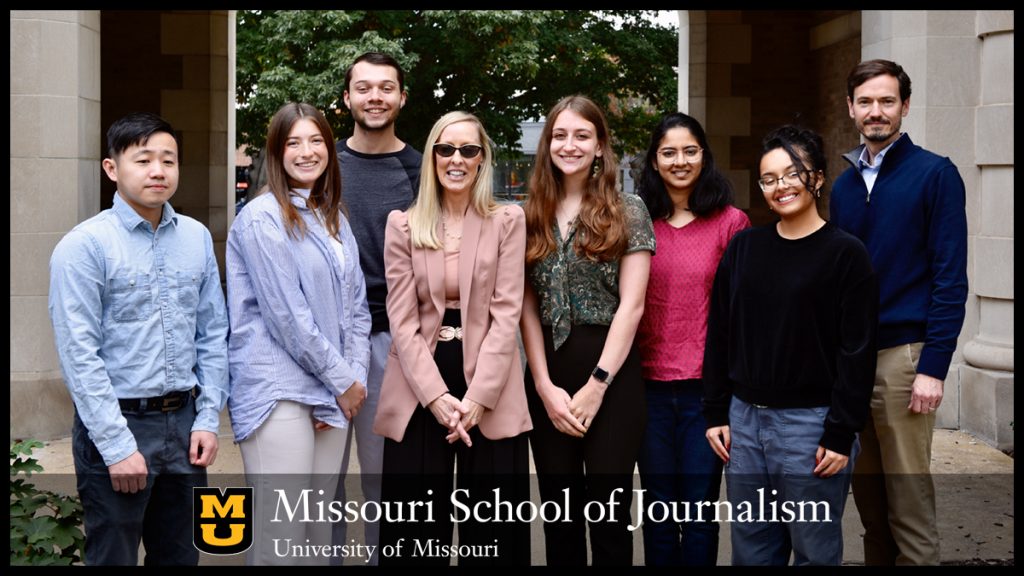 L-R: Doctoral student Ting-Hao Tsou, master's student and J-School alum Cate Enrooth, junior Owen Bazigian, Shelly Rodgers, junior Sophie Carite, master's student Krutika Deshpande, junior Nahomi Gonzalez, and doctoral student Justin Willett
The Gregory Scholars Program offers paid, interdisciplinary research experience to undergraduate and graduate students alike
COLUMBIA, Mo. (Oct. 31, 2022) — The Missouri School of Journalism has announced the inaugural cohort of the Gregory Scholars Program, which pairs students seeking research experience with doctoral students engaged in research projects.
The six scholars — two graduate students and four undergraduates — hail from schools and colleges all over campus, including the School of Journalism, and will receive paid positions assisting with strategic communication research over the course of an academic year.
"The School of Journalism was founded on the Missouri Method of hands-on learning, and it's exciting to see students across the university come together to apply that method to high-impact research," said David Kurpius, dean of the School. "With students from all levels of education and experience working together to amplify the voices of underserved communities in strategic communication, the Gregory Scholars Program is a remarkable opportunity for interdisciplinary work with real impacts for the people of Missouri."
The program is spearheaded by Shelly Rodgers, the Maxine Wilson Gregory Chair in Journalism Research, and the Gregory Scholars will be paired with Rodgers' three doctoral students — known as graduate research assistants — to help conduct research within the realms of socially conscious advertising and health communication.
Rodgers said that while the initial plan was to choose only three scholars, the level of interest in the program encouraged her to double that number. Now, with the group including undergraduates, master's students, doctoral student supervisors and faculty member Rodgers overseeing it all, every level of research happening at the School is represented within the program.
"We had such an outpouring of applications from across campus, and when I saw these six applications, I said, 'we have to have them as Gregory Scholars,'" Rodgers said. "We couldn't miss this opportunity; it was too exciting."
A particular focus for the scholars will be conducting and analyzing an online survey of Missourians to learn about needs and challenges in underserved populations, contributing to a more detailed understanding of communities that need more or different representation in advertising and other forms of public messaging. Rodgers' hope is that the survey will become an annual tradition with a national scale after its pilot launch in Missouri this winter.
In addition to working on the survey, the scholars will complete tasks related to their skills and to the goals of specific research projects, which will vary based on the doctoral student they work with. By the end of the term, they will have not only gained hands-on experience but will have a number of work products they can show to prospective employers and use to enhance their résumés.
"We want to make people feel empowered to invest in research and in themselves," Rodgers added.
Read on to learn more about the scholars. Click here to read about the doctoral student team.
Meet the Gregory Scholars
Owen Bazigian
Bazigian is a junior pursuing a bachelor's degree in political science from the College of Arts and Sciences. As advocacy chair of the Asian American Association, he felt the chance to participate in undergraduate research that intersects with social issues was too good to pass up.
"I want to get involved in research that helps people and get experience in social justice fields," he said.
It's all part of his goal to "learn the most that I can throughout my university experience, both inside and outside of the classroom."
Fun fact: Bazigian was the only male cheerleader on his high school team, as well as a tumbler. He still tumbles to this day.
Sophie Carite
A junior at the School of Journalism, Carite has worked as a news production assistant at KMIZ-TV and as an online editor for The Maneater, a student-run, undergraduate newspaper.
The hands-on nature of the research opportunities appealed to her desire to create a tangible, positive impact on people through her work.
"I saw this as an opportunity to learn more about health communication in a way that has potential to directly help people in Missouri," she said.
Fun fact: Carite had an early brush with fame as a high school journalist: at a rally for then-candidate Joe Biden, she took photos of Biden as he listened to a group of anti-dairy protestors who were upset at his professed love of ice cream. She said he was "unconvinced" by their argument.
Krutika Deshpande
Deshpande is a master's student working toward a degree in data science and analytics from the College of Engineering. Like many of the scholars, she was drawn to the interdisciplinary nature of the program.
"I enjoy doing projects in data science and A.I., and I saw that there could be an opportunity to apply those techniques to communication and advertising," she said.
Deshpande's background is also well-suited to the program's emphasis on community engagement: In her hometown of Bengaluru, India, she participated in several community cleanup volunteer efforts.
Fun fact: Deshpande practices Bharatnatyam, the oldest form of classical dance in India. In July, she performed her arangetram — her debut on-stage performance, which traditionally marks the completion of years of training.
Cate Enrooth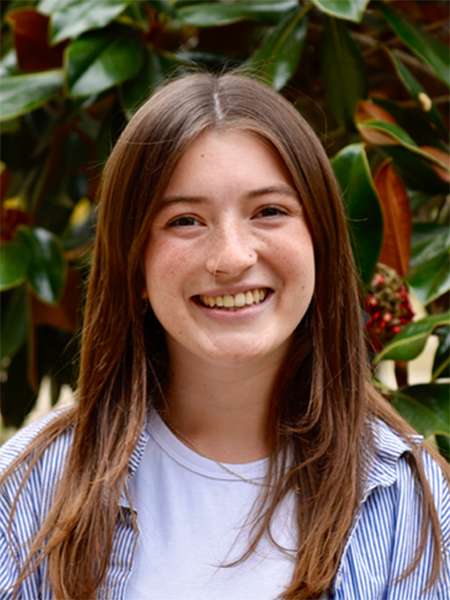 Enrooth earned her bachelor's degree from the School of Journalism in 2021. Now a graduate student in the Harry S. Truman School of Government and Public Affairs, she served as a research intern at marketing agency Woodruff earlier this year, one of several research-related internships she has completed during her time at Mizzou.
"I hope to get more experience in strategic communication that will allow me to merge both my areas of study into one," she said.
She ultimately hopes to land a career in education policy.
Fun fact: Enrooth recently adopted a dog, Auggie, with whom she spends her free time.
Nahomi Gonzalez
Gonzalez is working toward a bachelor's degree in biological sciences as a junior in the College of Arts and Science. She has experience as a research assistant at the MU Research Success Core's Obstetrics and Gynecology department, but the opportunity to leverage that experience to help people through the lens of communication and social awareness made Gregory Scholars stand out as an opportunity.
"When I read the description and saw the word 'underserved,' I knew I needed to apply," she said.
In her application, she added that her career goals center around "devoting my work to community development and improving the care management we have for marginalized populations."
Fun fact: Gonzalez once volunteered as a program assistant at the Bonnie Riley Equine Center, which provides "equine-assisted therapy" to children with mental illnesses and disabilities through horse riding sessions.
DaVonna Nickerson
Nickerson is a junior in the College of Arts and Science, where she is pursuing a bachelor's degree in communication. As a member of the Legion of Black Collegians, Mizzou's Black student government organization, she values the program's focus on research that addresses representation issues.
In becoming a Gregory Scholar, she stated a desire to "effect positive change in the lives of underrepresented groups through my work."
She added that she hopes the collaborative, interdisciplinary aspects of the program will help her build more connections and relationships within the campus community.
Fun fact: Nickerson is a member of Published with Intent, a book club focused on students and authors of color that seeks to "harbor a safe space for learning and expression through the power of books."
Updated: June 13, 2023
Related Stories
Expand All
Collapse All
---